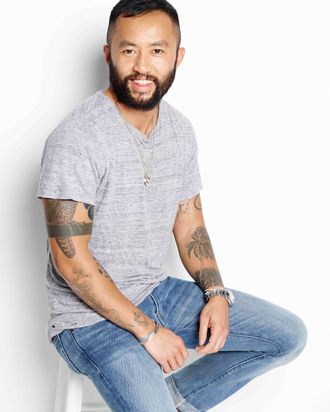 Photo: Courtesy of Madewell
Madewell's head of design, Somsack Sikhounmuong, may not be a household name yet, but if you're familiar with the brand's quality denim, there's a good chance you know his work.
Under his direction, Madewell has made subtle updates to its denim collection, drawing from the designer's eclectic influences in art and fashion. The brand just presented its spring '15 collection and launched its exclusive 16-piece collaboration with Sézane, the Parisian brand that brought us the iconic La Superbe sweatshirt. (This marks the first time Sézane has ever sold its clothes in the United States.) Sikhounmuong spoke with the Cut about how the brand is shifting, what inspires him about women in New York, and what shaped the spring '15 collection.
Can you describe the vision behind this collection?
For this collection, we were inspired by the optimism that comes with the changing of winter to spring. You know, the feeling you get when the trees start budding and the snow starts melting. It's about all the things we love and hang onto and get excited to pull out of our closets and wear again, but with an updated eye. We looked a lot at classic shapes — trenches, bombers, denim jackets, the shift, the button-down shirt — and updated them. There will always be embroideries and bits of ikat in the line, but what makes them feel new this season will be how they play off of what I call the "tried and true" patterns and prints. 
It's quite a task to take a familiar classic and make it look new without feeling too trendy. What kinds of things do you keep in mind during the design process on how to maintain this balance?
The design team and I really try to ask ourselves, "How will our girl wear this?" We are always working on the classics that act as the base of our collection — denim and tees. When we update those pieces it's about the smallest tweak – the slightest shift can make a big difference. It's more about an evolution rather than a revolution. For instance, cutting a trench in a drapey navy fabric versus the classic crisp khaki, exaggerating the proportions of our denim jacket so it's a bit more oversize, lengthening a shirt into a dress or tunic, etc.
This season we also worked with three collaborators. We gave two of them — JM Drygoods and Kiriko — some of our classic denim and chambray pieces and had them embroider and/or patch them, personalizing each item. We also approached George McCracken and asked him to give new life and rework vintage military pieces. I have to say, they all are spectacular!
What are some of the things we should plan to wear in the next couple of seasons?
Other than the updates to our denim (there's a great new flare jean), there's a garage suit cut in a dark navy soft fabric and an amazing reworked military jumpsuit.
What's the draw of the girl on the street as an influence on Madewell's branding, as opposed to celebrities?
Living in New York City, you are surrounded by the "girl" on the street. It's just more personal, tangible, immediate, and relatable for me.
You collect old magazines. Are there any particular looks or spreads that you return to as influences in your work?
It's not one particular spread, per se, but a bunch throughout the years. There's a bit of old military and denim by way of '70s American Vogue spreads, the softness you see in old David Hamilton pictures and very American color palettes that have been softened and tweaked.
So what do you think personally influences your style?
My grandmother had the most amazing collection of traditional Thai skirts (which she made herself) in rich colors and silks with incredible embroidery. An affinity and appreciation for all things ethnic must run in my blood.