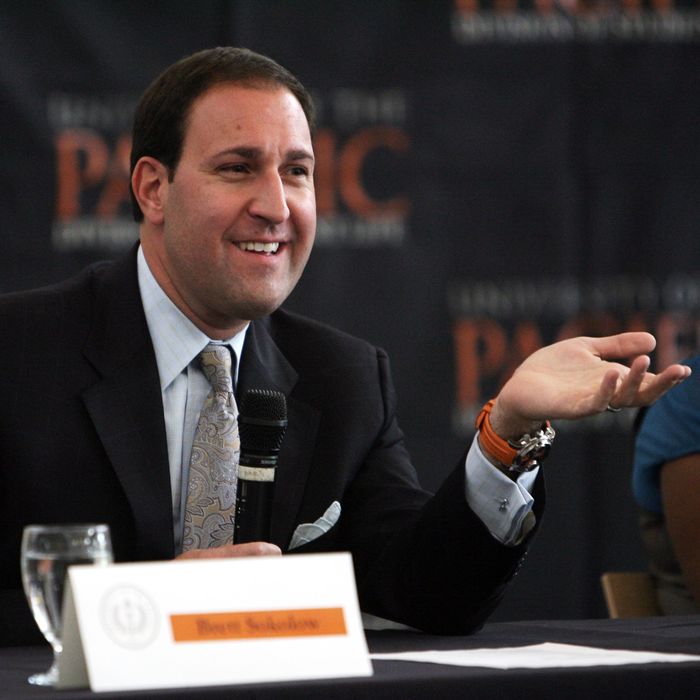 Attorney Brett Sokolow, 43, both dapper and dadlike in a plaid blazer and paisley pocket square, is attempting to explain a legal term called deliberate indifference to a room of 20 or so mid-level college officials. Judging from the reverent silence, you'd think those present were watching pirated copy of Mockingjay instead of listening to a Philadelphia risk-management attorney relate the events behind Simpson v. University of Colorado, a 2001 case where university football players and recruits participated in the gang rape of four female students.
"The women filed a lawsuit against the university challenging not only the campus response to their victimization but the abusive athletics culture in which recruits were enticed with alcohol and sex," Sokolow says, squaring his shoulders to his audience. "The court sided with the women, and the university settled the case for $2.85 million."
Sokolow is head of a Malvern, Pennsylvania, law and consulting practice called NCHERM (National Center for Higher Education Risk Management), which has become the go-to firm for universities who want to avoid ending up like Colorado. Or Columbia, or Occidental, or any of the other 80 schools currently under investigation by the Department of Education's Office of Civil Rights for the ways they've handled sexual assault cases on campus.
Sokolow's area of expertise means that lately he's been extremely, extremely busy. He works about 80 hours a week, and between now and New Year's, he may tell that University of Colorado anecdote about 30 more times. He is also currently juggling 17 to 20 cases, some schools, some survivors, some individuals accused of rape.
But Sokolow's sheer ubiquitousness also means that, to many, he's become something close to the physical embodiment of the heartless, rapist-protecting campuses on which he might set down his polished, tasseled loafer. Because when Sokolow isn't educating people about assault, or representing parties involved in alleged sexual assaults, he is saying things about campus sexual assault that people don't like. Jezebel has accused him of throwing  "a pity party for universities involved in sexual assault related bullshit." His invention of the term "non-consensual sexual intercourse," which in the last few years has been adopted by countless universities, has been described as an attempt to "re-brand rape" and "water down the violence of the act." In a May edition of his newsletter, he warned schools about the dangers of confusing drunk sex with rape, after which BuzzFeed accused him of standing up for accused rapists. He is probably most notorious for his involvement in an assault case at Hobart and William Smith, in which the school hired him to review its decision to clear the alleged assailant, even though he had created its system for reviewing such cases.  After that, BuzzFeed published a comprehensive takedown of Sokolow that accused him of various conflicts of interest.
To label him a rape apologist implies a bloodless apathy and quite simply, a deviousness he does not seem to display in person. "In a sexual assault investigation, you're damned if you do and damned if you don't," Sokolow warns the training participants, who flinch, grimace, frown, and take careful notes as he tells them step-by-step, anecdote-by-anecdote, how to investigate rape allegations. "There's a winner, and a loser, and the loser is never happy. It's not our job to make people happy, it's our job to do the right thing. To be a bloodhound, to follow the evidence wherever it leads." Sometimes that evidence leads nowhere, to cases too murky or too he-said-she-said to prosecute. And that, typically, is when Sokolow tends to infuriate his critics.
Despite his reputation as a stooge for colleges that want to avoid getting sued, Sokolow actually started out in sexual assault policy squarely on the victim's side. During a break, he tells me that after growing up in Philadelphia and then nearby New Jersey, where his mother was a teacher, and his father was a school superintendent, he went to William and Mary in the early '90s — where his girlfriend was raped. Active in student government, Sokolow petitioned the school for tougher sanctions and began working as an advocate for victims of sexual assault, through the school's peer educator program. He graduated in 1993 and co-founded an organization devoted to prevention. "We would stand up in front of thousands of students, basically explaining what sexual assault was." He continued to do this work while he was a student at Villanova Law School — his Philadelphia accent turns this to Villa-neau-va.
Then, in 1999 the Supreme Court decided Davis v. Monroe County. Davis was a student in the Monroe County School District, where she'd been sexually harassed and assaulted. The courts decided that schools could be held responsible for monetary damages under Title IX if they acted with deliberate indifference (remember?) that deprived victims of educational opportunities. Schools suddenly needed help getting current with their sexual assault and harassment policies. "I started working with campuses that really wanted to change," he says.
In 2006, NCHERM worked as counsel for 15 campuses and provided consulting and materials to about 1,000 schools. Then, in 2011, after sexual assault on campus became a national issue, NCHERM just exploded. The size and reach of NCHERM and its various spinoffs — ATIXA, NaBITA, SCOPE, SAeN (ATIXA stands for "Association of Title IX Administrators"; please see the group's massive and very informative website for further translations) — is nothing short of staggering. Sixty-three campuses retain NCHERM as their legal counsel. Representatives from more than 2,000 schools attend NCHERM's yearly trainings. And through ATIXA, Sokolow's employees have certified more than 4,200 campus Title IX investigators and coordinators. Even more schools use their materials, which are available online for free.
As the man essentially setting the tone for campus sexual assault policy, Sokolow is very quick to assure me that he doesn't, in fact, have any problem with the word rape, as Buzzfeed alleged. The problem, he says, and the reason that he suggested the use of a different  term, is that "colleges don't have the legal authority to call it rape. Colleges are not criminal courts. They are determining if someone engaged in sex or gender discrimination under Title IX, not if they have committed a crime."
He is unapologetic about the Hobart decision. "Everyone wants to call what happened at Hobart and William Smith rape. Everyone buys it. The reality is that if you follow the evidence, sometimes, it isn't rape. The college was willing to follow the evidence, and I was willing to say publicly that they did." And what about allegations that this assessment was not in fact independent, and that Sokolow trained the very people who worked on the investigation? He says this is a mischaracterization of his relationship with the school. "More than ten years ago, I was hired as counsel, to help them become compliant, and I got them in a pretty good position," he says. "I was not working for them until after the complaint was filed." He also stresses that although the school is paying him for his time, they are not paying for a particular opinion. "Sometimes I am supportive and other times I have been extremely critical."
Which brings us, finally, to the drunk sex issue. So, is Sokolow suggesting that all women who say they were raped while they were drunk were not really raped? He is not. "If there's a no, I don't care if there's alcohol involved, it's rape. What I'm saying is the fact that a woman was drunk can't be the sole criteria for whether she was raped or not," Sokolow explains, "and frankly, a lot of schools were getting this wrong. There is a vast difference between drunk and incapacitated."
But Sokolow is also horrified at schools that find students responsible for rape and punish them with something like a "reflection paper" or, he says with a rare sneer, probation. "Do they want to put that in their student handbook? 'Hey, your first rape is free!'" The real misconception, according to Sokolow, is that colleges are terrible at dealing with sexual assault. "Colleges didn't want to be in this business, but the government insisted, and insisted that they get good at it." Critics can argue that campus sexual assault should be dealt with in the courts, but Sokolow points out that that victims there fare no better: Criminal convictions for campus offenses happen about one tenth of one percent of the time. "Known assailant sexual assault," he says — he thinks the term date rape is offensive — "is in many ways the perfect crime. It's very difficult to prosecute, very difficult to prove. And no, colleges aren't perfect. But they're going to move faster than the courts, with privacy, and they're going to give a victim a chance to see some justice."
The problem, he says, is that schools see themselves as educators. "We're telling people, 'Hey, it is not your job to educate rapists.'" He estimates that through NCHERM's work, colleges and universities have expelled 2,000 rapists from their campuses. I ask him, given that track record, and assuming it's accurate, if it bothers him that he gets so much negative press. "My sense of self-worth is fairly internal," he says. "It takes a lot to distract me from my true north." What would? "If I found out that I got someone off and it turned out they actually did it, I would be heartbroken."
Later, at the end of the day, Sokolow and I walk together toward the parking lot. It is still summer, still light out, still early in the school year, and watching several of the school's three or four thousand students lounging on the lawn, I wonder if they have any idea about the day's efforts conducted on their behalf, the expense, the anxiety for their safety and futures. "I just want the ones who did it to get in trouble and the ones who didn't to not get in trouble," he says before we part. "Is that so much to ask?"