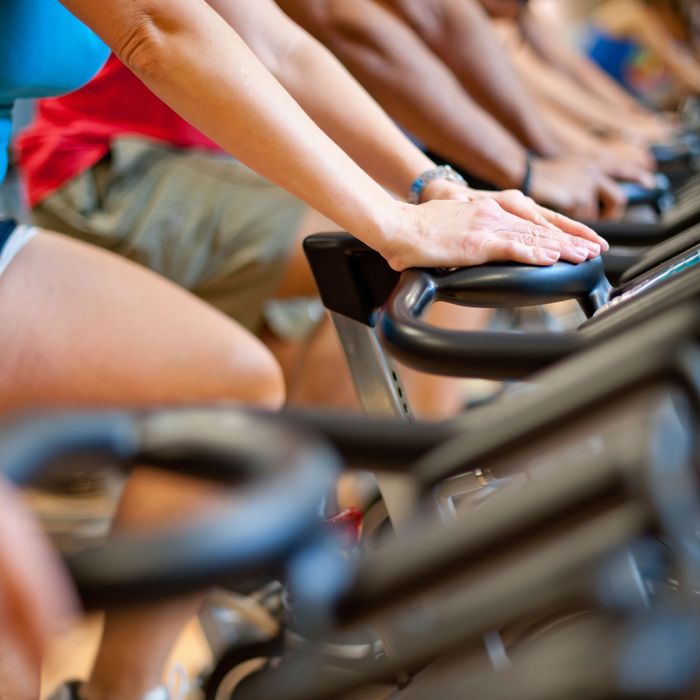 Photo: yellowdog/Getty Images
When indoor spinning exploded a few years ago, it seemed inevitable that New Yorkers would eventually grow bored of the pedaling tedium, fed up with the ludicrous prices, jaded or embarrassed by all the new-agey mantras chanted in classes. Boutique indoor-cycling classes like SoulCycle and Flywheel could have easily gone the way of the Cronut or Occupy Wall Street. But instead, the world of high-end spinning in New York has morphed into a full-fledged industry, complete with big investor bucks, the buzzword-happy idealism of Silicon Valley, the hype of the nightlife scene, Zadie Smith's quiet endorsement in the New York Review of Books, and plenty of industry infighting. Such a crowded field means that the newest entrants have grabbed for ever-more ridiculous ways of distinguishing the exercise experience they offer. Emphasis on the word experience: The actual physical component — 45 minutes of riding set to loud Top 40 and EDM, varying speed and resistance, some light choreography — is largely indistinguishable between studios. There's a limit, it turns out, to what can be done once you're actually on a stationary bike.
The Monster Cycle / 185 Lafayette Street / $33 per class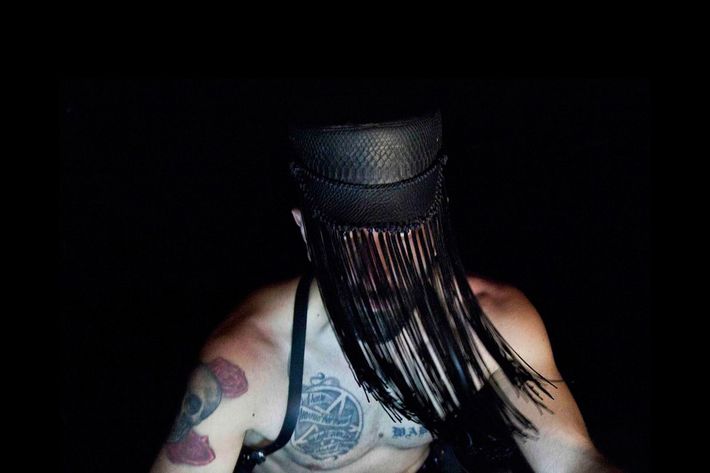 Where do Iggy Azalea and Charles Bukowski unite? In a darkened basement on Lafayette Street dubbed the Monster Cycle, where a recent Saturday-morning class opened with the "Booty" music video (projected onto large screens in front of the riders) and closed with a recitation of Bukowski's "The Laughing Heart." Opened just over a month ago, the Monster Cycle takes the goth-feeling skull-and-crossbones component of SoulCycle to the extreme. Upstairs, there's a stationary bike hung upside down from the ceiling with bondage gear, a yoga space called the Pentagram Studio, a retail selection (which includes cropped mesh T-shirts covered in pentagrams), and a lounge/art gallery/juice bar.
"We've almost created a lifestyle place," says co-founder Michael Macneal, who formerly taught classes by the same name at Equinox. "It feels like a club." Riders are encouraged to ditch Friday-night plans for a weekly class called Party Monster. "Why not have a late-night, party-filled, bang-it-out-at-the-gym cycle session, have complimentary organic vodka with some fresh watermelon juice, and wrap it up and go home?" asks co-founder Sarah LaBier. "We say fitness is the new nightlife. That's our hashtag."
Peloton / 140 W. 23rd St. / $30 per ride
Perhaps the most ambitious addition to New York's spinning industry is Peloton, a place where in-studio classes are beamed live to riders anywhere in the world, provided they've got a special Peloton bike and an internet connection. The company raised over $300,000 on Kickstarter to develop the bike in 2013, and today, programming director Marion Roaman says she envisions the flagship studio as an iconic New York destination — like an Empire State Building for out-of-town exercise nuts. "When they come to New York, they want to see where the magic happens," says Roaman, who came to Peloton from Flywheel. And she's fully adopted the vernacular of the tech world: "At Peloton, we're disrupting the industry by offering our classes live-streamed," she says. The studio also offers classes in Spanish, and is adding Mandarin to the bill. And despite the emphasis on the live-streaming component, the studio itself is the most souped-up in the city, complete with a retail store, a coffee bar, and a lounge for riders to hang out, work on their laptops, and read magazines like Art & Antiques, Super Lawyers, and Serendipity.
BFX / 555 Sixth Avenue / $30 per class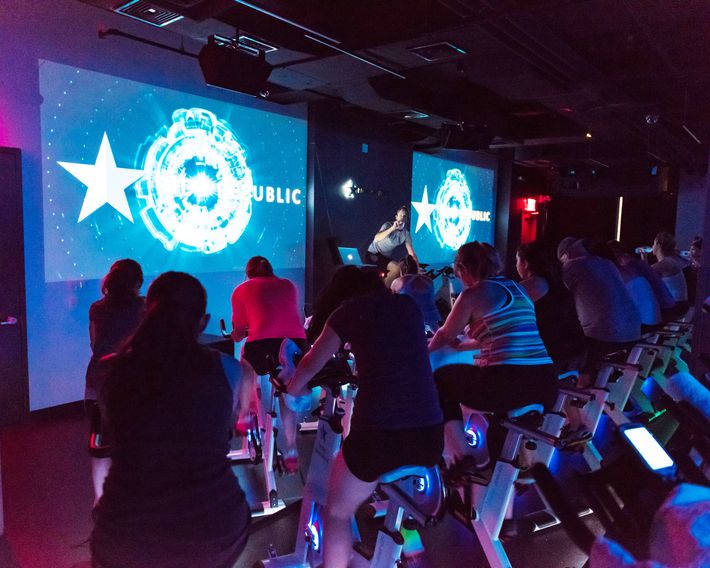 BFX, a workout space that opened in Chelsea in June, tries to take a sportier, no-frills approach to spinning. Studio director Marcy Spaulding talks about the cycling classes — the most popular of which incorporate a separate strength or barre component — like a pared-down antidote to the rest of the industry's excess. "I know it doesn't sound sexy," she says, "but we believe in a safe, effective workout. You'll never see us do weights on the bike."
"We haven't done the juice or the coffee part," she adds. (The locker rooms are nonetheless stocked with "gluten-free, vegan, and certified organic" beauty products.) Still, BFX's proprietors must understand the pressure to develop a distinct, cult-worthy brand: To take part in a class there is to inadvertently join something called the "Ride Republic," as they've named it. So far, the Republic is characterized by screens behind the instructor that alternate between a board of the riders' performance statistics and a camouflage backdrop.
SYNC / 133 S. 2nd St., Williamsburg, Brooklyn / $25 per ride
One cozier alternative to Manhattan's hulking spinning culture is SYNC, a studio that originated in North Carolina before opening in Williamsburg last spring. The studio's founder, Ashley Lively, prefers to cultivate a loyal local clientele in her small, efficient studio. Which is not to say the classes themselves are quiet or lacking in left-field ideas: During a sold-out class for Lively's birthday, one instructor hopped off her bike to hand-feed cake pops to riders during their workout in the "BASSment," the underground space where classes are held. ("I play a lot of bass-heavy music," says Lively.) The studio also regularly hosts "Phish rides" — yes, named for the jam band — where an instructor plays live recordings from Phish shows. "There are glow-stick wars and beach balls," says Lively. "If you go to a Phish show and then you go to a class, the feel is the same."