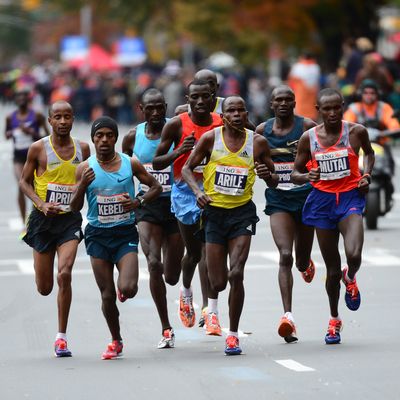 Photo: Emmanuel Dunand/AFP/Getty Images
No one is going to run this Sunday's New York Marathon in two hours; the course, with its five bridges, is much too hilly for that. If or when that fabled record is set — something academics and running nerds alike have been waiting for decades to see — it will be because many different kinds of running stars have aligned: It'll have to be just the right weather, on just the right course, at just the right altitude. 
But long-distance running is as much about mental fitness as it is physical. Round numbers, in particular, work as powerful motivators for marathon runners, according to a recent study that showed most finish times seem to cluster around even-numbered goals: 4:30, 4:00, 3:30, and so on.  So what will it take, psychologically speaking, for an elite athlete to push himself to run that fast?
For one, a tantalizing cash prize wouldn't exactly hurt the elite runners' motivation, said Dr. Michael Joyner, a professor at the Mayo Clinic College of Medicine. He believes today's runners are likely physically capable of finishing the 26.2 miles in 2:02 or 2:01, if not quite two hours yet. (The current world record is 2:02:57, set at the Berlin Marathon just last month by Kenyan Dennis Kimetto.) "Twenty years ago, I wrote that a two-hour marathon was physically possible," Joyner said. "People thought I was nuts. Now they don't think I'm as crazy."  
Ahead of Sunday's race, Science of Us chatted with Joyner on what it'll take, mentally, for someone to run a two-hour marathon.
When we're talking about the psychological challenges of the marathon — how are those different for elite athletes as compared to your average recreational runner?
The mental barriers, it's really interesting you bring that up. Because the elite athlete — the elite endurance athlete — the way they approach things like this is very, very different from the person who's trying to finish a marathon in four hours to, you know, get a medal and go home.
The elite endurance athletes are able to push themselves and get right at the physiological red line. The elite athlete uses his suffering to monitor how he feels. The non-elites tend to disassociate, to try to distract themselves. But the elite athletes tend to consciously focus on how they're doing: what their legs are doing, how much the muscles in their legs are burning, how fast they're running. So all these physiological signals that the average person would consider uncomfortable or painful, the elite athlete uses these to monitor himself.
I don't know if we're supposed to talk about Lance Armstrong like this at this point, but he said something very interesting; he said something like, You have to learn to manage your suffering. You have to learn how to get right on the edge and use the information you're getting from your body, and to not interpret it as painful and not be afraid of it. You have to learn to use it, and at the same time, you have to just relax and keep doing it. Because what the elite performer is able to do is to push themselves maximally and relax at the same time.
So how might an elite athlete use those cues to psych himself up in order to get to that two-hour mark?
Well, I think someone can probably run it in 2:01 or 2:02 right now. A couple things have to happen. People can run faster if the surface is just right. If someone would build a five- or eight-kilometer loop, so that it's just a perfect surface, a completely flat 5K loop, I think someone could do it, if not right now, then relatively soon. Of course, that'd be about eight loops, but that wouldn't bother those guys. If I had the money, I'd go out in the woods and find some place in a nice cool, dry area that's at sea level, and build a completely flat 5K loop out of a perfect surface with no sharp turns. And I'd make sure it's the right time of year; no wind, 40, 45 degrees, cool.
But, back to the psychological, the mental question. I think the thing to do is to have some kind of prize-money scheme that would encourage everybody to work together til the very end. So everybody who runs the first half in under an hour and 30 seconds splits $100,000, and everyone who runs 30K within a certain time gets $200,000, that kind of thing.
Because the thing to remember here — this is not golf. These people can't compete every week. These guys have a limited number of big paydays per year. Really, it's about two chances per year, and their careers, at their peak, only last about five to six years. At the London Olympics, you saw lots of guys dropping out when it became clear they weren't going to win. They wanted to race in NYC or Berlin, and they wanted to save their legs for those races.
So if you did this thing where you basically guaranteed everyone who was going to go for it would get a big payday, I think that could do it. The key thing would be to get as many people a far as possible. I think then they could draft a bit. It doesn't help as much as it does in cycling, but it does help a bit. And I think, psychologically, if one person didn't have to carry the pace the whole way, it might be a little easier for them. One of the things runners want to do is establish a rhythm, and if two or three of them are running together, it gets easier.
The New York City Marathon is this weekend, of course, so I want to ask — though I think I know the answer — this record won't likely be broken in New York, right?
No, it's not going to happen in New York. The places where the records get set, the courses are more like drag strips, like in Berlin. In New York, you're going over all those bridges! There's been a couple of fast years. But the times are usually quite stable, around 2:08 or 2:09.
How soon do you see a two-hour marathon happening?
The record, since the 1990s, it's fallen about four minutes. By our projections, it should happen sometime in the next ten to 20 years, somewhere in the late 2020s or even late 2030s.
To get under two hours would be about a 2 percent improvement. And the number of times someone has broken a distance-running world record by more than 2 percent — let's just say, it doesn't happen very often. Typically, people break these things by a very small fraction; 20 seconds here, 20 seconds there. I mean, you think, Oh, it's just 2 percent — but at the speed these guys are going, that's finishing more than a half mile ahead of someone running at the current record pace.
I think these guys are plenty mentally tough enough to do it. I think it's just a matter of the right surface, the right day, the right weather — and, as I said, the right prize-money scheme.
The thing is, if you look at the 5K and 10K records — the current world records suggest somebody should be able to run under 2:02. The marathon record is actually a bit soft compared to the 5K and 10K records. Though that's easy for me to say; I'm not the one trying to run 2:02!
Really, I think getting somebody at the 2:01 or 2:02 mark is relatively straightforward. And then the fun begins. It'll be fun to see how fast it goes after that.