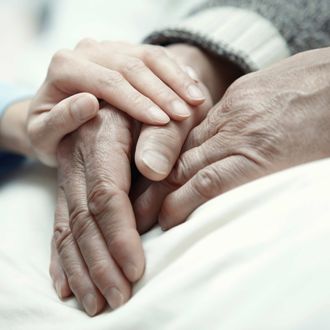 Photo: Arman Zhenikeyev/Getty Images
It's not a mystery that Americans aren't always great at discussing end-of-life issues, or making sure our loved ones' last days are lived out in as much peace and comfort as possible. A study presented at the 2014 American College of Surgeons Clinical Congress adds a new element to the conversation, examining not older people who have suffered from long-term, potentially fatal illnesses, but rather those who have suffered from a traumatic injury.
Half of older adults who sustain injuries severe enough that they could die in the hospital or become unable to function independently are not asked in the intensive care unit (ICU) if they wish to speak with palliative care specialists about their preferences for end-of-life care, a new study finds. The study results suggest that many older trauma patients have unrecognized needs for palliative care, the authors said at the 2014 American College of Surgeons Clinical Congress.

"Palliative care is not just for someone likely to die after trauma but for anyone who is seriously injured, who is frail or has other life-limiting illness" said senior investigator Anne C. Mosenthal, MD, FACS, chair of Surgery at Rutgers New Jersey Medical School, and a trauma surgeon and palliative medicine physician at University Hospital in Newark, N.J.
It's completely understandable how this might happen: During a scary moment in which someone is in the ICU, both they and their family are probably focused on the immediate road to recovery ahead. During a time like that, who wants to have a difficult conversation about death? The problem is that the more that conversation is put off, the more likely a patient is to die in less-than-ideal circumstances when the time does come. It is a really, really difficult issue.