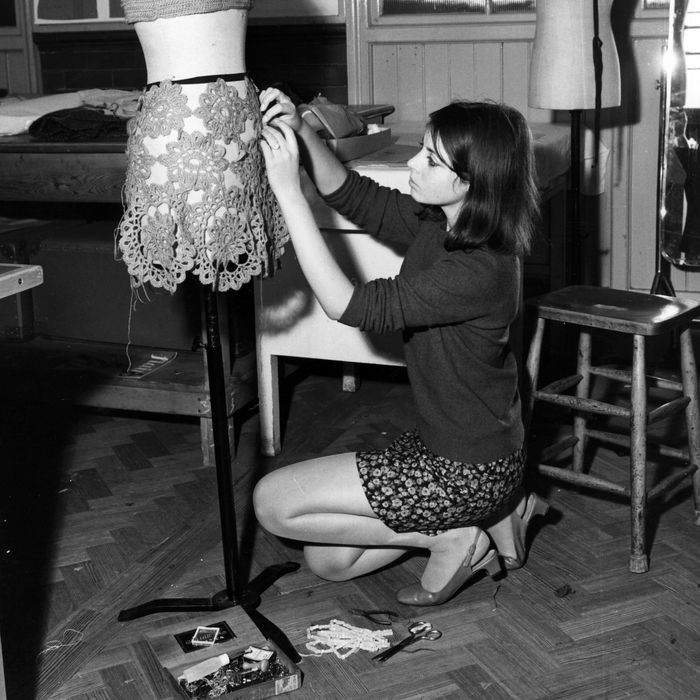 Throughout this week, the Cut explores college life, from politics and identity to parties, sex, and style.
I used to look at dresses in women's magazines and think to myself: I want to be the person to make those. When I was in middle school, someone told me about Parsons — and all through high school I talked to my parents about it. I had heard it was the best school for fashion in the country. When I was in high school, I obviously watched Project Runway, and that show glamorizes everything. I imagined this wonderful, creative environment where everyone is so passionate about their work and everyone is exchanging ideas. In the show they make it seem fun, like this all takes place at the wonderful Parsons, and I get there and the faculty is bitter, people hate the show, and you have to fend for yourself.
When I started there four years ago, we all used to care about how we looked: We would put on makeup, do our hair, and plan our outfits. But that ended pretty quickly. Now I don't really wear makeup, and I wear jeans and a T-shirt most days. We don't get to sleep very much, so every minute counts. If you're dressed like me, no one is going to say anything or hold it against you.
But if you dress really nicely and are wearing really expensive clothes, people are going to respond. I've heard teachers say what students are wearing is amazing, and they will be more friendly with students if they feel like they share the same personal taste. Certain kids dress in super-expensive clothes and look beautiful. It makes it seems like their work has much more taste because you see how they present themselves. I think it can help but I don't think it hurts you. One of my roommates was extremely rich and had these really nice, expensive pieces. But she wasn't consciously, like, "Oh, I have to dress nice to appear this certain way." She just grew up dressing expensively.
Sometimes I feel like I don't necessarily fit in with the cool kids at school. They wear really drape-y, all black, all white — that's the new gothic —oversize, and baggy. It's almost clinical, and they have an attitude about them. Everyone is obsessed with Rick Owens and Raf Simons. People are constantly referencing the two when they are talking about their own personal inspirations, and it also comes through in their work. Teachers are always joking that the entire school's palate is limited to black, gray, and white.
They just started a new class on the gothic, and it fills up immediately. There was this subculture in the '80s with this dark, gothic perspective in music, and books, and I feel like there is a revival of that in the high-fashion scene now — a lot of people are really influenced by those themes. I see people posting images of skulls and witchcraft on Instagram, and those are the influences we see in Rick Owens. People are also really interested in Twin Peaks all of a sudden. The teachers definitely enforce those ideas, and it does feel really current, and the kinds of things you see on the runways.
When I was taking womenswear classes my first year, it was very catty. Everyone was giving side-eye to everyone else. But I don't see a whole lot of that now because I'm in the menswear section. I feel like the menswear students are more inviting. We're all in menswear because we want to design for that customer. We understand that frame of mind, and we understand the idea of no-fuss.
Every teacher is always saying we should be like Rei Kawakubo from Comme des Garçons, because she designs for herself. She doesn't care about what anybody thinks or what kind of review she is going to get. She just makes these really crazy things, but all of her stuff is beautiful. Their argument is if you can do that, you can always design basic stuff later on.
Whenever I go to school to work on weekends, the school is extremely packed, and people are fighting for workspace. The students are always there working, even on weekends and even really late at night. The school closes at midnight during the school year, but during finals it is open 24 hours, and about 80 percent of the school ends up staying there.
I haven't dated anyone since I have been at Parsons. It's really impossible to sustain any kind of emotional relationship with anybody. I can barely keep my relationship with my parents solidly. If I'm out at a bar with my friends, I'm talking about how much homework I have to do. In the beginning of the year I'll go out every weekend and as the months go in, I'll go out once a month, and by the end of the semester I will not even consider leaving school. The parties are definitely not stereotypical college parties, and end up being mostly girls and gay guys. Which also doesn't help with trying to meet straight men.
I sleep an average of maybe five hours a night, and I stay up all night one or two days a week. Our core classes are each six hours, and I have one class that is six hours. I have two six-hour classes that are working on the same assignment. So you spend six hours in one class and six hours in another class, sewing sketching, whatever you need to do, two times a week. I work at a job on Sundays. I definitely know a lot of kids take Adderall. I don't, because I'm against it. I think it is stupid. I would rather just drink a lot of coffee and take little naps. I know one girl in my class was definitely getting depressed and was not handling it well.
I see one student cry a semester. Most of the sensitive kids get weeded out, but there are a few left. It is heartbreaking, and everyone in the class is really uncomfortable. I had one teacher who told me my work wasn't good enough to continue on and another one that told me I was amazing. I'm very stubborn so I managed to not cry, but I definitely went home and bawled my eyes out. I am not the kind of person who thinks that things should be handed to me or that I should be coddled in anyway, ever, but I feel like many teachers are lacking that human level and don't try to understand or connect with us.
Right now, I am working on my thesis. It is the pinnacle of everything, and might be the one thing that will get you a job. That's the dream. At the end of the semester, whenever we show our clothes to a panel of judges, they are the first step to getting your work outside of school. If one of the judges sees something they really like they might tell someone, or set up a meeting, and then their store or maybe Barneys or Bergdorf Goodman would like to buy the whole collection. But I think the school does a good job in letting those opportunities present themselves. If the work is really good, I like to have faith that someone will notice. We are supposed to make five to six looks, which ends up being about 15 garments. Over the summer I worked 40 hours a week to save up money for it, but that money is getting eaten away quickly, and I still haven't even figured out what my final fabrics are yet.
I ended saving about $1,500 from working, but I know one student spent $20,000 on their thesis, and that includes having things sent out, the fabric, or having things done to the fabric, either dyeing or washing or embellishing, and then having samples made. I heard someone else spent $500, because he only did recycled materials.
There is someone in my class who knows somebody who runs a factory in China. He's going to pattern everything out and send the patterns over there, and then they will just make it. It's not cheap to have somebody make a sample for you, but it's easier, and you don't have to sew. There is supposed to be a limit to how much of your thesis you can send out, but the school isn't strict on enforcing it.
I'm very hopeful I'll get a job, but I'm also extremely nervous, because we have heard so many stories about kids who are still interning when they graduate. That's not an option for me. I have also heard stories of one girl who after she graduated ended up getting a job at Jo-Ann's Fabric on Long Island, which is so depressing to me. I'd like to live out West. I'd really just like to get out of New York City.