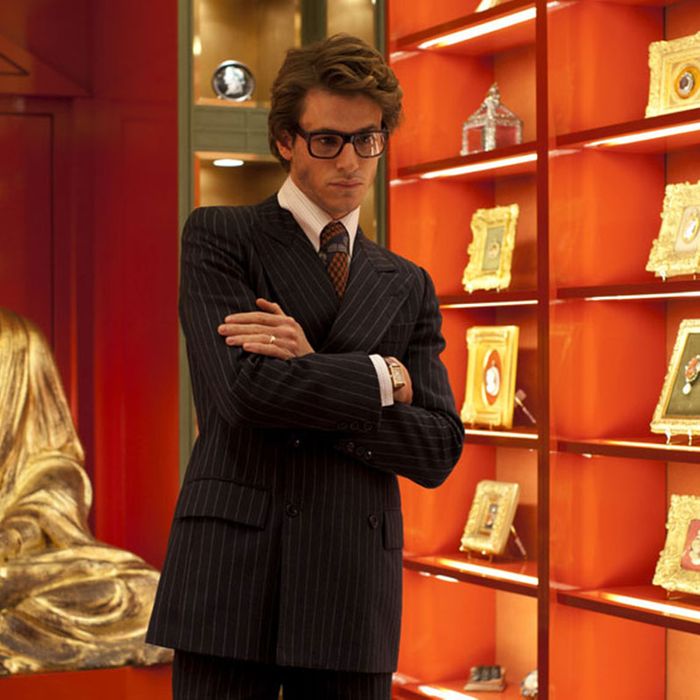 As far as films about designers go, Yves Saint Laurent is having a moment. A documentary, L'Amour Fou, about the designer's history with his once-lover and long-term business partner Pierre Bergé came out in 2010, and Jalil Lespert's Yves Saint Laurent opened in January, for which Bergé — now the keeper of the designer's estate — granted its filmmaker complete access to the house's archives.
Now comes this year's "other" Saint Laurent film: Saint Laurent, the unauthorized biopic directed by Bertrand Bonello. Bergé damned this version in the press (and threatened to sue Bonello for it in 2013) — but it's already received glowing reviews for its fluid approach to an often heavy-handed genre. At a recent screening at the Paris club Le Silencio, Bonello chalked up the tandem productions to Zeitgeist.  "Saint Laurent died in 2008. Around 2010, people started talking about making a film," and, in 2012, he says, his production and Lespert's version "started at the same time." Bonello decided to push back his release to finish it (it opened in limited release in Paris last week). Last May, it was picked up by Sony Pictures Classics before it even went to Cannes, and France has already submitted it to the Academy of Motion Picture Arts and Sciences as a candidate for Best Foreign Film.
Here, seven things you need to know about the new Saint Laurent movie.
It focuses on a different time in the designer's life. Bonello admitted some tailoring to his script had to be done: "When I got wind of what the other film was about, more or less, I cut the beginning of my own film to enter more directly into the heart of the movie." His delves into the era during which "Yves Saint Laurent was already extremely famous. There isn't at all, like in the other film, an initial meeting with Pierre Bergé, the birth of the maison, there isn't the ascension … we attack with someone who is already at his peak." The decade in question is 1967 to 1976, zigging and zagging between Saint Laurent's atelier, his nightlife excursions, his trysts, his pill-popping binges, his opulent home. A "flash-forward" look into designer's later life (circa 1989–1990) is brusquely evoked in the latter part, almost à la Lost.
It was made on a budget. The fact that the two movies were made simultaneously created a lot of production issues — especially in the financial department. "Economically speaking, having two films about Saint Laurent in a fragile market … we all cut our budgets," said Bonello, who disclosed that the film was made for 8 million euros rather the original figure of 15. "We weren't sure if there would be one film, two films, zero films, based on what the market could absorb."
The fact that Berge didn't get involved may have been a good thing. Bergé and the Fondation Piere Bergé-Yves Saint Laurent gave their blessing to Lespert's film while damning this production. Bonello admitted in interviews that he had not wanted to meet with Bergé before having fleshed out his own vision, which he says caused Bergé to feel slighted. But Bonello said that he felt relieved that he ultimately didn't have to deal with Bergé's creative input. Ultimately, although Bergé did not grant Bonello access to the Yves Saint Laurent archives, the production had, crucially, the backing of François-Henri Pinault, CEO of Kering (which owns the Saint Laurent brand).
This version is getting much better reviews. Lespert's film received lukewarm reviews — Le Monde called it "disappointing" and wrote that the director "merely reduces the life of the fashion designer to a simple story." Bonello's version is, on the other hand, is already being acclaimed. L'Express described it as: "masterful film directing … each narrative decision required above all a cinematographic film resolution."
Clothes don't get the short shrift. Gaspard Ulliel, playing the namesake designer — in spot-on reincarnation casting — is turned out in trim suits and oversize bow ties, by way of costume designer Anaïs Romand. Léa Seydoux as Loulou de la Falaise orbits in fabulous boho garb. But the real fashion star of the movie is Louis Garrel as Jacques De Bascher, Saint Laurent's lover ( … also Karl Lagerfeld's), who is impeccably outfitted and, simply, unmatched.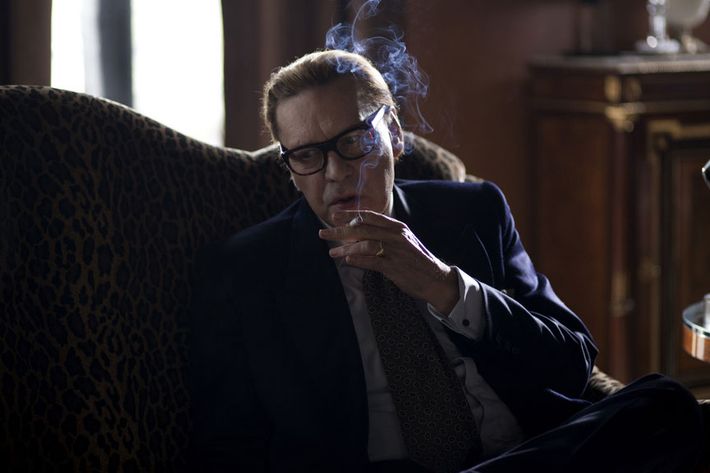 The film also expertly articulates the designer's style philosophy. When a client (in a cameo by Valeria Bruni Tedeschi, Carla Bruni's actress sister) hesitantly tries on a gray menswear suit, Saint Laurent reassures her that thanks to the trouser pockets, she can go out with just the essentials: her keys and pack of cigarettes.
Fashion is put in context with the times. For one of the sequences, Bonello juxtaposed the runway looks with black-and-white footage of protests, military tanks, and scenes of activism that characterized the societal turmoil of the late '60s — effectively putting the clothes within the historical circumstances of its time.
It gets a little imaginative, too. Bonello reimagined behind-the-scenes of shoot of Saint Laurent's "le smoking," photographed by Helmut Newton in 1975 for French Vogue, in which one woman appears dressed in black menswear suiting and the other is naked. In the sequence, Bonello depicts them discussing fashion and lamenting the cold. Their chatter is a little overly self-aware, but it's the perfect symbol for the film: It goes beyond the flat glamour of familiar imagery and takes a guess at what's beneath the surface.