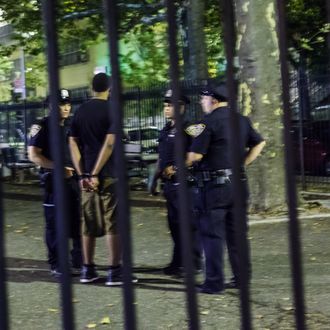 Photo: Kevin Downs/Corbis
Young men in New York City who've been stopped and questioned or searched by police, as part of the city police department's stop-and-frisk policy, are more likely to show signs of anxiety or PTSD, according to new research. And the more times they've been stopped by police, the more anxiety they tend to have, finds the paper published this month in the American Journal of Public Health. 
The research, led by New York University sociologist Amanda Geller, is among the first to examine the lingering psychological damage that can come from this kind of aggressive policing. From September 2012 to March 2013, the researchers conducted telephone surveys of 1,261 men, ages 18 to 26, in New York City. (Most of the calls were to people living in neighborhoods that had the most police stops recorded in previous years.) During the 25-minute interview, they asked the young men how many times they'd been stopped and what the tenor of those encounters had been — did the officers search them, use racist language, or threaten (or use) physical force?
The interviewers also asked the young men questions about their mental health, specifically about anxiety or PTSD, and when they analyzed the answers they found a correlation between police stops and anxiety or PTSD symptoms. So it could be that these police encounters are triggering the anxiety, or it could also very well be working the other way around. More anxiety could be leading to more stop-and-frisk encounters, because an anxious young man might look a lot like a suspicious young man. "We can't conclude cause and effect from this analysis," Geller said in an email. "But if aggressive police contact does lead to anxiety, then tactics like stop-and-frisk are undermining the health of communities that the police are working to serve."