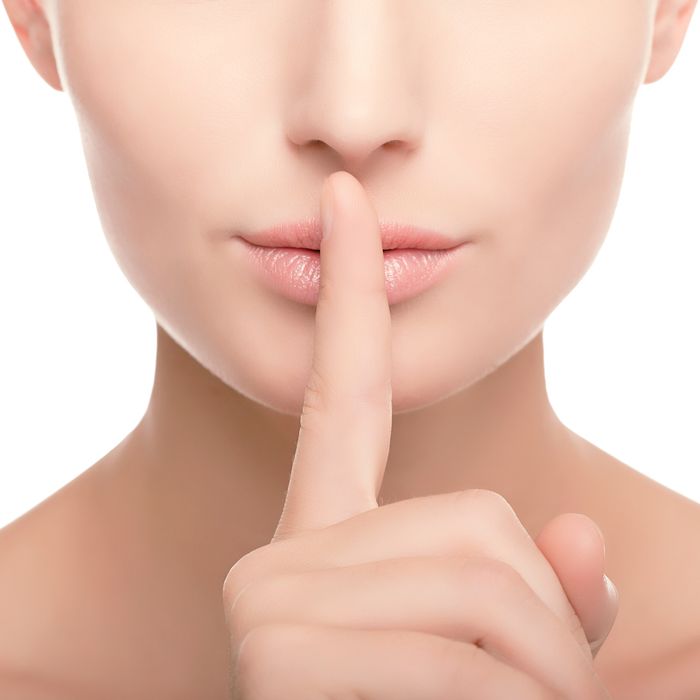 Around this time last year, I crawled into bed, opened up my laptop, and started whispering awkwardly into the camera. I was making a video to accompany a story on Autonomous Sensory Meridian Response (ASMR), a highly scientific name given to a yet-to-be scientifically documented physiological phenomenon that has led to the creation of an increasingly popular YouTube subculture.
The sound of whispering, for ASMR enthusiasts, produces a warm, tingly sensation, something like the frisson you might feel while listening to intense music. It's a subtle euphoria that lulls those who experience it into an almost trancelike state of relaxation, telegraphing spinal shivers and spreading goosebumps across their skin. Since 2009, an active YouTube community has blossomed around videos that showcase common ASMR triggers: like gentle, monotonous speech, soft rustling noises, the sound of a pencil writing on paper, and that tender yet gravelly way your hair sounds when it's being brushed. The goal of the videos is to induce that relaxing feeling, and the community is growing ever larger as we speak. Since I wrote that story last year, the Reddit ASMR community has grown by almost 30,000 people. The Today show even covered it on Wednesday morning, dubbing members "Tingleheads."
I wanted my clip to mirror the style of real ASMR videos, so I shot it in a calm, dimly lit place, looking directly but nonthreateningly into the camera and softly whispering. It was an amateurish attempt, and my whisper came off much harsher than intended, but it did the trick. Commenters quickly chimed in to say the video worked for them, but also that it was weird and why did my mouth make those noises. Then, because this was the internet, the inevitable happened: "I just came," declared one of the commenters. Gross. He was almost definitely joking [prayer-hands emoji], but it seemed I had inadvertently stumbled directly into the divisive divide within the ASMR world: Is ASMR totally nonsexual and more about relaxation than stimulation (as the majority of devotees argue), or is it kiiiind of basically soft-soft-core porn?
The thing is, it can be both simultaneously — at least depending on whom you ask.
Nica Noelle, a longtime porn director turned ASMR enthusiast, is trying to harness the distinctive brand of bliss generated by ASMR videos and translate it into a new type of erotica that eschews the roughness typical of modern pornography in exchange for something more tender.
"What I want to do with this new project is really make the viewer feel loved and paid attention to and aroused in a way that's more personal and more gentle and I think sexier," Noelle explains in a video introducing the concept.
There is a clear difference between standard ASMR videos and those made with eroticism in mind. Both types typically feature young, attractive women whispering, gently smacking their lips, or making delicate rustling noises into the microphone; both types are shot in an intimate style that attempts to make the viewer feel comforted, doted upon — even loved. But erotic ASMR takes that simulated connection one step further by acknowledging something most ASMR devotees prefer to ignore: that all those breathy tingles can be a major turn-on.
The budding erotic ASMR genre borrows heavily from POV porn — you know, the type where the actors look directly into the camera so the viewer feels like they're actively engaged in the activities taking place onscreen. Some of the contributions to the category are straight-up dirty talk: Search YouTube for erotic ASMR and you'll find videos of young women embarrassedly whispering 50 Shades of Grey–inflected fantasies into the camera. (One of these explicit videos is the top-ranked post on Reddit's erotic ASMR community, which boasts nearly 12,000 subscribers.) But that approach clumsily misses the eroticism that's already part of the ASMR experience. Its coded language and affectionate approach induce their own state of heightened arousal, like a passionate prelude to the kind of soft-core, non-penetrative porn you witness on late-night Cinemax. Erotic ASMR is the flirty tease of porn genres.
And while eliciting an erotic reaction is clearly part of the point, Noelle and her followers also want to make people feel loved in a way that only a generation who grew up developing intimate relationships over the internet can. She wants you to feel emotionally connected and turned on, all while staring at a screen. Erotic ASMR sexualizes tenderness; it's just as much about making people feel safe and cared for as it is about turning them on.
Of course, not everyone in the ASMR community appreciates Noelle's push to eroticize their favorite pastime. For many, ASMR is more meditative than carnal; they worry that the porn will make outsiders perceive their community as creepy. And incorporating eroticism into ASMR could leave the young women who create traditional ASMR videos vulnerable to harassment.
"Three days ago, I got a penis picture from a guy saying he jerked off to my videos," one ASMR artist told the Daily Dot. "I told him 'I'm happy you're enjoying yourself with my videos, but please keep it to yourself because it is not my intention to make you feel that way.'"
Noelle argues that erotic ASMR is simply proof that porn doesn't always have to be uncomfortable or aggressive, and can emphasize human connection just as much as other ASMR. "I think that the reason why a lot of people that are in the ASMR community don't want an association with porn is because porn is viewed as very insincere and very harsh," she explains in her introductory video.
In some ways, Noelle's work belongs to a category of porn sometimes billed as "female-friendly," porn that tries to imbue staged sex with passion and sensuality. It's porn for the tenderhearted, the twee, the people who can't not snuggle afterward. At the very least, it's material that attempts to dodge the visceral disgust you feel as you close the PornHub tab after you finish.
"I wanted to try to show humanity and a broad range of emotions during sex and real intimacy," whispers Noelle, her voice featherlight. Whether or not it's actually possible to capture "real intimacy" in a YouTube clip remains to be seen.