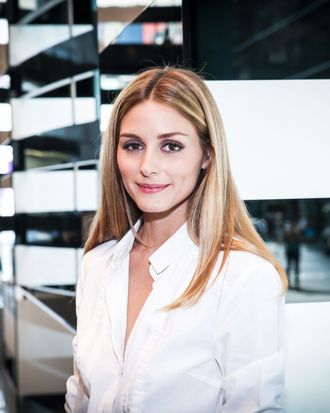 Photo: Sam Deitch/BFAnyc.com
Olivia Palermo already helms a website that's incrementally less annoying than Preserve and designs a capsule shoe line for Aquazzura, but that is not nearly enough for her. "I have my hands full at the moment. I would love to start my own [fashion] house but it's not the right time," she tells Net-a-Porter's The Edit in a new cover story. "I feel like I can do it in stages and when the timing is right to do it, then I will." In other words, it will happen the way almost all things happen — it will proceed in stages, and then it will be complete. Fair enough.
If you're trying to picture what the House of Palermo will have on offer, skinny belts are a good bet, because she also tells the magazine, "I have endless skinny belts." Is anyone else imagining an Escher-esque assortment of linguine-width waist-cinchers that stretch on toward infinity?