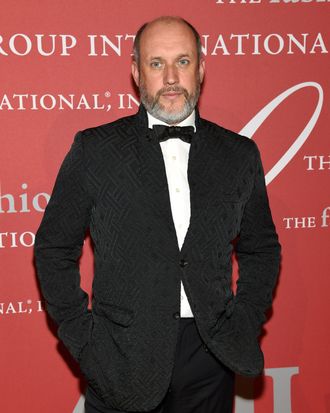 Photo: Jamie McCarthy/Getty Images
Newly minted New Yorker Peter Copping got quite the reception last night at the Fashion Group International's annual Night of Stars. Copping, who is taking over the mantle of the house of de la Renta, was there to accept an award from FGI. After being introduced by his former boss, Marc Jacobs, Copping said,
Well, talk about into the deep end. Thanks very much, Marc, and thank you to the Fashion Group International. I'm very touched and honored to receive this award. I'm very happy to be here in New York. This award really comes as a culmination of 20 years of working in Paris. Five years, very special years, at Nina Ricci; 12 years with Marc [at Louis Vuitton], which were really an unforgettable experience; and three years at Sonia Rykiel.

As you all probably know, that I'm crossing the pond and coming to New York is something that I'm incredibly excited about, to have this new challenge, to be creative director of Oscar de la Renta. It's a bittersweet moment with this week's developments. Oscar has left me with his fantastic legacy, and it's something that I'm very much looking forward to taking forward. And being here amongst so many friends, I know that I'll see a lot of support, and I'm sure that Oscar will be my guardian angel. Thank you.
After the speech, Copping told the Cut, "I had contact with Oscar, by telephone, just before he passed away. And I really have to get into the company. I've been doing a lot of research, and I've got a lot of ideas together, but I think I really need to be there, and with the team, before I can really get started." Copping disavowed any nervousness, saying that he was excited. "I think I'm a good fit for the house, and I think that's why Oscar chose me as his successor. I think it's in good hands. Oscar and I were very much into the same aesthetic on a lot of levels, whether it's homes, or gardens, or fashion … I think there are a lot of parallels. I like a very sophisticated woman, I like elegance. I think it's still about taking the house forward. I think that's what Oscar would have thought as well."