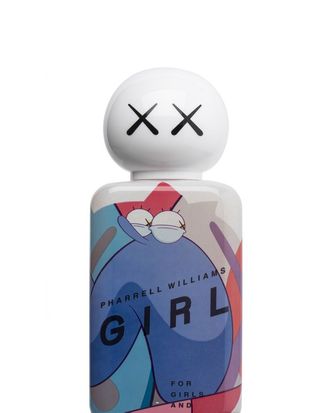 Pharrell likes girls. I get it. But in his latest effort, GIRL, created in partnership with Comme des Garçons, he tries to smell like girls. Or have girls smell like girls. Or maybe have girls and boys smell like girls and boys. It's a bit confusing.
Taglined, "For girls and boys," the top notes of GIRL are bold and unapologetic. The peppery scent is like a trip in the woods, with spicy fumes of white pepper and cedar. This strong scent hovers, like a mushroom cloud, for the better part of an hour. It smells rustic, in a bare-bones kind of way.
On the dry-down, the fragrance releases from its peppery clutches and blooms into a light, more woody scent. It is an earthy, creamy, softer wood aroma, of sorts. Perhaps a bit too woody. Although violet and iris are sandwiched in the fragrance's middles notes, their sweetness was elusive.
The bottle, on the other hand, is fodder for mass appeal. Designed by Brooklyn artist KAWS, it is colorful and fun. The bottle is playful, in that you'll want to believe a light, somewhat sweet scent lives inside. But you know better now: GIRL is a scent that's rich in spices and wood, and perhaps a bit more attuned to the nose of just a boy. Who knew Pharrell was into spice girls?