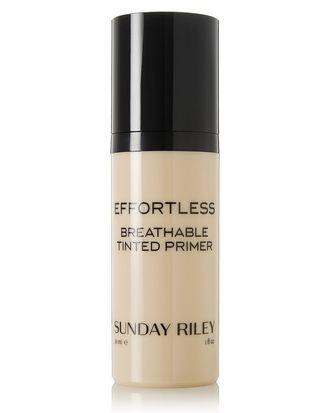 Photo: Courtesy of Sunday Riley
I've been on the fence about primers. After all, in the morning, who wants an extra step on the road to great skin? Here's one that recently changed my mind: Sunday Riley's tinted primer, a thin, waterlike, magical liquid that performs much better than the ho-hum status quo of most other primers.
My original beef with primers, especially tinted primers, is that they're rarely made with my complexion in mind. The one-size-fits-all shades are often way too pale. But Sunday Riley's Effortless Breathable Tinted Primer is available in three shades: Light, Medium, and Deep. With the consistency of a toner, I took a leap of faith at the altar of Sunday Riley and layered the primer (in Deep) over my sunscreen. It immediately blended into my skin. The coverage was like that of a tinted moisturizer, although much less viscous, and dried to a velvet finish. My skin was smoother, brighter, and more even.
Maybe it was the rejuvenox, Sunday Riley's mystery ingredient that "oxygenates the skin and increases moisture level," that made my skin look so good. If I couldn't thank the rejuvenox for the smooth, dewy, poreless skin that continued throughout an entire day's use, then perhaps I could look to the two other key humectants in the formula, sodium hyaluronate and glycerin. Whichever the culprit ingredient, my skin cultivated a natural, lit-from-within radiance, even when I wore the primer alone. It was even and luminous, and I looked like I was wearing no makeup.
On another day I tried the primer under my foundation. It made my foundation wear longer, without pilling or caking. If there was one bone I had to pick, it would be that amongst the bevy of moisturizing ingredients, the matte-making effect remained elusive. Sunday Riley promises that nylon 12, an ingredient in the primer, will reduce shine. It did not. The shine on my forehead beamed with increasing brilliance as the day progressed. On the flip side, the primer didn't settle into the creases around my nose and mouth, as lesser formulas tend to do.
Sunday Riley's breathable primer may employ mystery science to craft radiant skin, but I believe that it allows you to skip foundation and make your skin appear naturally luminous. This liquid perfecter is now a welcome extra step in my morning makeup routine.