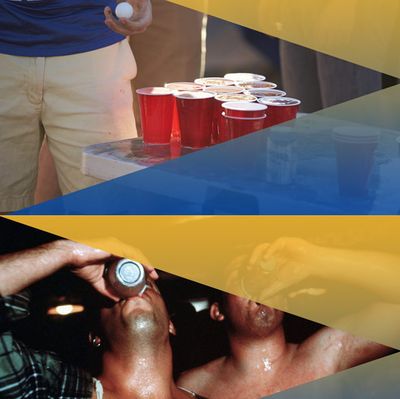 Photo: Getty Images, Corbis, Shmacked
Last week, the Cut debuted College Week — a five-day exploration of undergraduate politics, identity, sex, and style that included everything from a first-person account from a conflicted frat boy to a report from the front lines of College Party, USA. In case you missed it, here's all of the Cut's College Week stories in one place — including campus street style from across the country, videos of squabbling roommates, and so much more.
1.WE WENT INSIDE THE TERRIBLE COLLEGE-PARTY INDUSTRIAL COMPLEX. Allison Davis trekked to the University of Florida, Gainesville, to give us a behind-the-scenes look at the "I'm Shmacked" college-party video phenomenon. The verdict: "It's like a bat mitzvah with underbutt." 
2. WE REALIZED COLLEGE SEX SUCKED. Maureen O'Connor remembered the particular horrors of college sex ("Did you ever do that thing where you put your tongue on a girl's clit, then shake your head back and forth really violently?") and considered why dorm rooms aren't exactly conducive to sexual discovery.
3. WE LOOKED BACK TO THE '90S CONSENT MOVEMENT. Antioch College alum Bethany Saltman recalled her crusade for affirmative consent.
4. WE LOOKED AT CAMPUS STREET STYLE FROM DIFFERENT SCHOOLS. The Cut sent student photographers to capture campus style at their schools, including UCLA, NYU, UT, Austin, University of Miami, Rhode Island School of Design, and UC, Santa Barbara.
5. WE STALKED COLLEGE KIDS ON INSTAGRAM. And compiled a sampling of the ways that young women across the country are documenting their own college experiences on Instagram.
6. WE WENT TO FASHION SCHOOL. A disillusioned Parsons student explained what life as a fashion-design major is really like. (Not at all like Project Runway.) 
7. WE THOUGHT HARD ABOUT DÉCOR AND SEX. Maggie Lange offered a close reading of what kind of college sex you will have based on your partner's dorm-room poster of choice, from Breakfast at Tiffany's to Starry Night.
8. AND BINGE-DRINKING. Kat Stoeffel proposed a new theory to explain college binge-drinking: Overachieving students just don't know how to relax.
9. WE CHECKED WHAT THE FAMOUS PEOPLE THOUGHT ABOUT COLLEGE. The Cut compiled a collection of good, bad, and ugly college memories from notable women, including Meryl Streep, Mindy Kaling, Lena Dunham, and even Kourtney Kardashian.
10. WE FOUND A NICE FRAT BOY TO WRITE ABOUT WHAT HE LIKED ABOUT HIS FRAT. Sam Rosen explained what pledging taught him about straight-white-male privilege.
11. WE SHOPPED FOR FRACKETS. Maggie Lange penned an ode to the fracket (for the uninitiated: "It's a shitty jacket you wear to frat parties").
12. WE MET A GUY WHO DOES CRISIS PR FOR COLLEGES. Sarah Miller profiled the Brett Sokolow, the Philadelphia risk-management attorney advising colleges how to better handle campus rape.
13. WE INTERVIEWED 15 PEOPLE ON BEING "GAY TILL GRADUATION." Diverse accounts by (straight-ish) people on experiences with homosexuality in college.
14. WE PLAYED RA. Our video editor, Abraham Riesman, filmed college roommates airing previously unspoken grievances to each other.