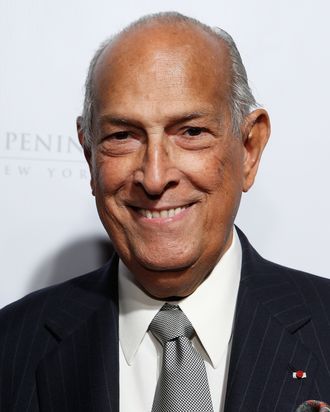 Photo: John Lamparski/Getty Images
Since Oscar de la Renta passed away two weeks ago, a series of moving tributes have poured in for the late designer — including many on social media. At the Fashion Group International's annual Night of Stars, de la Renta's close friend Diane von Furstenberg memorialized him, and his successor Peter Copping paid fond tribute. In honor of the designer's memorial service today, here are some touching tributes to Oscar, courtesy of his celebrity friends and fashion cohorts.
Sarah Jessica Parker, to Us Weekly:
"It was an enormous privilege to be dressed by Mr. de la Renta for so many occasions over the last 15 years. And especially meaningful to collaborate with him for this year's Met Gala. I will always be grateful that he allowed me to honor him by embroidering his name in Scarlett on the hem of his glorious dress. He was an inspiration and a man like no other."
Michelle Obama, to Women's Wear Daily:
"Oscar de la Renta was a pioneer and a visionary who helped generations of women embrace their most beautiful, confident selves. My thoughts and prayers are with his family."
Diane von Furstenberg, to the Hollywood Reporter:
"Oscar was a couturier, an artist, a gentleman, a true Renaissance man. … His voice will continue to sing in our hearts!"
Ralph Lauren, to Women's Wear Daily:
"I always loved him. He was a very sweet guy. I was always very fond of him. We sort of grew up together. We spent time over the years talking to each other at events and we promised to have dinner together. We never got to do it. As an American designer, he's one of the greatest. He brought a great deal of class to American fashion and the way he handled himself. He had great class, great style and he was a gentleman. He had a great sense of personal style and he knew what was appropriate for President's wives and the people he designed for. He was a very unique man in the history of American fashion, both for his workmanship and talent, as well as his creativity and class."
Anna Wintour, in Vogue:
"Dinners in Paris when he was designing for Balmain would start with the two of us and end up twenty or more. He would ask the concierge to dinner rather than dine alone. There were glorious times in Punta Cana, always dancing, always singing, taking the kids out to swim with the dolphins when they were little, always happy to include ten more people for dinner, always the phone call to say thank you and to gossip, so thrilled to make Amal's dress. He was determined to come to [my son] Charlie's wedding, but was sent by his assistant to the wrong airport. Yet he turned up with a smile and kiss at the last minute to put the veil on Elizabeth and send her down the aisle in the dress of her dreams. Every girl's dream.
"He always said accept your friends for who they are, not for who you want them to be. Oscar was everything you could want a friend to be. Annette was his perfect partner, creating those magical houses and gardens together, giving extraordinary seemingly effortless dinners, and always taking care of each other. She slept on a cot in the hospital every night he was there. Theirs was the greatest, most life-enhancing love affair. Last week in the hospital he said that she never wears the beautiful jewelry he gave her, and she said simply, 'I have you.'"
Riccardo Tisci, to the Cut:
"I think Oscar was the only couturier in America. After Halston, he was the only one and I think he and Carolina Herrera represented the Spanish side of New York and America, which is really strong, the Spanish culture here."
Valentino Garavani, to Women's Wear Daily:
"I have lost not just an amazing colleague but a dear friend. We were born the same year, started to work at the same time, and shared the love for beauty and femininity. If sometimes there was competition between us it was like the one of two pilots of the same team, and never as opponents. How could one be against this sweet, gentle man? When I last saw him in late August in Greece he saved me when the host asked me to sing. He took the microphone from my hands and sang with his perfect voice a couple of Spanish songs! Six weeks ago only … Thank you Oscar to have been a good friend for so many years. I will miss you."
Karlie Kloss, to the Daily Beast:
"I remember going to my first Oscar de la Renta fitting and sitting in his Garment District atelier, just studying everything hanging on the walls. The room was filled with beautiful creations from Oscar's world — embroidered fabrics in rich hues, sparkling gems, and extraordinary sketches. It was chaotic but beautiful, like everything around me.
"This tall, tan, and elegant man walked into the room and introduced himself. Oscar had sophistication and ease, but most of all, he made me feel comfortable and at home. For a moment, I forgot about being young, new, and having never worn a designer gown before. From that first meeting, I saw Oscar's genius, but also felt his humility and humor. He radiated a true dedication, grace, and love."

Karen Elson, to the Cut:
"He was such a quintessential gentleman, and he would always — I remember the last show I walked for him, he just was always such a gentleman, and he would make you feel regal. I think that's the thing about Oscar, he was … I've never met a more refined man. I  had known he was suffering with cancer, but you would never even know, because he would just continue and carry on. He was such an elegant man. I think that's what I remember the most: The world has lost a true gentleman, and there's not a lot of those left, so there's a big void. He would always make us feel like a queen, and important. He was a consummate, absolute gentleman."
Wes Gordon, to the Cut:
"I was able to intern for him for two summers, and he came to my first show, which was amazing. It was [during] a horrible blizzard, and he came up to the hotel room to see my presentation."
Jenna Bush Hager, to the Cut:
"Oscar became a dear, dear friend of ours. I mean, he worked with my mom a lot, and in making my wedding dress, I went into his studio, and he said, 'Okay, this is the dress.' And right away, it was the first dress I tried on, and then he goes, 'But you need the most important accessory, the man.' So I got to walk down the aisle of his studio, with one of the most lovely men I've ever met. And I adored him, and I'm sad, like everybody else, and I miss him a lot.
"But I had a lot of wonderful memories with him. He had this favorite Italian restaurant close to his studio, so whenever my mom was in town, we would go there and have this very traditional meal. And he was the type of man — and it's kind of ironic that we're celebrating gentlemen here — who would pull out your chair, and open doors for you. And I think the world is a better place because he was in it.
"He walked me down the aisle himself, with flowers that he pulled from a vase on the coffee table in his studio. And I thought to myself, 'Wow, my husband has some big shoes to fill, because' — and he's filled them — 'this is an amazing gentleman.' And he was terrific. I mean, he was an artist, and more than anything, he was kind. So I miss him."
Simon Doonan, to the Cut:
"He had a wonderful sense of humor, and I witnessed that firsthand because I interviewed him for the New York Observer, and I asked him kind of obtuse, ridiculous questions, and he responded, and he got totally into it. He was a really good sport. And charming, and wonderful, and so sweet. And beautiful. Special."
Andy Cohen, to the Cut:
"I had dinner with him in a group once, and the one thing that I will say about him is as elegant and sophisticated as he was, he really had this vibe that he was, like, a man of the people. And I think that probably just came from where he came from and everything, but he just seemed so down to earth, even though he was so chic, and a king, a titan, of fashion."
Teri Agins, to the Cut:
"He was terrific for reporters. You know, he was 'quote-tron,' he spoke with action verbs, he was always so charming. I mean, this guy, he had everything. He looked great, tall, tan, handsome. He could sing, he could dance. I'll never forget, there was this event at the Met where the company that did his fragrances brought in all their top sellers from all over the country for a little cocktail party. It was in that Great Hall, and they had music, and Oscar took a twirl around the floor with each one of those top saleswomen. I mean, it was magnificent. And we kept saying, 'Nobody else in fashion would do this.' I mean, the guy was just, like, royalty."
Domenico De Sole, to the Cut:
"I remember once I was in panic, because I was invited to one of his shows. I couldn't go, and my wife got very mad at me, and said, 'Well, I really want to go.' And I remember calling him, and he could not have been more gracious. He was one of the most classy, gracious, kind people. I thought he was terrific, on a simply human level. He was a great gentleman."