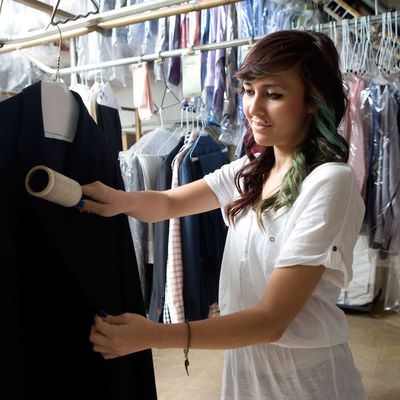 Photo: moodboard/Getty Images
Just think about where a Rent the Runway dress travels after it leaves the warehouse. Maybe to a party, maybe to a wedding, perhaps to a black-tie event, maybe to a girls' weekend in Vegas. No matter where that affordable yet appropriate yet formal garment journeys to, one thing is certain: It will get covered in the sneaky stains and germs and bodily fluids of 30-some wearers before it arrives at your door.
Fast Company has a really fascinating (no, really) profile of the Rent the Runway "spotters" — the unsung heroes who make sure you never see a stranger's dinner droppings or pit stains on any of the 65,000 rentable garments the company offers. Spotters occupy the most skilled sect of the dry-cleaning industry. While there is a 20-step process to stain identification and removal, the best specialists, like the ones employed at Rent the Runway, can eyeball a stain and determine if it is blood, nail polish, or Pinot Noir within two minutes, and remove the stains on about 30 dresses per hour. (It's also, according to Fast Company, one of the most lucrative positions in the warehouse, and spotters make upwards of $30 an hour.)
How do they do it? Is it magic? Divination? A God-given talent? There is a two-year spotting program with the National Cleaner's Association, so anyone can learn to remove any stain from any fabric like the pros.