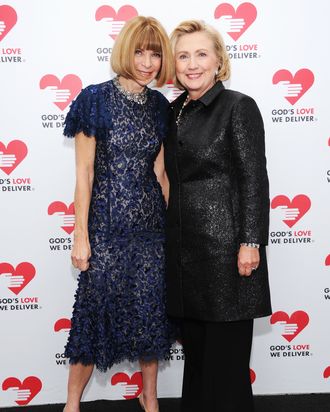 Photo: Dimitrios Kambouris/Getty Images
Hillary Clinton might be about to get her first Vogue cover since 1998. The Daily News reports that Clinton and Anna Wintour were recently spotted "studying a rack of clothes" at Michael Kors's midtown studio. It doesn't take Einstein to infer that the clothes-rack studying could be in preparation for an upcoming photo shoot. Also present were Huma Abedin and a "huge bodyguard," both of whom hopefully steered her away from the scrunchie route.
Clinton previously appeared on a Vogue cover back in 1998, wearing a dress by Oscar de la Renta, with whom she had a longstanding friendship. There were reports that she was to reprise her cover stardom in 2007, after announcing her presidential candidacy, but backed out at the last minute. (Perhaps fearing being trashed by the likes of Politico for relying on the so-called "princess effect.")
Wintour didn't seem to hold a grudge — in fact, she has indicated her interest in a sequel. Last year, at the opening of the de la Renta exhibit at the Clinton Foundation, she said, "All of us at Vogue look forward to putting on the cover the first female president of the United States."
We reached out to a representative for Vogue, who had no further comment.