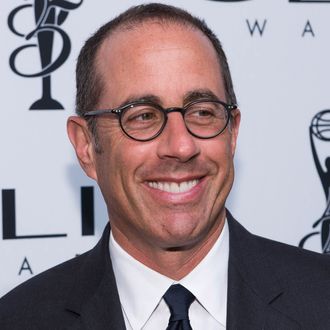 Photo: Dave Kotinsky/Getty Images
Humans, as anyone can tell you, love talking about/complaining about/debating seasons, especially now that it's actually starting to feel like fall. Just walk down the street and you are bound to hear someone gripe about how sad they are that summer is over. And let's not forget the endless hashtags — #summerforever and #summerdontgo and #ihatefall — lamenting the colder months ahead.
Jerry Seinfeld, though, is pretty Zen about the whole thing. "I'm most looking forward to the leaves and the cool air. I really got sick of summer," he said last night at the 55th annual CLIO Awards, which celebrate creativity in advertising. The comedian joked, "Enough already! I feel like each season is the right amount. I get enough of the weather, and I can't take it anymore. It's time to move on to the next season. People, let go of summer!"
All right, Jerry, we get it: Bring on the polar vortex, yada yada.