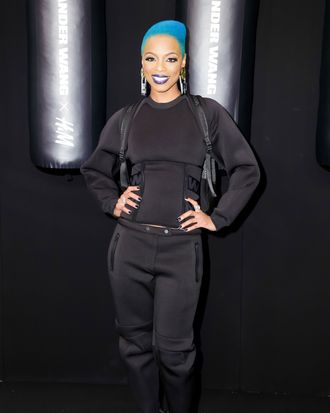 Photo: Matteo Prandoni/BFAnyc.com/BFA NYC
From her bright-blue hair to her streetwear-inspired outfits, the up-and-coming rapper Sharaya J fits perfectly into the role of fashion muse. She first made waves with her single "Banji," released last year, and now she's found a patron in Alexander Wang. (The Hawaii-born, New Jersey–raised artist had an eclectic pre-fame résumé that included stints as a dancer in the Step Up franchise and as a screenwriter for the film The Real T.)
After attending Wang's show and both acting in and supplying the soundtrack for one of his T by Alexander Wang promotional videos, she was recruited to open for her mentor Missy Elliott at the party for Wang's H&M collaboration. The Cut talked with the 30-year-old rapper about getting discovered by Elliott, Wang's dance moves, and her drugstore secret to Technicolor hair. 

How did you meet Alex and get linked up with him? I know he previously used one of your songs in a promotional video.
It was actually wild, because my manager, she hit me up one day — randomly, in an email — and said, "Hey, Alexander Wang said that he wants to meet you. Why don't you come down to the showroom?" At first, I was like, "Girl, yeah right! Not Alexander Wang!" And she was like, "No, Alexander Wang." It blew my mind. She said he'd seen the "Banji" video, he loved my work, and he'd like to meet me. So can I come down to the showroom? And so I was like, [laughs], "Yeah, I can definitely head down there and meet him." When I met him, he came downstairs with the dopest energy, and was like, "Yo, I love your stuff." The thing he [said he] loved about it was it was just all talent. No smokescreen, no bells, no whistles. And just reminded him of something that musicians used to do, a time when it was like that. It blew my mind, but from that moment, we connected, and we've been in contact with each other ever since.
What was it like getting to perform at his party and open for Missy? Was it intimidating at all?
You're talking about Missy "Misdemeanor" Elliott here, and Alexander Wang and H&M all together in one sitting. To have to go on before Missy? Of course that's intimidating. She's a veteran at this. But she had also instilled so much into me and pushed me hard to be my own artist and be able to hold my own when I get on that stage. So I was ready! There were the butterflies you get right before you perform, but once you hit the stage, man, it was awesome.
And Alex is a really good dancer!
Right? When he got up on that stage, he killed it.
I love that you are one of the people who are bringing back coordinated dance routines and actually dancing while they sing. You have a choreography background and did backup dancing for Rihanna.
Yeah, I've been in the choreography and dance game for so long.
Did working in that role in the industry help you at all when you launched your own career?
Absolutely. As far as performance, the [music] industry is a small industry still. You run into the same people. But, at the same time, being a dancer is very different from being an artist, although they kind of go hand in hand. But I think it kind of did prep me for my performance, and just the idea, too, of just taking direction and just respecting — having the hierarchy of respecting your choreographers who are above you. So when I was working with Missy, I had that same kind of respect for her, as a boss and a mentor.
You met Missy through the dance world. How did she end up signing you to her label?
We ran into each other at a dance event. Once we got introduced to each other, right away, she was like, "You do music? Because I like your style and your whole vibe." And I told her, "Yeah, I'm a dancer, but I also write and I've been working on my own [music]." And she immediately was like, "Well, who's working with you?" And I was like, "I'm kind of searching for somebody." And she was like, "Hey, come underneath my wing."
And you had sampled her on one of your songs ["Takin' It No More"]. Was that prior to the signing?
No, no, that was after. That was definitely afterward. It was an ode to Missy and her legacy. We worked so closely together; I respect all her stuff. Like I definitely did that as an homage to her and what she's created in this music business.
In the performance, you were wearing pieces from the Wang for H&M line, and your personal style is similar to that. Very sporty, with a big streetwear influence. What designers do you like to wear when you're performing?
Um, my favorite three right now are: Wang, Patricia Field — I love her store and I love her — and Joyrich.
I'm wondering what you think about that whole trend of sport clothes, and taking that to the street. That seems like something you do a lot of.
We dress like that every day. That's our style. Me and my homegirls, we really wake up in the morning and grab that out of our closets. I'm happy that finally it is getting, you know, the respect it deserves as a style, a real Banji style, you know what I mean. It is getting the light shined on it a little bit because it is a style, it's a look, it's a culture like hip-hop.
I wonder why you think that appeals to people? Is it just comfort?
It's just real, I think. It's authentic. You're not trying to impress, you know what I mean, you are just being you. And if you want to take those Timbs and throw them on and a hoodie and walk down the street, that is still you so that is still authentic and authenticity can be high fashion.
In the "Banji" video, you have a mid-'90s thing happening, with khakis, plaid shirts, and door-knocker earrings. What appeals to you about that era in fashion?
Well, I grew up in the '90s. My father was a part of ['90's hip-hop group] Double X Posse. So I was around that music and that era and that lifestyle. I was raised in it, so it's just a part of me. I don't think it's something I consciously do. I think it's just those are the stars I looked up to, those are the people, the artists who were out back then. As far as the "Banji" video, though, those plaid shirts and everything I actually picked as a reference to Don't Be a Menace to South Central While Drinking Your Juice in the Hood; it was a spoof on what the Wayans [brothers] did a while ago.
Do you come up with the styling concepts for your own videos? Do you work with a stylist?
No, not really. I just go and say, "Ah, this is the idea I got for this song, this scene." And me and my Banji team, we just get together and we do everything. I have a seamstress if I want something really creative. I just call her up and she'll fit me out.
The term Banji originally comes from Paris Is Burning, from this one scene. 
"Banji" actually is slang that I picked up from the ballroom scene. In the ballroom scene — it didn't in particular come from Paris Is Burning, because Paris Is Burning is a movie about the ballroom scene — but I used to hang out in that scene when I was a younger girl. I was a dancer, so I loved those [vogueing] balls, because I looked at it as an art form. Banji just meant you were that girl with the bamboo earrings, popping bubblegum, you know what I mean, the around-the-way girl. And I grew up as that girl. And so it came from the ballroom scene, the slang, but I took it because I felt like it represented who I was, coming up, and then I had transformed it into an acronym, which is "Be Authentic, Never Jeopardize Individuality."
So you kind of turned it from a stereotype to something stronger?
Exactly, absolutely, that's exactly what it was.
What does Banji as a movement mean to you?
It's a movement created to encourage people to embrace themselves wholeheartedly, no matter where they come from, no matter the skin color or age. I myself had personal [experiences] dealing with people in the industry who wanted me to change how I looked, and that was the most important thing to them.
What were some of the things people wanted you to change?
Well, I had some execs tell me that they thought I had superstar qualities, they loved my records, but I needed to wear less clothes, dress a little more sexy, throw on some pumps, and get a weave. Of course, I had nothing against that. I'd been that girl, too. I know that girl. But as you evolve, and you just become more into who you are, you know who you are, and you want people to love you for that. And that's kind of where it sprouted from, that experience.
It sounds like Missy didn't want that for you.
No, she was against that, actually.
What's some of the best advice you've gotten from her?
Missy, she gives me so many jewels every day. In regular life and in the music business. But I think a couple that I always try to keep are: humility, how important it is to remain humble, no matter what it is you get blessed with; you should always know where your blessings come from; respect the people who struck up the path for you to be able to do what you do; loyalty; passion; and, really, creativity. Make sure that when you get out there and you show yourself to the world and you give them stuff, that it's quality work. And really pull yourself — your whole heart and self — into your work, because it's that important.
Your blue hair is such a signature. What made you decide to dye it and how did you get that particular shade of bright blue?
I got the idea from going back and watching old tapes of great performers, and the video for Bobby Brown's "Every Little Step" came up. My hair was already short and I was looking for something else to do with it and so I was kind of just waiting for something to, you know, spark my interest and in the moment she was like, "That is the cut you should do. That's the cut you should do!" and right there and then I tried it and went with blue because, really, one of my favorite colors is turquoise.
It almost looks like a Manic Panic shade.
It is Manic Panic. Atomic Turquoise.
Is that something you get recognized for now?
Yeah, I guess so. People love it. They are like, "Girl, I don't know how you can do that because I could not pull that off."
When are you coming out with your EP?
It will be next year and you know I have been working really hard on just my record and trying to make them really good for the fans and for everybody waiting to see what I'm going to drop
Does the EP have a title yet?
No, I haven't decided on one yet. You know, I'm rolling around with my record, trying to see where it is going to come from, but I'm sure it will be the one once I figure it out.
This interview has been edited and condensed.