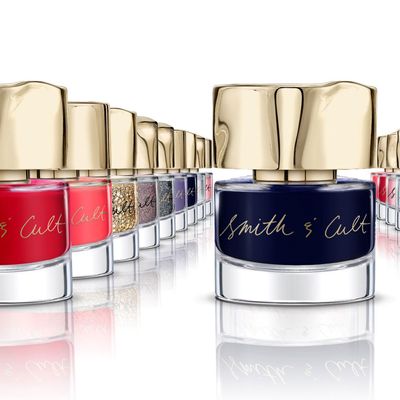 Chips (preferably those of the barbecue or tortilla variety) belong in your hands, not on them. It's been almost three weeks, and I've had more chips in my hands than on my Smith and Cult manicure. I have a grand total of two chips on my nails. Two.
A new polish line from Dineh Mohajer, the creator of the much-loved Hard Candy, Smith and Cult nail lacquers are super-glossy, high-shine, beautiful, durable, and, most important, fun. The glitter polishes are an arts-and-crafter's dream, densely packed with the kind of fine glitter found in the expensive aisle of an art store. The polish names are weird and funny, like Bitter Buddhist, Cut the Mullet, and Gay Ponies Dancing in the Snow (for a glitter-jammed, Barbie pink).
Smith and Cult nail lacquers, $18 at Net-a-Porter.