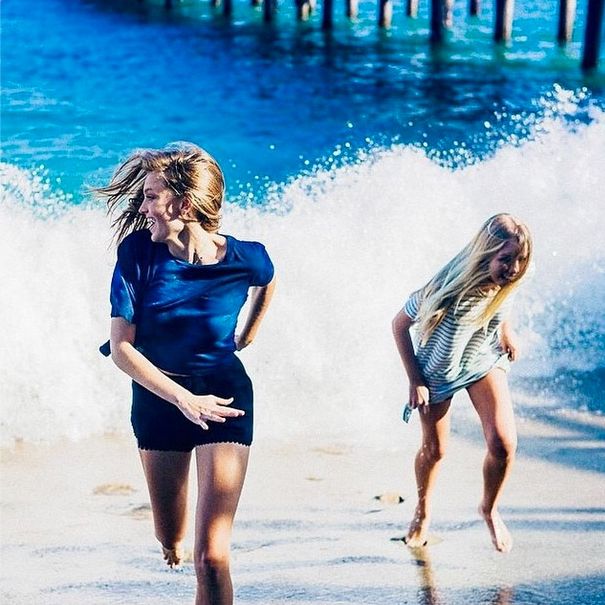 Photo: Brandy Melville USA/Instagram
The Brandy Melville girl has limbs on limbs on limbs, long hair, and tanned skin. She's at the beach and she's wearing teeny bottoms and oversize tops, or sometimes tiny tops as well. She's surrounded by her friends and they all look kind of similar and it's likely they're all wearing the same size.
Julia Rubin at Racked reports that the new teen-crush store Brandy Melville is adored for its one-size-fits-all policy. She heard repeatedly it's just the "easiest" to shop if there is only one option (though sometimes there are as many as three sizes). As a 17-year-old told her: "You can just pick something up and not look for a size, but it kind of sucks if it doesn't fit you."
Brandy Melville might have gotten this way through consulting from the teens themselves. Founded a couple decades ago in Italy, the company now has 11 stores in California (6 on the East Coast) and sells online and at PacSun. The company is press-shy, advertising averse, and employs teens for product consultation. One, a 16-year-old from Malibu named Kjerstin Skorge, told Racked:
Product research is made up of all teenage girls. There's about 20 of us. Let's say there's a cut of a T-shirt that's doing really well, they'll ask our opinion on it. Do we like it? Should we make more? If so, what colors? Should we do long-sleeve? Short-sleeve? Cropped? Not cropped? Would this T-shirt be better in this material? There's all kinds of things that we get asked, and we give our honest opinion.
The teens spoke and they like things tiny or oversize, but all the same size, please.