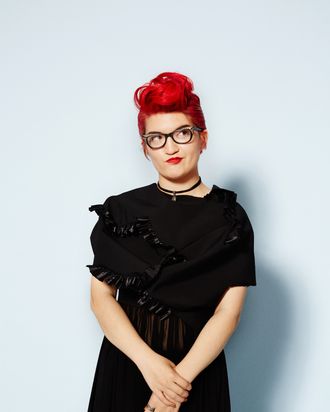 Fresh out of Rutgers University with a degree in Gender Studies and Journalism, the interracial Sicardi is adept at capturing the thrill of new threads and makeup, but also how they relate to gender, race, and sexuality. Such a singular voice deserves an audience of hungry readers, which Sicardi has garnered quite handily through beauty adventures documented in Rookie and in blog, Fashion Pirate.
As testament to her dexterity, Sicardi comes off more like your style-savvy friend than some proselytizer. Witnessing her mine the full spectrum of beauty is an invigorating ride. In one story, she writes about "monstering," or using makeup in defiance against sexual harassment. ("I'd wear purple lipstick with red glitter dripping from my eyes," she says. "I didn't want to look pretty.") In another, she eloquently walks you through techniques in applying glitter to your eyes for an ethereal effect.
If these beauty exercises seem at odds, you're missing the point. "I started blogging seven years ago when I wasn't out as queer yet," she says. "I wanted a place to document my journey through personal style. I came into myself as the blog progressed. Most bloggers talk about what they're wearing, but not why." As she developed a clearer voice, readers found great strength in her words. Today, Sicardi gets recognized daily by fans, some so overcome by emotion that they cry.
Earlier this year, Sicardi's explorations culminated in "Most Important Ugly," a photo exhibit themed around makeup and insecurities. It's as much a passion project as it is an art project, if only because Sicardi can personally relate. "In Breakfast at Tiffany's, Audrey Hepburn won't let anyone tell her bad news until she puts on a fresh coat of lipstick. I identify with that! When I stress out, I carry around a lot of lipstick," she says. "Makeup is face armor for a lot of people. There's a lot that goes into how we present ourselves. I'm fascinated with how we negotiate that."