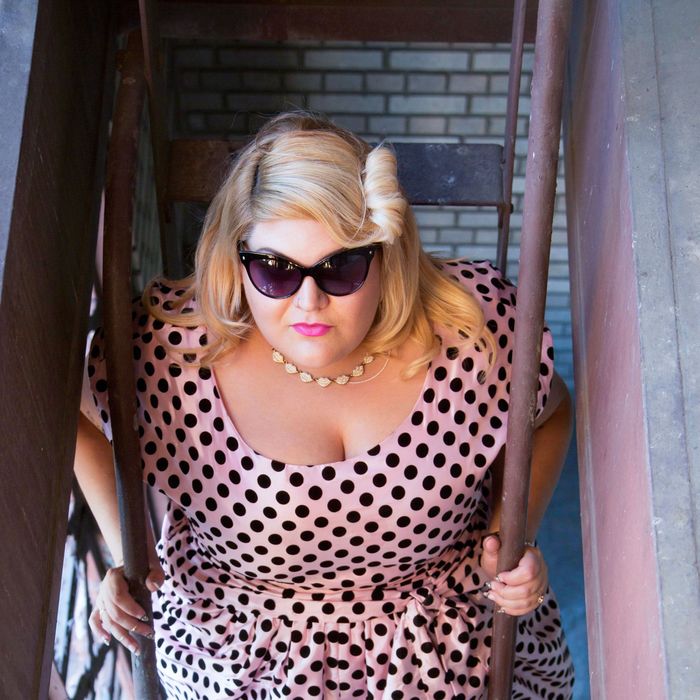 Photo: Danielle Bouchette
A brief look at Nicolette Mason's namesake blog, with its bold italics and professional-grade photos, could leave you thinking she was just another one of those girls. You know, the kind who are determined to fashion their lives into a lifestyle brand. But read a few posts and you'll quickly find that Mason, 28, is so much more than a series of outfit shots.
The Marie Claire contributing editor — who has been writing the magazine's "Big Girl in a Skinny World" column since 2011 — often details her personal struggles right alongside those pretty pictures. Since launching her blog in 2008, Mason has become somewhat of an accidental figurehead for the plus-size industry, as well as an activist for gay rights. Along with fashion and shopping stories, Mason writes about being a full-figured woman in an industry that just about ignores the market, and has openly addressed topics such as privilege, race, and homosexuality. (She is currently engaged to her long-term girlfriend, and plans to marry next spring.)
The blogger's latest project, a collection with ModCloth that hit stores earlier this week, is an example of what Mason does want to make clear: Fashion should be for everyone. (The 11-piece line, inspired by John Waters and girl gangs, is available in extra small to 4X and priced from $44.99 to $149.99.)
The Cut recently sat down with Mason to talk about the new collection, fashion-industry stereotypes, and how she became a blogger in the first place.
The thing that I find exciting about your ModCloth collection is that it goes from extra small to 4X.
Yeah, it's a full range.
I'm assuming that was pretty important to you.
Very important. Very, very, very important.
Why?
My platform has never been just about talking to the plus-size woman. It's always been about empowering all people — not just women either — to be able to approach style in a real and tangible way and feel like they have access to fashion. And that's something that I think really surpasses size, gender, and sexuality. And so for me to do any sort of collaboration or collection and have it only serve a small portion of the population, even though that's an underserved portion of the population, felt like not really putting my money where my mouth is.
You've done collaborations in the past, but this is your first complete collection. How did it happen?
A theoretical, very casual conversation turned into real conversations and a real discussion about feasibility. When I've been offered things like this in the past, it was me curating a collection, not me actually being involved in design. If it's going to have my name on it, I want to play a role beyond being a buyer. 
How did you get into blogging?
I graduated from Parsons in 2008 and started working at an architecture interiors and planning firm in the brand-design department. I need a lot of different things happening in my brain at all times, so I started blogging just to record my own inspiration. It was like a really primitive Pinterest. I realized that people were reading it and commenting on it, so I started being a little more intentional with what I posted and the voice that I took on. Just knowing that there are people reading anything can tailor your approach. Around the same time, I started connecting with other bloggers. Gabi Gregg and I became friends. And she suggested that I start doing more outfit posts. Style blogging wasn't really a thing yet.
When did you quit your job?
August 2010. I gave myself a deadline of a year — if nothing happens in a year, then I'll go back to a corporate design job. I would be very happy doing that, too. So ten months from that point, I got an email from [features and special projects director] Lea Goldman asking me to come in at Marie Claire. I couldn't have asked for something better to happen, especially in that time period. It was really a dream scenario. That any of this happened at all is a dream scenario to me.
You're also very talented.
I feel like talent is such a small part of what makes anyone successful, especially in the fashion industry. So much of it is access. I have a fluency in high-end brands. Shopping luxury brands was the culture that I grew up in. I had that vocabulary; I went to design school, so I have the academic background as well. I think that plus-size women in general are really discouraged from participating in that side of fashion. Yes hard work is part of it and talent is part of it, but not without having those other things to support me being there.
How much of being a successful blogger today has to do with adhering to a set of standards?
When you're talking about monetizing a site and the ways that a blogger can use her platform to actually generate revenue, for most bloggers that means being a standard poster girl. When you look like a model — and in most cases that means you're white and thin — then you have a better chance of being a stand-in for a model. Most of the campaigns that bloggers are participating in are very visual campaigns. It's about photos, it's about creating a Pinterest image, and I'm not going to be that person for a mainstream brand. I know that. People of color are generally not that person.
There's a reason there's so little diversity in the blogging world, aside from people like Aimee Song or Wendy Nguyen, who are doing amazing things and are hugely successful. And it's not something people talk about, and I don't think it's something people really want to acknowledge. Because it's very uncomfortable for people, and sometimes for myself. It's definitely been a process for me to be able to say, "Hey, part of my success is because I'm privileged." 
The thing that I find so fascinating about your blog is that there are beautiful photos and inspiring outfits, but then you talk about serious shit too. How did you handle disclosing your sexuality initially?
Honestly, when I started I was very hesitant about putting things about my sexuality or my relationships on my blog. I think it took a long time for me to feel comfortable with talking about that because I was very worried that coming into the fashion world where I'm already other-ed in so many ways — I'm Middle Eastern, I'm fat, I don't look like the average fashion girl — to also be gay on top of that I felt like that was too much otherness for one person.
Gay fashion girls don't generally talk about being gay.
I think being out is a huge, huge thing, especially in the fashion industry there's a lot of homophobia toward queer women and not very much toward gay men, obviously. I was very, very hesitant at first, and then I got to the point where I was like, "This is fucking stupid; I have to be vocal and visible because otherwise nothing is going to change." And I'm not so egotistical to think that I can vocalize that kind of change, but I just felt like my integrity was more important than what success I might be forfeiting. So I started writing about my relationships. At the time my then-partner was also transitioning, so I was having a lot of challenges that I wanted space to talk about. I think that has brought a different sort of success or visibility to my blog, because there are other people who can probably relate to that experience and certainly other gay women who want to participate in fashion and feel like they don't have the place to.
Now [being gay] is almost as much a part of my quote-unquote "brand," but it's just who I am. I can't help that, I can't change it. I'm also not monetizing it. It's just part of the package.
I remember you once tweeted something, and I don't want to misquote you, but it was something about how every professional conversation you have ends up being about your body. Do you still feel like that, or do you think that's changing?
I think that's changing because I keep saying that.
But it is part of what you do.
Absolutely. Working from my own experience, I'm able to see it from the perspective of a market editor, from a fashion editor, but also as a consumer. That's important. But for someone to do a feature on my apartment and my interior-design sensibilities, then refer to me in the headline as "Nicolette Mason, Plus-Size Woman," what the fuck does that have to do with anything? Is [my size] informing the things that I choose to put in my home? No. That's the side of it that becomes really exhausting.
They would also never describe you as a "Lesbian Blogger" in a headline.
Exactly. And somehow we find it acceptable, especially when we're talking about women, to reduce them to their body. It happens to Kate Upton all the time — "Voluptuous, Buxom Model Kate Upton" —  why are we still talking about her boobs? Great, we've all seen them. They're great boobs. Congratulations, let's move on. It's exhausting. I think there's something culturally that needs to change where we need to not focus so much on talking about women's bodies or appearances. There's a lot more to talk about.
Do you feel like you are an activist?
No.
I think you're an accidental activist.
Maybe. I haven't aligned myself with the fat-activist movement. I'm really about advocating for visibility across the spectrum. It's about racial, ethnic, and size diversity. I've never advocated extremes. I'll never be the girl who says real women have curves. What a "real" woman looks like is so many different things. So I guess in that respect I'm an activist. I'm certainly an activist when it comes to gay rights, because there's an end goal there. I want to be federally recognized as a person in every capacity and for my partnership to be as well. I'm an activist when it comes to trans visibility and trans rights, because I think the treatment that trans people get is abhorrent.
This interview has been edited and condensed.