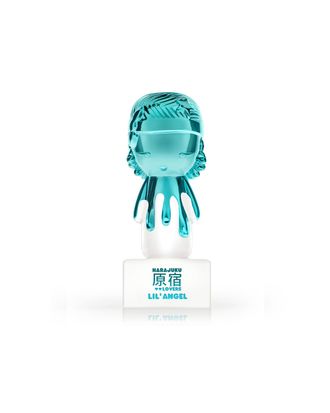 It's easy to predict the kind of scent you're going to get inside a bottle marked "Lil' Angel." The latest perfume from Gwen Stefani's revamped Harajuku Lovers eau de parfum line, Lil' Angel is uncomplicated, fruity, and bright. It smells like it could sit snugly on the wrists of a teenager, or an eternally youthful adult. But is that so bad?
Like fruit punch mixed with seltzer water, Lil' Angel is light and bubbly. The scent is like a more delicate version of the Slurpee machine at 7-Eleven, or an inexpensive sangria. It's aggressively sweet, but warms with wear (in part due to an amber base note) and has notes of violet, sugared rose, and the strangely labelled "lollipop accord." It's so upbeat, I can't help but feel happy as it sits on my skin.
The bottle grows on me, too. The turquoise Lil' Angel on the bottle — with her chin-length curls — looks a bit like me. We are an eau de parfum match, although I think I'll refrain from calling myself "Lil'" anything.