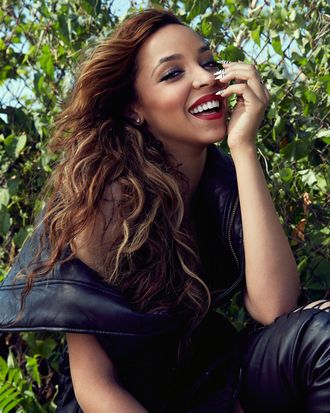 Tinashe Kachingwe took over this summer with her first solo hit, "2 On," a banger about the age-old pastime of going out and getting loaded with one's homegirls. The song dropped in January but didn't hit No. 1 on Billboard's Rhythmic chart until April — and Tinashe's star has been rising ever since.
Tinashe has written and produced her own solo mixtapes since 2012 — including the excellent Black Water — and, as a result, has gotten used to doing things mostly on her own. But with her first full-length album, Aquarius, she pulled in help from hit producers like DJ Mustard and more obscure artists like Evian Christ, putting heavier, statement-making beats beneath the sweet lilt of her voice to underscore the Janet Jackson–ness of it all. It's an excellent album, and an artful debut, especially for someone so used to acting on a boilerplate CBS sitcom. (Yes! Tinashe is that Tinashe from Two and a Half Men!)
Aquarius is, for all intents and purposes, the start of Tinashe's third career. Growing up in Los Angeles, she got into acting at an early age, landing parts in The Polar Express opposite Tom Hanks and as Jake's love interest on the aforementioned Two and a Half Men. All the while, she moonlit as the frontwoman in bubblegum-pop quintet the Stunners, who opened for Bieber and recorded a track for the Nickelodeon show iCarly — all before she turned 18. The Cut spoke with Tinashe about solo songwriting, Janet Jackson, and weed.
Hi, how are you?
I'm great. I'm driving home right now and hearing my new song, "Pretend," on the radio right now for the first time, so I'm like, "Woo!"
The heartbreak and the drama in "Pretend" is so real — like that line "Let's pretend you never lied / so I can give it up all night." What was the inspiration behind the song?
I just wanted to write a song that was real, on a topic that young people and women could relate to. I felt like the song really shows the perspective of a relationship that isn't necessarily always talked about — when you're not really ready to move on for whatever reason. I felt like it was something a lot of people could relate to.
Speaking of women, with your first hit, "2 On," you repped women going out and having fun. There are a lot of songs about men getting twisted in the club with their homies, but not so much by and about women.
I don't think it was a conscious decision, but I definitely subconsciously felt like there was a hole in the marketplace for something like that. There are so many party songs by men but not many from a female perspective, which doesn't make sense to me 'cause it's not like women don't party. I thought that was the perfect opportunity.
You're talking a lot about your homegirls in that song, too. Do you have a crew of women you like to hang out with?
I have a best-best friend. We've been really close since I was 7 or 8 years old, and she's the best friend that I've got.
You seem really into classic, sporty styles. In the "Pretend" video, you're wearing ill drop-crotch khakis. Did anyone in your family influence your style growing up?
No, I think it was more where I grew up — Los Angeles has definitely influenced my fashion, just my environment. I just incorporate that tomboy, West Coast, Cali swag into a lot of my outfits.
Speaking of Cali, here's my important technical question about "2 On" and its chorus, "and the tree be way too strong." You're a great dancer, and you're in great shape; does smoking weed affect that? What's your secret, Tinashe?
[Laughs.] I know deep down in my heart that it's not healthy, or good for you, but like: YOLO.
Your new album is great, a little different from the mixtapes. I read that your goal is to find a balance between making really artistic music that will still resonate in the mainstream. What was your approach in doing that?
It was definitely a long process, and I didn't know what I was gonna do at first, where I was gonna go, and get the hang of even working with other people in general. Because I'd gotten so used to making everything on my own, it was hard to maintain the essence of who I was while working with other people. I had to learn and it took me a long time to make sure that I got that back. It was just really trying to stay true to my taste, and staying true to what I'm into, because the stuff that I think is cool is really along the lines of the stuff that I put out. I just try to always really listen to my instincts.
What's the best way for you to write? Your mixtapes had a very distinct "writing it in my own head in my room" type of vibe.
For the most part yeah, actually, that's my favorite place to write. I get really comfortable, by myself, and just try to see what the first thing that comes to mind is when I get up on the mike.
One of my favorite songs on the album is "How Many Times," partly because it's a great sex jam with Future, partly because you sample and paraphrase the Janet Jackson classic "Funny How Time Flies When You're Having Fun." Are you a big Janet fan?
Yeah, I listened to her all the time growing up and she was definitely one of the people I idolized from a dance perspective, to performance, to music videos, to the music, just all around.
And she did what you are hoping to do — she really maintained her own standards of artistry, but also appealed to the mainstream. What's the secret to that, do you think?
I think it really is just trying to follow your instincts, and not overthinking things too much, and not trying to appease people and think of songs that sound like a hit on the radio. You just have to make what you think is cool.
Was that way you approached your collaborators? You're into a very wide range of music, and you've got Future on your album, but you've also got someone like Dev Hynes (a.k.a. Blood Orange), who isn't really mainstream at all.
I don't think that was conscious, either. I just really love Dev, and A$AP Rocky and Schoolboy Q. These are just people that I'm a fan of, so to be able to get them on the album, it fit my head. I don't want to be directly influenced by something, but I just wanna come from a place of true inspiration.