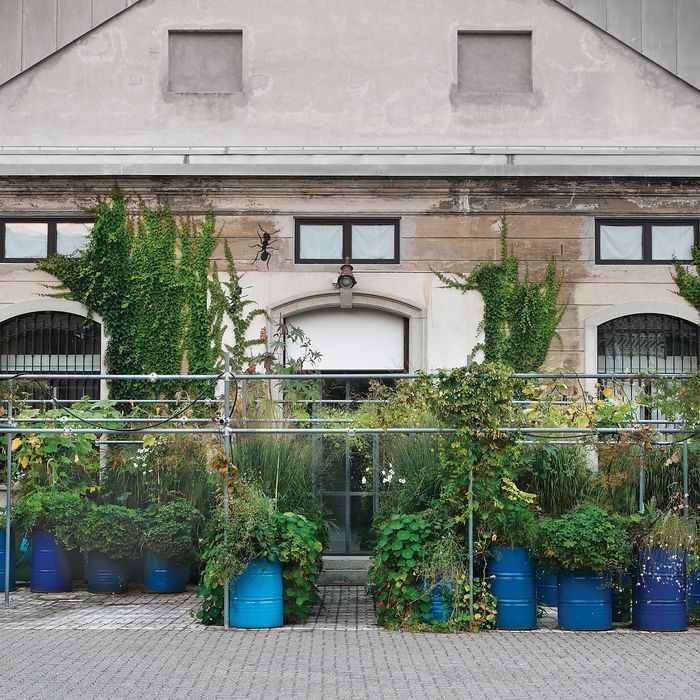 This week on the Cut, we'll be looking at how various architects and homeowners around the world — from Brooklyn to Shanghai — have renovated historic buildings with perfectly meddled-with results.
Paola Navone is on speakerphone from her new office in Milan, which happens to be downstairs from her new apartment. The Italian design supernova is explaining how she came to buy an entire turn-of-the-last-century factory building in Zona Tortona (the city's hot post­industrial neighborhood) three years ago when she was simply searching for more office space. Her practice is ever expanding with projects in architecture, art direction, and interior and product design; she recently worked with Michele Caniato (the president of branding firm Culture + Commerce) to launch her own lines for Anthropologie and Crate & Barrel. "I was looking, looking, looking, looking for an office and finding nothing," Navone says. But then she heard about a building ravaged by fire (its roof had caved in) whose owners were desperate to unload it. Navone was able to see its potential. And the challenge of building a new roof created an unexpected opportunity: Navone discovered that there was enough space between the office ceiling and the top of the roof to fashion an apartment. So she did just that. Her 4,000-square-foot dwelling (which includes a large terrace) is part factory infrastructure and part fantasy island; Navone has covered both her indoor and outdoor floors with inlaid pebbles, and instead of carpeting she put down blue and gray tiles. Bare bulbs hang off an exposed metal grid in the entrance hall. As in her last Milan apartment (which she lived in for the past 20 years), Navone has loaded the space with her oversize colorful furniture and exuberant tabletop designs. But as far as she is concerned, "it's still not done. That's because I postpone, postpone, and postpone."
*This article appears in the October 6, 2014 issue of New York Magazine.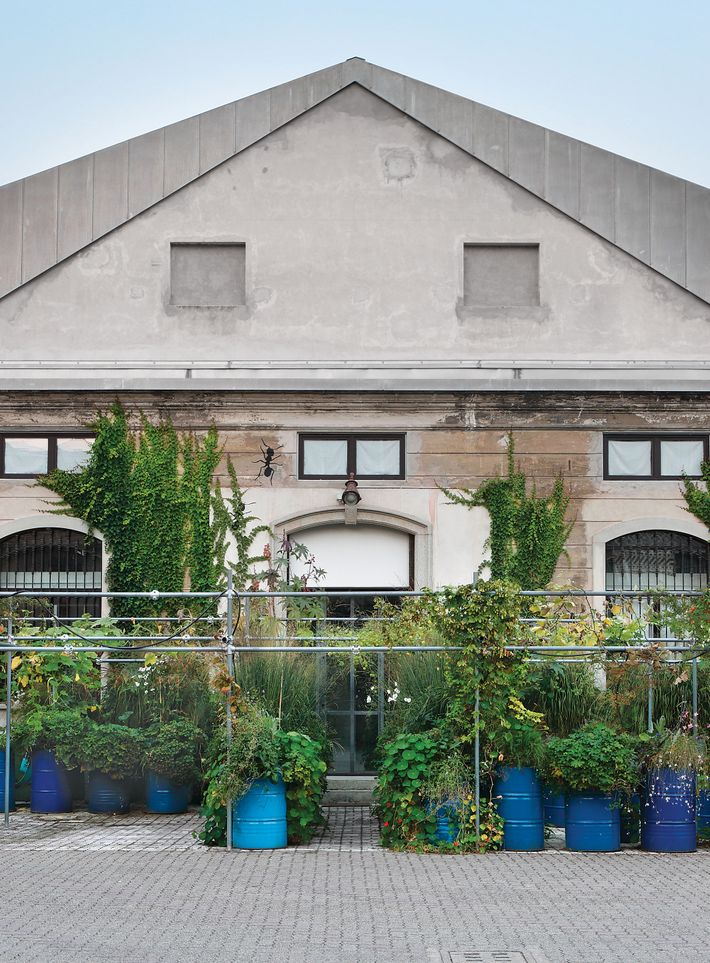 The Exterior
The façade of Navone's studio and home in Milan's Tortona district.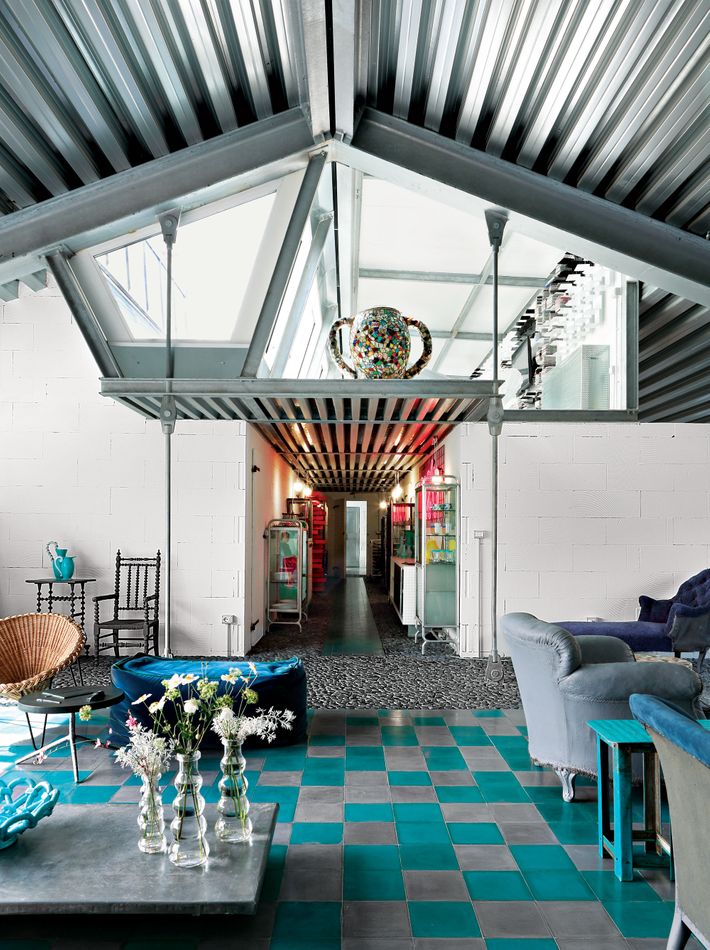 The Entrance
The industrial cabinets lining the entryway hold Navone's various designs.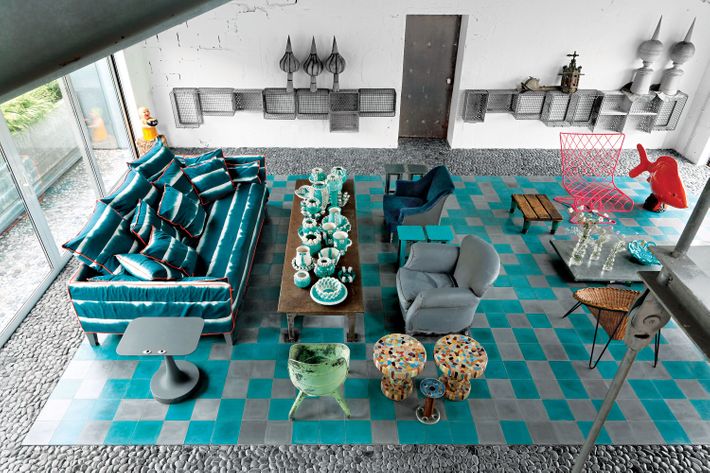 The Living Room
The floor is made from inset pebbles and covered with a carpet of tiles. Navone customized her extra-large Ghost sofa for Gervasoni with fabric from Rubelli. The eye-adorned side table is a one-off by Navone for Vulcano by Poliform. The ceramics on the coffee table are her own designs for Crate & Barrel.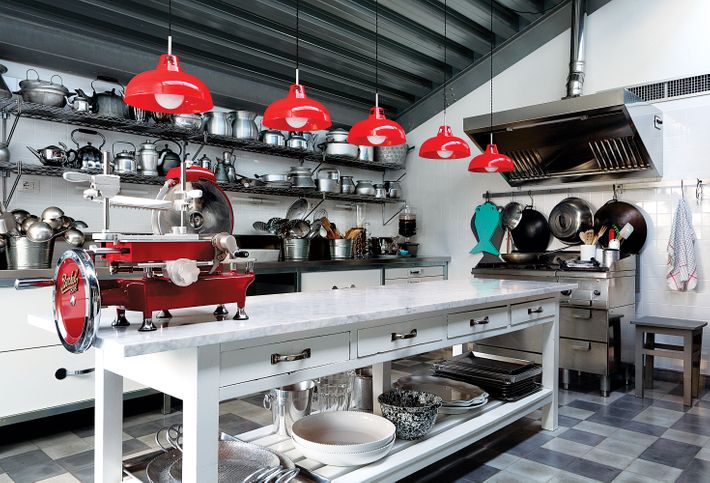 The Kitchen
The industrial stove is from Zanussi, and Navone found the red hanging lamps in a Chinese market.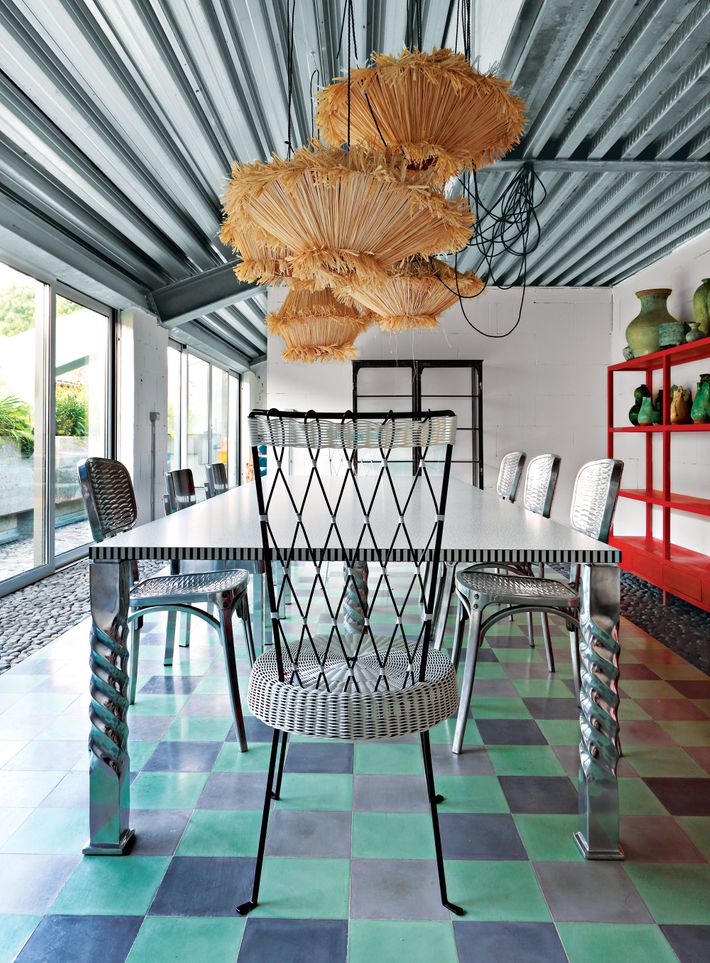 The Dining Room
Her Tiger Raffia lamps for Crate & Barrel hang above the dining table. Its laminate top is by Ettore Sottsass for Abet Laminati, and the twisted metal legs are from her Crate & Barrel line.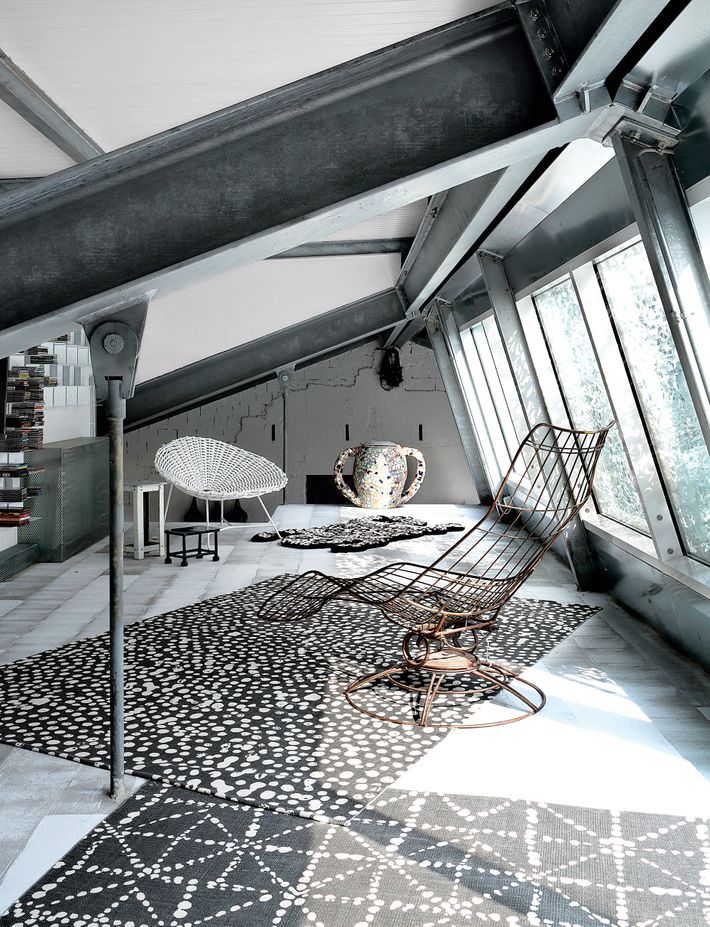 The Mezzanine
The black-and-white diamond and splatter rugs are Navone's designs for Crate & Barrel, the white weave Sweet 27 armchair is her design for Gervasoni, and the low Mumbai side table is also Navone for Baxter.