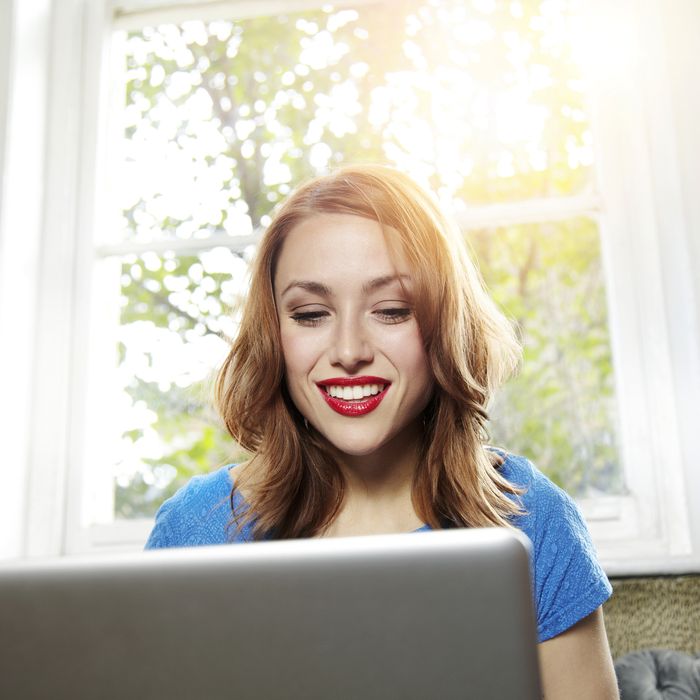 Photo: Oli Kellett/Getty Images
Sometimes the internet feels cleanly divided into two parts. There's the anonymous internet, filled with infinitely replicating 15-year-old boys eager to test boundaries with violent rape jokes — think Gamergate, 4chan, Reddit. Then there's the not-anonymous internet, which contains your mom, your boss, your ex-boyfriend, your next boyfriend — where you worry about your Google results, and self-censor accordingly. Gone, it seems, is the small, pseudonymous internet — best exemplified for women my age by LiveJournal — where you could express yourself without the surveillance of authority figures, but still forge real connections with other real people and potential future IRL friends.
Without that kind of space, the internet can be a rough place. Last week, a Pew survey found that although men are more likely to be embarrassed or threatened online, women are more likely to experience the sustained online harassment, stalking, and sexual harassment that discourages people from commenting online. One way of dealing with this is to ask Twitter for better ways to block harassers (to make the anonymous internet a little safer) or Facebook for better privacy controls (to make the non-anonymous internet a little less public). But another way is to start your own social network with women in mind.
Karen Cahn, a former Google, YouTube, and AOL Video executive, launched VProud yesterday — it's described as a troll-proof social network "by women, for women." The inspiration came four years ago, when Cahn was in the middle of a divorce and looking for an online community of women her age to talk about it with. "I was the biggest divorced loser, isolated and ashamed, except for my therapist, which got very expensive and very boring," she told the Cut. Cahn tried sad, 20-word Google search terms and took every quiz and clicked every slide on Huffington Post Divorce. She was willing to share and discuss some articles with her Facebook friends, she said, "like tips to make kids' lunches, because I find that the most hateful job in parenting, or an article about some under-eye concealer, because I'm 40 and basically can't live without it."
But when it came to her divorce (and other topics she's hesitant to even name), she said, "I don't want to put my real name out there; however, I do want to comment." But anonymous comment sections are under-authenticated and "full of nasty people, frankly." (Take Jezebel: Once a bastion of pseudonymous online consciousness-raising, Gawker Media's new commenting platform Kinja opened the site up to violent-rape GIF spammers until the staff publicly protested.)
Cahn's fix is a kind of Jekyll-and-Hyde social network. Every user is authenticated through her public Google, Facebook, or Twitter profile, but has the option to comment under an anonymous handle, toggling back and forth, depending on the conversation. All of the conversations (a standard lady-blog mix of news, sex, relationships, health, and humor) begin with a video. One user posts, others watch and vote "agree," "disagree," or "not sure." They can defend their vote in the comment section or advance the conversation by sharing a related article, videos, or an image. Users can request to follow another woman's VPublic or VPrivate username to see what other conversations she's participating in.
To make sure the "VPrivate" handles aren't used for "rude and trollish comments," Cahn said, VProud offers three lines of defense. The first is an artificially intelligent database that filters posts that include name-calling and hate speech, understanding context and getting smarter over time. The second is community moderation. All posts have a one-click troll icon for flagging unproductive commentary. If a post gets a certain amount of "trolls," it automatically gets taken down. Then it goes before a jury of human editors and community managers because "sometimes an unpopular opinion will get 'trolled,' but, frankly, it's just an unpopular opinion," Cahn said. If so, the comment will be granted immunity and — No. 3 — enter the A.I. filter, making it smarter still about context.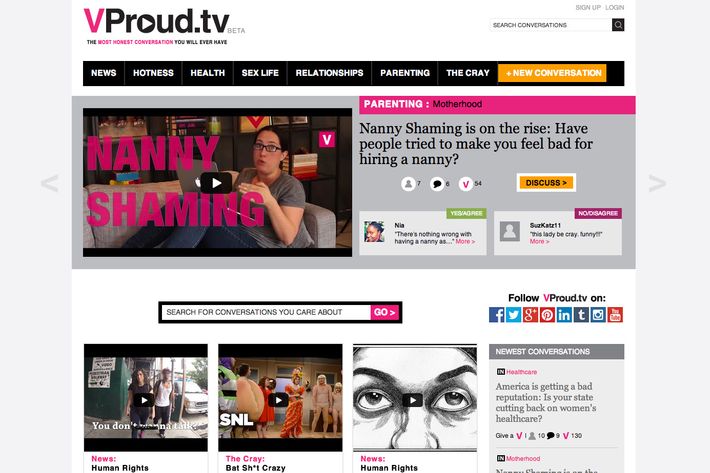 This seems like a no-brainer, home run, "duh" invention. But VProud is still in sparsely populated beta mode (it says it has 250,000 users), so it's hard to know what, if any, community it will yield. Group therapy? Civilized debate? Video LiveJournal? Lady Reddit? According to Cahn, some of the most robust conversations so far have centered around money — student loan debt and personal loans to family members. Another controversial topic is "sleep divorces": Is sleeping in separate rooms and scheduling sex the height of efficiency or a barrier to intimacy? She is most proud of a conversation that took place in its mental health section, around a video about trichotillomania, the impulse disorder marked by the compulsive urge to pull out one's hair. "A young woman was tagged by her boyfriend using his public Facebook account in the comments of the video saying, See, I told you this was a real thing."
"See, this is a thing" sums up the reading-identifying-sharing experience that fuels social news sites like BuzzFeed and confessional women's outlets like xoJane. VProud also has its limitations, though. One is that all the conversations center around video content — a combination of women-made videos pulled from YouTube and Vimeo and "video conversation starters" made in-house by VProud's New York editorial team. This makes sense from a business perspective: Video boasts better engagement than other kinds of online media and, as a result, is more attractive to advertisers. But the overhead for a user to produce her own video conversation starter is much higher than, say, writing a blog post, not to mention less private. Another possible drawback is the site's agree/disagree/unsure format, which emphasizes argument over information and entertainment. That keeps things interesting, but not everything that lends itself to a women-only website is controversial. There's nothing to disagree with about a web series in which two women debate how much money it would to take to do "full pussy" porn or a sock-bun tutorial, but I'd still hesitate to share or discuss either on my regular Facebook page.
Besides, women could benefit from a public/private troll-proof commenting system on general interest sites, too. Asked why VProud is woman-centric, Cahn said it was a matter of personal experience and prioritizing. "It's typically women that are targeted by the trolls and the haters," she said. "I wanted a safe space to talk about my lady issues without somebody trolling my conversation and it simply didn't exist." She's eager to license its patent-pending platform to other media companies and has fielded requests for VProud for teenagers, in particular. And, technically, there's nothing stopping men from joining the hot-pink network with content categories like "Hotness" and "The Cray."
Asked why she needed to strike out on her own to develop a troll-proof commenting system — why media and tech companies like Google and AOL wouldn't see the value in making them for themselves — Cahn thought for a moment. "I think it's easier to innovate when you're on your own. Good ideas come to you in the shower, when you're going through a crisis. Some of the most interesting human-driven organizations come from people that came up with an idea because of their own need."