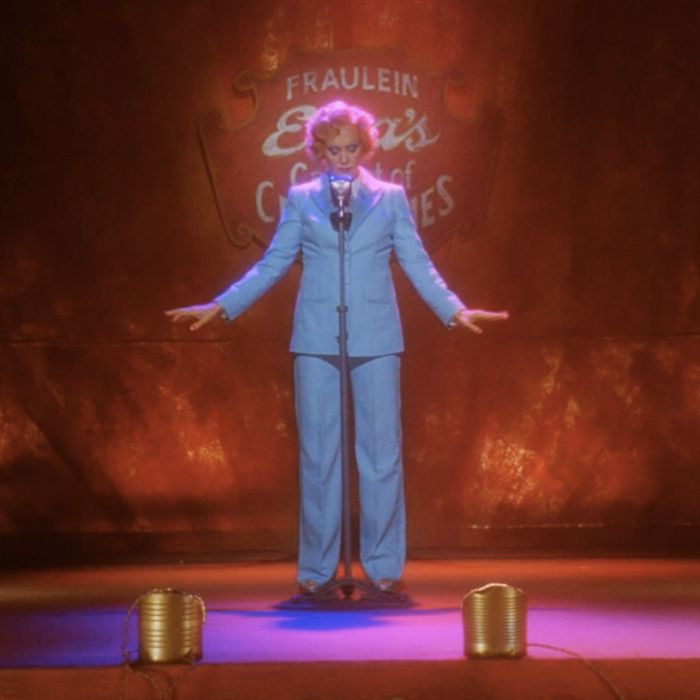 American Horror Story's costume designer, Lou Eyrich, has worked with its creator, Ryan Murphy, since 1999 — and has been an integral part of creating the show's distinctly creepy feel on all of its seasons, from Asylum to super-fashion-conscious Coven to this season's Freak Show.
"We've developed quite a shorthand," she says. "He'll just say something like, I want it like Catherine Deneuve in The Hunger. And I'll know exactly what he means. In my head, I'll know what he needs." So when Murphy told her he wanted the mood for American Horror Story: Freak Show to be "old, faded Hollywood glamour," Eyrich knew just how to create the show's dreary, rundown costumes. "The overall inspiration was carnivals and circuses from the late-'40s into the early '50s," she told the Cut by phone. "We did a ton of research on freaks, and watched tons of movies from the early '50s, like The Greatest Show on Earth  — we referenced that a lot, because we loved that Technicolor look."
Establishing the faded color palette and the worn-down feel of the costumes at the beginning of the series was fairly easy — but, Eyrich explains, the fourth season, now four episodes in, has presented its own set of challenges. She's had to costume conjoined twins, murderous clowns, and heartthrobs with lobster claw hands, and show three-breasted cleavages in a sexy way. "This was really outside of the box — I couldn't just run to the mall and purchase an outfit, you know?" she says. "I had to really design for each freak."
Click through our slideshow to see some of the standout looks from the first half of this season alongside Eyrich's commentary on properly coordinating an outfit to a beard and why designing for two-headed women is actually kind of boring.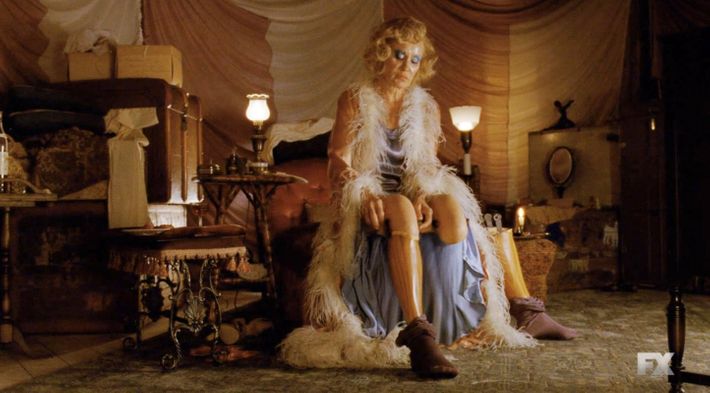 Elsa Mars (Jessica Lange)
"She's obsessed with being the Hollywood starlet, but she lives in Jupiter, Florida, in a carnival compound. So it's her version — glamorous, but it's faded. And then of course because her legs are fake, we ordered a lot of vintage Lille stockings from the '40s, with a back seam that'd you wear with garter belts. They're so thick you can't see that she's got wooden legs."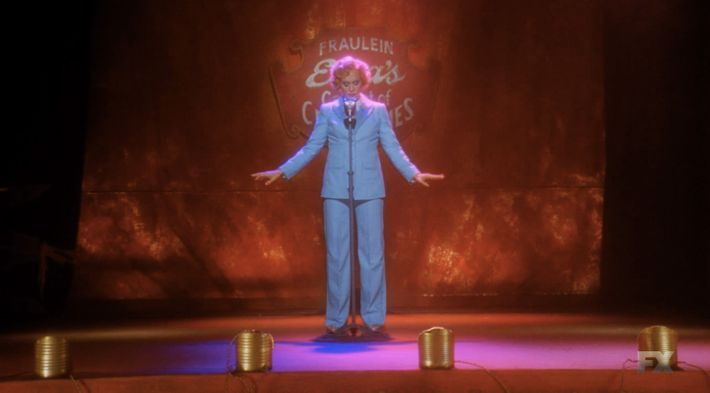 Elsa Mars
"The famed blue-suit moment was from Ryan Murphy. He wanted to do a nod, an homage, to David Bowie's "Life on Mars?" so he asked us to come up with a blue suit that would look more '40s and feminine, but still androgynous. We just tried to make it look like it was a David Bowie suit, but for Elsa in the carnival in 1940."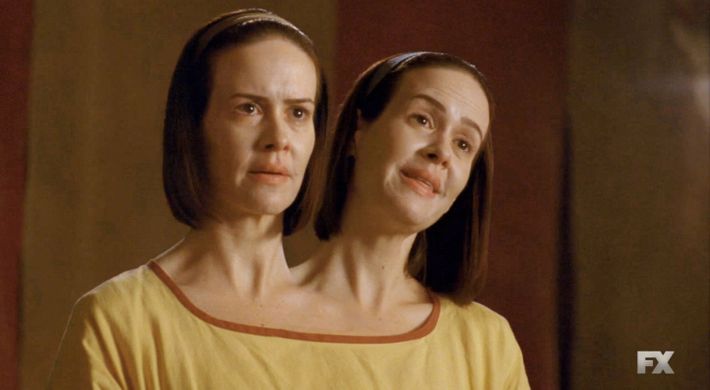 Bette and Dot Tattler (Sarah Paulson)
"Bette and Dot are farm girls who never got out so they probably had a simple, limited wardrobe. Nowadays, they would have been able to thrown on a stretch T-shirt, but back then their mother would have had to make dresses to fit two heads. We couldn't use any prints because of the special-effects process they use in editing. We tried to find fabrics with a little bit of interest and trims and such, but the neckline had to be very specific to accommodate [Paulson's] puppeteer harness, which she had to wear for the head. It was actually kind of boring to design."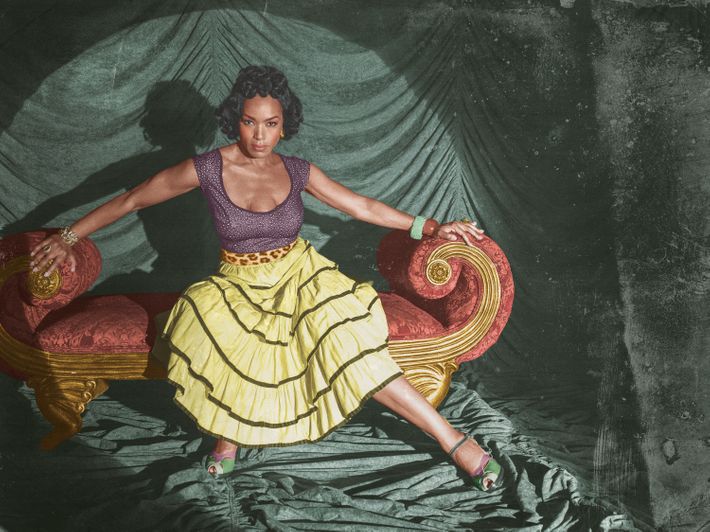 Desiree Dupree (Angela Bassett)
"Angela has that rockin' body to start with; I mean, I could have felted a gunny sack and she'd look great. Her character is pretty flamboyant, has a lot of confidence, and knows how to work it. Our inspiration was Dorothy Dandridge, Carmen Miranda, this kind of showy, dancing, singing woman who was a strong personality. I wanted her in pencil skirts that were very curvaceous. And then because we had to accommodate the three-boob cleavage, everything had to be form-fitting and low-cut. And it just kind of came together in a very sexy way that works."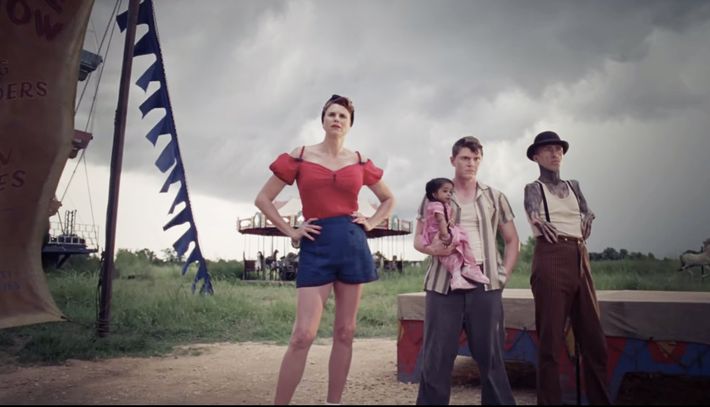 Amazon Eve (Erika Ervin)
"She's a seven-foot woman with a 40-inch inseam. We really wanted to play on her long legs, here. That's why she's always in those shorts."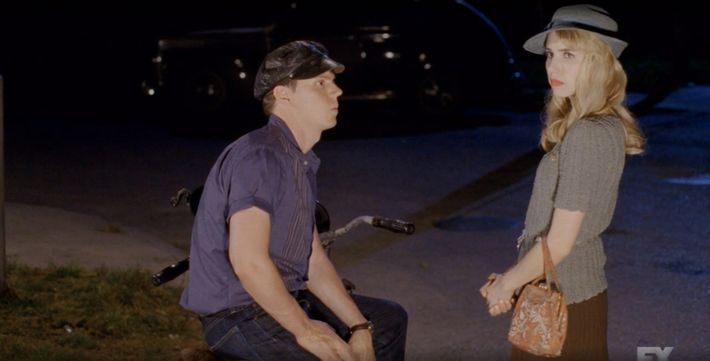 Jimmy Darling (Evan Peters)
"We were kind of going with that early '50s James Dean, Marlon Brando, movie-star look. And yet he lives on the compound, so we wanted everything to be dusty and worn. He probably has a very small closet that he pulls from. He probably bathes maybe once or twice a week, so his clothes definitely aren't clean. Maybe that's part of his appeal."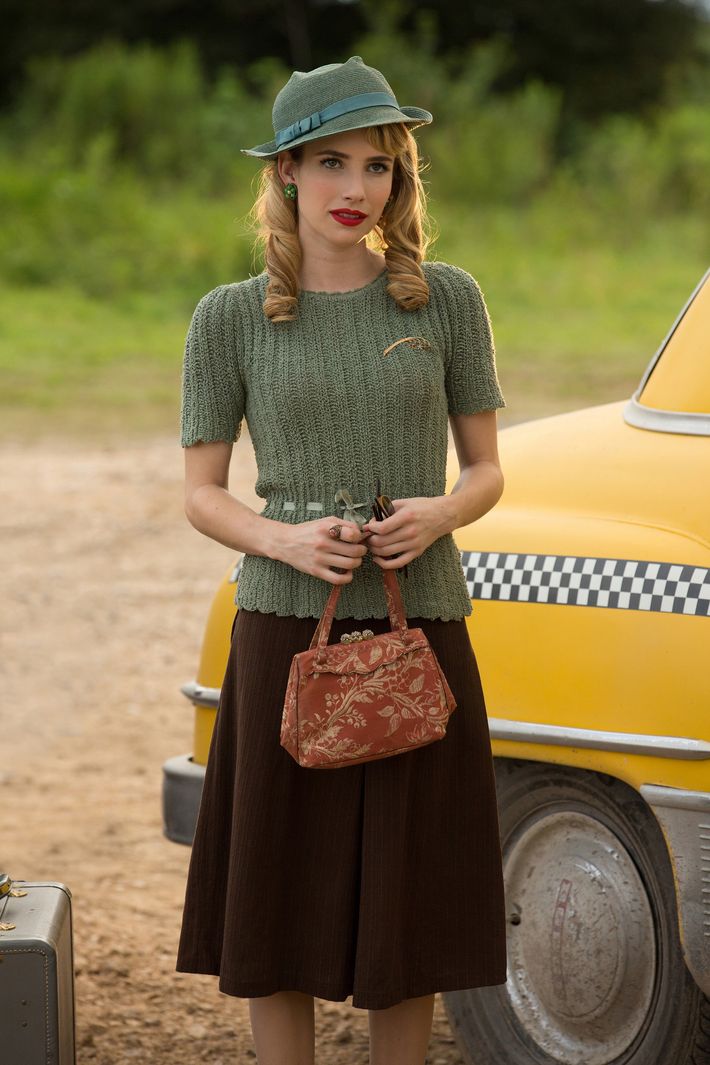 Maggie Esmeralda (Emma Roberts)
"She's a grifter, so we didn't want to give her the typical, television-style crystal-ball reader outfit. We wanted her to meld into any situation, but we also needed her to be a distraction that is now vying for Jimmy's attention. We needed full-on distracting glamour, so for her the inspiration was Veronica Lake."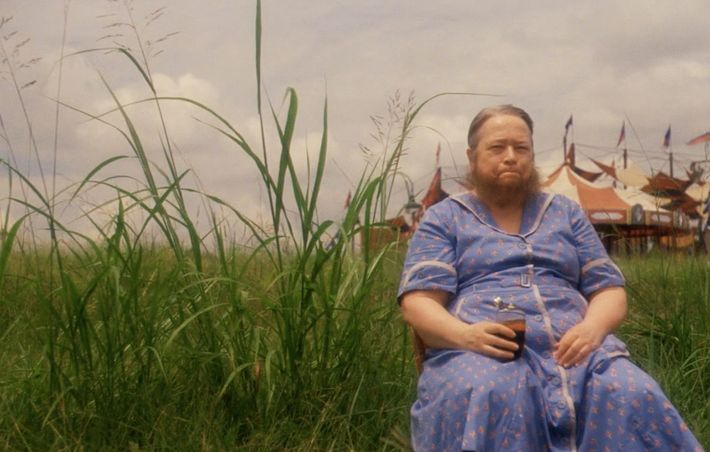 Ethel Darling (Kathy Bates)
"In the end, Ryan was the one who said he wanted her very simple in housedresses to show that she was kind of the matron of the camp, the mother of the camp. But it was Kathy who made the bold choice to not wear a wig and show her own gray hair with the beard."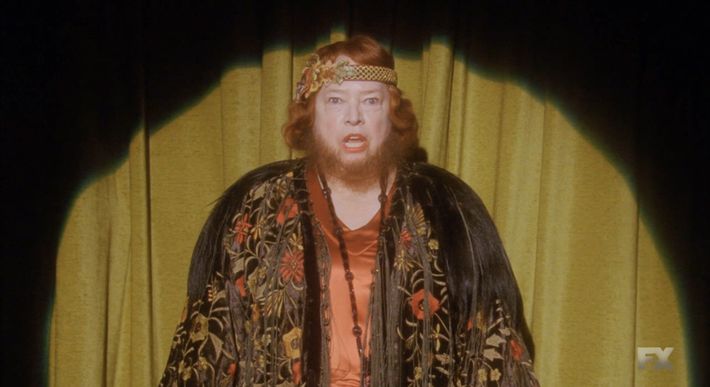 Ethel Darling
"Kathy was very into her look and what it was going to be. So we collaborated quite a bit — we did a lot of research and watched documentaries of bearded ladies. We did a couple fittings and tried different things. We were going to go with an Asian chinoiserie thing, but it didn't work for what I thought the beard was going to be."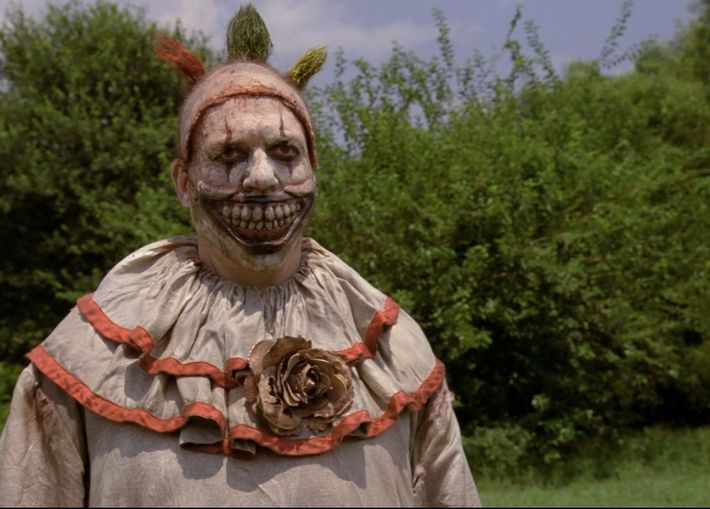 Twisty the Clown (John Carroll Lynch)
"Twisty the creepy clown. He's a mash-up of clowns from the '30s and '40s. They don't really make the fabric anymore, but ideally [the suit] would have been an old satin that kind of shreds over time. So we just used a satin, a bridal satin we had to sew ourselves in New Orleans. Then we had to wash it down and over-dye it and then make the costume and then age it down to look like he's been wearing it for 20 years and never taken it off."