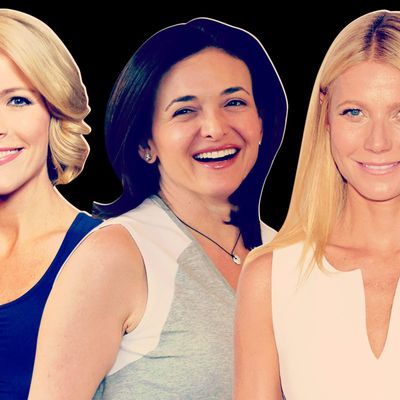 Last year, Sheryl Sandberg made the same confession over and over as she toured to promote Lean In: "Up until about five years ago, I never said the word woman in the workplace because I was afraid people would notice I was a woman." She deserves partial credit for the fact that, these days, such an omission isn't just a failure of feminism, it's a missed marketing opportunity.
At least a dozen media companies have invited women to talk about their womanness at newly created women-centric events. Last year, Forbes launched a conference called Women: Power Redefined and PBS and AOL partnered to create MAKERS, a video series and conference featuring "Women Who Make the World." Politico now hosts Women Rule panels around the country. This month, Time Inc. held its first-ever Women & Success event. And last week, 400 people (most of them women) paid $8,500 apiece to hear advice from Fortune's Most Powerful Women at the Ritz-Carlton in Orange County. The conference, which was live-blogged within an inch of its life on Fortune's website, is tied to the magazine's annual Most Powerful Women list, which it's been publishing since 1998, when it put Carly Fiorina on the cover.
These conferences all follow a similar formula. Take a vintage feminist icon (Gloria Steinem, Jane Fonda), a Clinton, a media maven (Arianna Huffington or Tina Brown, but probably not both), and three or four celebrities with a conscience (Oprah, Angelina, Geena, Meryl). Throw in Sandberg — who is absolutely mandatory — along with a half-dozen women who run Fortune 500 companies. With only 24 CEOs to choose from, organizers can't be too picky. Book a five-star hotel (Ritz-Carlton or similar) in Southern California or, if you're keeping it simple, Manhattan. Choose a hashtag. Pay a few entry-level bloggers to flood the internet with 30-second video clips of the world-changing conversations taking place in front of a logo-spattered backdrop. And watch the sponsorship money roll in.
While it's fantastic that women who've made it to the upper echelons of business and politics are now willing to get up onstage and acknowledge the fact that they are indeed women, it's not clear who, exactly, is being empowered by these events. While the conferences don't all carry an $8,500 price of admission, most aren't exactly affordable on an entry-level salary. MAKERS asked participating companies to "sponsor a select group of up-and-coming women leaders in their organizations" to attend the conference. And Fortune offered a "mentoring program," open to high-school girls with parents in the military, in which the teens were given the chance to interview luminaries such as Jessica Alba and Tyra Banks. But the Fortune conference website betrays its target demographic: It contains extensive information about the chefs and vintners who would be providing refreshments, but no mention of reduced-price tickets for women who are still a dozen rungs below Sandberg on the corporate ladder. These conferences are for women who are already quite powerful, and want to talk to each other about it.
This is probably why the actual conversations tend to be rather anodyne. Onstage at the Fortune conference, Fox News anchor Megyn Kelly talked about the woman who helped her get her first on-air job. Gwyneth Paltrow addressed her beef with Martha Stewart (she's not mad). Susan Peters, the senior vice president for human resources at GE, advised managers to care about employee happiness. GM CEO Mary Barra confessed that she's never asked for a pay raise.
For as long as there's been a mainstream feminist movement, there have been corporations eager to capitalize on women's desire for empowerment. And simply saying men and women should be treated equally isn't the slightest bit risky in an era when the economy demands that nearly all women work outside the home and the biggest pop stars in America embrace the term feminist. But empowerment conferences are less a product of this friendly brand of modern feminism than they are the result of changing media business models and the rise of superficial corporate do-gooderism. Consumers are so wary of traditional advertising that one of the only ways for brands to make an end-run around skepticism is to claim, "Hey, we're doing some good here." As Unilever has learned with all the free press its "body-positive" Dove ads have gotten, women's empowerment is a great theme for conscientious advertising — Bitch Magazine co-founder Andi Zeisler calls it "empowertising." You-go-girl ads appeal to a broad demographic, but unlike championing, say, stricter environmental regulation, they put the onus for change on women themselves, not corporations or society.
Even for those of us who aren't selling anything, there is an obvious appeal in highlighting successful women. I admit I was thrilled last week when Fortune featured me on its list of influential women on Twitter. I've also been involved in creating a most powerful women list, interviewing the women featured on Elle's list of successful women in tech. Partly I did this because I am a freelance writer and there are worse assignments than interviewing women about their accomplishments. And partly I did it because I do think we can learn from the women who have managed to rise to the top of male-dominated industries. But I also think it's fair to demand more from these conferences and lists and events.
By highlighting the already-powerful members of a group that has, by most objective measures, stalled out in its quest for equality, corporations can have it all. They can prove they care about "the issue" without committing to make the sorts of policy changes that would allow women to succeed en masse. Empowerment conferences should require just such a commitment. Rather than send a few top-tier employees to a conference in Orange County, what if every company involved were asked to overhaul its flex-time policies and double the length of paid parental leave for everyone on the payroll, not just the executives? So far, few if any women's empowerment conferences have such requirements. Their highest aspiration is simply discussion. "Women Rule created a needed dialogue about women leading all types of change," Politico COO Kim Kingsley wrote me in an email, adding, "The conversation has become more than we could have imagined in just these past 18 months."
In some ways, empowerment conferences trade on the fact that it is still tough for women to succeed. Instead of organizing women (and men) to collectively change things or, say, requiring that all sponsoring companies agree to implement a set of baseline policies or internal mentoring programs, they offer examples of individual women who have beat the system with hard work and good decisions. When Politico recently asked Fortune conference organizer Pattie Sellers why there aren't more women at the highest levels of Fortune 500 companies, she cast it — as is all too common lately — as a failure of women themselves. "I think Sheryl Sandberg is very right when she says that women do not lean in enough to their careers," Sellers replied. "Women just don't take as many risks."