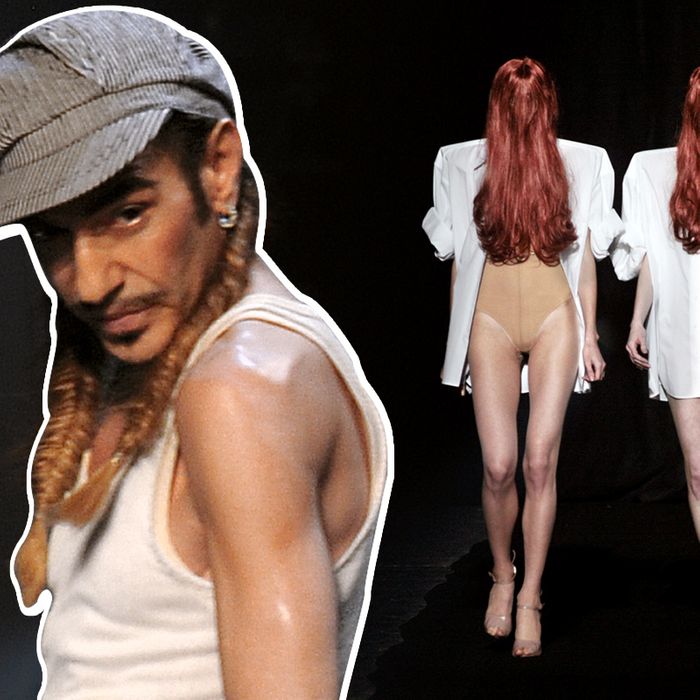 Photo: Francois Guillot/Getty Images, Kristy Sparow/Getty Images
When Maison Martin Margiela announced today that John Galliano would be taking over as creative director, it was the endpoint to relentless job rumors that had been swirling about the designer, including hints that he'd eventually be taking the helm at Oscar de la Renta. Margiela whispers surfaced during Paris Fashion Week  but it was hard to give them much credence, since (a) Galliano gossip is more common than Moschino French-fry iPhone cases and (b) the designer seemed like such a weird fit for Margiela. After all, the house, which was acquired by the conglomerate Only the Brave in 2002,  is so committed to anonymity that it kept its previous head designer Matthieu Blazy under wraps until he was unmasked by Suzy Menkes this past couture week. And founder Martin Margiela, who quietly exited around 2008, was an elusive figure who never did in-person interviews, was rarely photographed, and delivered most of his missives by fax. In a 2008 New York Times piece, Eric Wilson dubbed him "fashion's invisible man," an honorific that has stuck with him, and with the brand. The anonymity even extends to the runway, where models often sport face-obscuring gear of all kinds, from crystal masks to Spring Breakers–esque body stockings.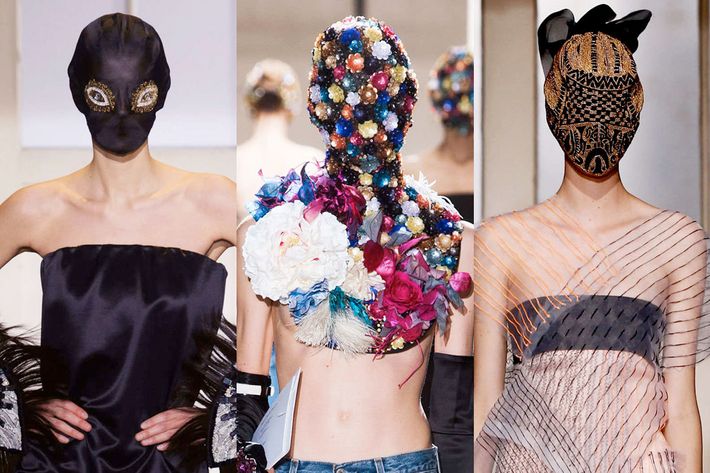 Galliano, on the other hand, is a controversy-racked showman who takes elaborate, costumed bows rather than hiding in the shadows. While Margiela is the province of hoof boots, a vest made out of faded, yellowed gloves, and a jacket imprinted with mannequin measurements, Galliano couldn't be less of a futurist: In his years at Dior, he drew from the Belle Époque, with elaborate panniers and layers on his gowns. Yet he cut any possible quaintness with references to London's '80s club scene, an equally decadent period. Acid colors, feathers, stacks of necklaces? Pile it on! was his attitude. Many of his collections had borderline-offensive inspirations, like spring 2000's couture looks imitating the newspaper-clad homeless people he saw on the banks of the Seine, fall 1998's Pocahontas-based romp, or a "trailer park" collection for spring 2001.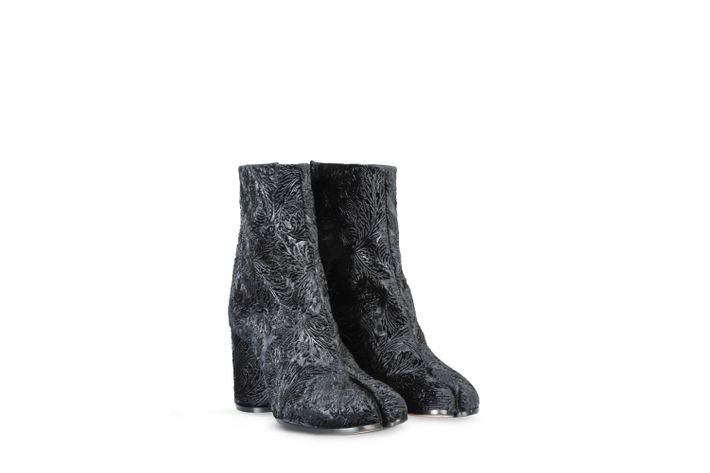 When he worked with Oscar de la Renta for a season, Galliano's sense of drama played nicely off de la Renta's flamboyance, and the collection was well reviewed. And when, years ago, Haider Ackermann and Raf Simons were said to be taking over Margiela's post, their quieter personal and professional approaches seemed to jibe with the brand. But it's hard to imagine what Galliano might create for Margiela that doesn't involve superimposing his own, highly specific tastes on the existing minimalist white canvas. So what is Margiela — or rather, Only the Brave — thinking?
This could signal a capitulation to the idea that design houses today need a personality attached to them. Someone to give interviews, do photo shoots, grin and glad-hand next to celebrities at parties, and so forth — something the house held out against for so long. Think of Alexander Wang at Balenciaga, Jeremy Scott at Moschino, or Hedi Slimane at Saint Laurent, all of whose splashy appointments have generated tons of interest in the brands. Galliano, from his TV appearances to his elaborate costumed bows, is just that kind of public-figure designer. A calculated move to shed light on a house that has taken care to obscure itself is the more easily understandable rationale for appointing Galliano, but what of the clothes? Can we expect a merger of the two warring sensibilities, with Galliano toning down his persona while still giving Margiela an injection of oomph? Or — more likely — is Only the Brave imagining something more like Slimane's reboot of Saint Laurent, in which a new designer remakes a brand in his own image, with attendant commercial success? Either way, it will be fascinating to watch it play out.