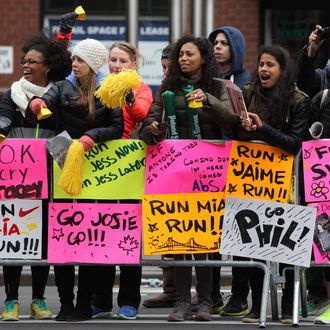 Photo: Tim Clayton/Corbis
Marathons, you may have heard, are hard. So hard, in fact, that to simply watch the race apparently requires weirdly specific instructions. Ahead of this Sunday's New York City Marathon, race organizers have included a how-not-to-cheer note in their spectators' guide:
Don't say, "You're almost finished." For marathoners, the last two miles often feel longer than the first 24. 
It's not the first time race spectators have been admonished about their race-spectating. Earlier this month, organizers for the Baltimore Marathon sternly noted: "Unless you are at the Stadium near the finish line, please DO NOT cheer 'Almost there,' 'Not far to go,' etc. After running 26 miles, 'almost there' is a few hundred feet from the finish line."
Really, they're not wrong. When I ran my first marathon a few years ago, a person on the sidelines (who I'm sure meant well) shouted at me, "You're almost there!" … at mile five. Almost there? I had 21 miles to go! I wasn't even almost "almost there." A quick pro tip: If you're going to lie to a marathoner, at least make it something nice and flattering like, "You're looking great!"