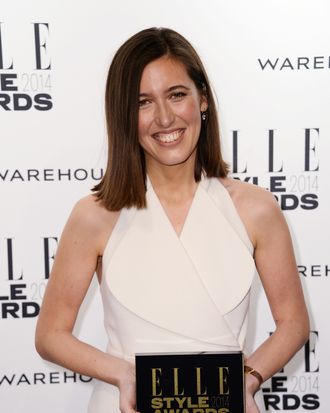 Photo: Ian Gavan/Getty Images
Emilia Wickstead occupies a head-scratching place in British fashion. One the one hand, the designer's aesthetic could best be described as very British— or rather, in full Sloane Ranger argot, vewy Bwitish — with a focus on wasp-waisted silhouettes, long sleeves, and floral prints. On the other, 31-year-old Wickstead has little in common with the digital-print-besotted, '90s-excavating, trend-happy mood that's synonymous with her adopted hometown of London right now. Despite being born in New Zealand, Wickstead herself is a bit of an English Rose: When she greets me at Net-a-Porter's offices (the site is one of her main stockists) she's wearing a prim, trim-waisted, long dress. But it's in black leather, and she turns out to have a wicked sense of humor. And her spring 2015 collection, prim and proper as it looks, has an unlikely inspiration: the glam-rock heyday of David Bowie and Roxy Music; though, filtered through Wickstead's lens, that means floor-sweeping dresses with subtle sparkles and shorter frocks in pops of blood orange and marigold. There's a bit of punk peeking through that Kate Middleton exterior.
Unlike a lot of your peers, you stick to these classic, very feminine silhouettes that almost hearken back to another era. What do you think makes you stand out from the pack of young London designers?
When I started out, I studied at Central Saint Martins, but when I started out designing, I started with a made-to-measure business concept, so I didn't actually follow in the same footsteps as all the other young designers. So I started designing for the client, and from doing that at the age of 24, I understood that there was a niche in the market. I spent a year in New York as a student, and I think I also fell in love with this kind of commercial aesthetic of what women want to wear, what I want to wear, how I want to dress. And also, having that small point of difference, so there is that little quirk, there is that beautiful cut. It's not a sort of straightforward boring commercial [approach], and we've basically been building our business model around that.
And you still do made-to-measure for private clients.
All the time. Ready-to-wear is our biggest selling part of the business. But when we started, made-to-measure was the biggest, and we also do made-to-order, mean[ing] that you could see this dress, and you could say, "I absolutely love it, but I'd never wear that fabric. Make it for me in red." That takes 20 working days. These are services from a sort of bygone era. But it's a modern version of it, so it's fast and efficient, and it means you don't have to wait that long, because let's face it, we live in a world where everything is fast-paced and we want things instantly.
Do you feel like opening the store changed your business?
Definitely. It's playing on that old heritage of fashion — where you'd go into a salon and you'd sit around and you'd shop, and you would build your whole wardrobe. I'm a big fan of that type of business model. And so, more and more, especially from moving to [London's] Sloane Street last month, we realized there is a demand for it and women love it. When you walk into an Emilia Wickstead store, you don't have the girls standing there ready to sell to you. They're actually doing things and styling the clients and sitting behind a desk, which is quite nice. But then also we're living in a world where shoppers want to buy online, so that's where it's brilliant that we sell with Net-a-Porter. We have an exceptional sell-through in the U.S. with them.
Did you go to school with any of the other British designers in your age group: Christopher Kane or Gareth Pugh?
I think they were all before me. I'm the last one. [Laughs.]
Who would you say your customer is?
To be honest, it really varies, which is a wonderful thing to say and to see. Obviously we're London-based, so we have a big English following, but we also have a big American following. Our clients start at 25, and our oldest is 95. More and more, we've been dressing people who are in the spotlight, Diane Kruger or Poppy Delevingne or Suki Waterhouse or Caitlin FitzGerald and Allison Williams. So they're quite cool, cool, young girls, and I think it's so great for the brand.
Allison is perfect for you guys.
She's great. She wore our pink dress to the Vanity Fair [Oscar party] red carpet; it was outstanding, she was stunning.
Yes, because she tends to wear classic American designers, the Ralphs and Oscars of the world, so it was interesting to see her in a young designer and not an American designer.
And I think that's what I love, because I grew up obviously loving new designers and new talent, but there's also this heritage of the Oscar de la Rentas or the Carolina Herreras, and there is a need for a new modern version of that. And I love playing on that because I kind of live in that fantasy world; that's my fantasy woman, going out and going to parties, but she's also realistically, someone who is extremely hard-working and has a family, but still has time to dress up.
What's the red-carpet strategy been like?
I don't think we ever work on strategy, and that's the beauty behind the business because it's people that are attracted to your clothes. So it's always a bit of a pat on the back, but definitely of course you will always be selective, because that's important for the aesthetic of the brand, and especially when you're a small brand, and you're starting to get well-known, it's important, who's the girl wearing the clothes.
Is there anything else you're working on?
We'll start to build on accessories, but again, very much in line with the business model, which is basically creating luxurious, wearable clothes, but they have something about them that they have a kind of difference. We would love to grow [the business] in other countries. That's my dream.
Do you have specific ideas about countries that you would target?
New York being a city, we would like to be in it. We have such a great demand from the American market, New York specifically. New York and other cities; we have a lot of clients who fly into London and we meet. And then we can see through our sell-through percentages where people are buying, which is pretty great. I went to Dallas for a trunk show and women arrived in my clothes, which is phenomenal.
This interview has been edited and condensed.