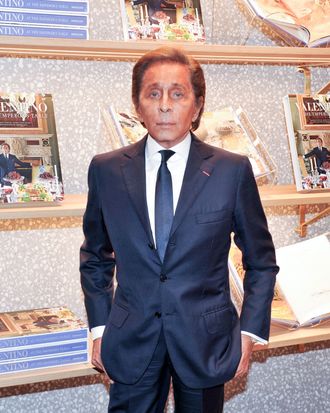 Photo: Leandro Justen/BFANYC.com/ BFANYC.COM
On a recent afternoon in New York, a cadre of young fashion bloggers, including Bryan Boy and Leandra Medine, was invited to tea with Mr. Valentino at the breathtaking, art-filled penthouse of his longtime business partner, Giancarlo Giammetti. The festive occasion was the publication of Valentino: At the Emperor's Table, a glamorous opus on entertaining in style, out this week from Assouline.

Guests were given three easy-to-follow instructions: Arrive at 4 p.m. sharp, forgo denim, and address the man of honor solely as "Mr. Valentino," rather than the more casual "Valentino." After a few quick sips of tea and bites of madeleines, the pupils-in-luxury took their seats in the living room, where André Leon Talley (who wrote the book's introduction) and Mr. Valentino shared anecdotes and wisdom on how to host an unforgettable party. Below, some choice nuggets.
1. Mr. Valentino loves beautiful things.
No shock there — the man has devoted his entire life to making gowns and more for the world's most beautiful, elegant women — but to hear him describe his place settings (which used to belong to the Empress Catherine II of Russia) was a glimpse into the depth of his obsession. Leon Talley swore up and down that this was not pomposity, but merely the natural evolution of a pure aesthetic, built from the ground up in Paris when Mr. Valentino was in his 20s. He did all of this only for the pleasure of "his own eyes."
2. Mr. Valentino had his own silverware as a child.
The origin of this story was never explained, but it seemed significant. We should all go get our children a set of their own silverware so that they will have that story to tell when they get older. Mystery is very alluring.

3. Mr. Valentino never entertains informally.
Even when dining alone, or with a few close friends, Mr. Valentino dines with fine china, crisp linens, and, presumably, a massive staff. Which beats eating cereal for dinner while standing barefoot in the kitchen.
4. Mr. Valentino does not eat red meat.
"After a certain age, it is bad to eat things like sugar, red meat, and pasta late at night." But pasta late at night is our favorite!
5. Mr. Valentino was very afraid of being judged as a show-off when the book came out.
But he got over it, because he has never wanted to show off. He just loves his beautiful things.

6. Mr. Valentino goes to all this trouble knowing that most people will not appreciate it.
Even at a dinner party for 20, only about 5 of the people who attend will truly appreciate the work that went into the event. But you invite the rest of them anyway. (Even Elizabeth Taylor, who once thought she lost an earring and made the whole dinner party get down on the floor to look for it.) And sometimes you blow them away. According to Leon Talley, when Kim and Kanye came for their prenuptial luncheon, the couple "had never seen such luxury." Luckily, the whole Kardashian Klan had gone to the boutique the day before and outfitted themselves in head-to-toe Valentino.

7. Mr. Valentino will not tolerate yelling at his dinner parties.
That is a dumb American tradition. And the British too: "They love hear themselves speak."

8. Mr. Valentino is very clear on seating charts.
Seat the oldest person ("especially if she is a lady") at your right, then seat the rest of the guests in order of "importance." Never sit a husband and wife next to each other. Or even at the same table, if possible. That is also a silly American tradition.

9. Mr. Valentino approaches setting a table the same way he thinks of couture.
Layers, colors, flowers. He likes china against a color tablecloth that is, preferably, a shade of dusty pink, pale blue, or jade green. There will be "underskirts" under those tablecloths, all the way to the floor. Two women are employed to iron them.
10. Mr. Valentino does not bring a gift when he comes to dinner.
But suggests sending flowers the next morning. "I never know where to put things when people bring them to me."

11. Mr. Valentino will serve you Corn Flakes.
But only on his yacht and only if you ask.

12. Mr. Valentino has never eaten an NYC hot dog.
"No. No." We're guessing, then, that rules out serving pigs in a blanket. So much to learn.