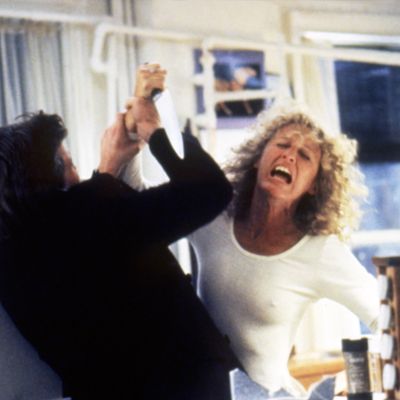 Whether it's about winning the breakup, or the need to even the playing field, as they say, revenge is a dish best served cold. Unless it's a dish not served at all, because maybe the best revenge is simply not caring enough about an ex to bother to extract revenge. (Wouldn't that simply be the healthiest? Ha.) But in the real world, just like us, the famous occasionally dream of revenge, and sometimes they do it, too, while others behave admirably responsibly, regardless of heartbreak. Below, 15 notable folks share their thoughts on getting back at exes.
Joanna Coles. "In Britain, I'm from the generation where you are supposed to water the carpet when your ex is away. You spread plant seeds so the carpet literally turns into a terrible lawn of mustard and cress. The British are very mean when it comes to breakups and revenge. We wait for a long time, and it's best to act when it's least expected. So, you're literally coming back from your vacation and your home has literally been overtaken."
New York Magazine: "Have you partaken in anything like this? Perhaps in your youth?"
Coles: "I've dreamt of it, but I can't really confess to anything. The things that I've done in revenge, people would never know that it was me. But, let me put it this way: I have really long memory."
Zosia Mamet (Girls). "No, I'm not really a revenge kind of a human [toward] an ex. I'm more of a, like, curl-up-in-a-ball-and-cry human. That's more my jam."
Ben Mendelsohn (Lost River). "Guaranteed, if someone breaks up with you or you break up with someone, the one thing that is the most painful of anything is if it seems like they're doing great without you. You wanna win the breakup? Live well. Absorb it, live well. You can do this, you can do that, you can do poison this, poison that, but living well is the best revenge."
Alyssa Milano. "I remember, once, not understanding why one guy broke up with me. I remember having a moment, like, 'I'm going to stake him out and follow him and find my answers!' Eventually, I learned that a lot of relationships belong in this closet of nebulous breakups where the ending of things doesn't make sense and it doesn't need to. You learn to let it go."
Perez Hilton. "I'm not the kind to get revenge; I'm more the kind to obsessively cyber-stalk an ex, and even though I know it's not healthy for me, I'll go on their Facebook or go on their Instagram and see what they've been doing. And I know I should just mute them, but I can't."
Beau Garrett (Girlfriends' Guide to Divorce). "My girlfriend T.P.-ed one of my ex's cars in the middle of the night with me and we didn't tell him for like two years. But we totally T.P.-ed his car. Years later when my girlfriend told him, he laughed it off, but he was super-pissed when it happened, because you know he went into the gym and was yelling about it and we were just giggling."
Melissa Gorga (Real Housewives of New Jersey). "I grew up in an era of New York City underground and the '90s; it was very in to go to the New York City clubs and walk right in and you didn't have to wait on line if you were cool — you had to know the person at the door and all of that. I think the best revenge is always walking in, looking good, it was always being in the best shape — you know, I was at the Surf Club back in the day, or on the Jersey Shore, it was just about, like, I'm hot, I look good, and you wish you weren't such an asshole. I don't know what's much better than that." 

Kiersey Clemons (Transparent). "I think we've all done the jealousy thing, 'Oh I'm gonna post on Instagram that I'm out and I'm having a good time!' But what I've noticed is it's better to just, like, do your thing, go MIA. 'Cause then they're wondering where is she, why is she not bothering me? That's the best, eats 'em away."
Bruce Bruce (Top Five): "Just don't call them. That's all. They don't deserve your time. I don't call them, I don't reach out. I just make sure that I stay in my lane. Then when they see me out, they're like [mocks a soft lady voice] …'Ohhh, good to see you. How have you been?' And I'm like, nope!"
Hayley Marie Norman (Top Five). "I got revenge on an ex once and it ended up on TMZ. So, I've become much more Zen since then. But, you have to read it for yourself."
JB Smoove (Top Five): "JB is here to spread love! I've heard other people's revenge stories, though: You know when people leave dirty laundry over at an ex's house, when you break up with someone, people forget about that dirty laundry in the hamper. They grab all the clean clothes out of the dresser drawers, out of the closet, but no one ever gets their clothes out of the dirty-ass hamper! And now, somebody's gotta get rid of the dirty underwear. Now, am I right, or am I wrong? You're damn right; I'm right.
"So when you break up with somebody, make sure you go in the hamper and get your dirty underwear out of there, because that's something they can use against you in the future. They could mail the dirty underwear to your job; they will, they will. They get one of those big ol' padded envelopes and mail your skid-mark underwear to your boss. You know I'm right, so always go in that hamper and take your underwear when you break up with an ex!"
Condola Rashad (Elementary). "Not unless you count flaunting a new lover in front of my ex, which I'm guilty of. It only happened one time, and I was in high school — but still!"
Ellar Coltrane (Boyhood). "Someone just trashed my girlfriend's car in front of my house when we were out of town. I can't say for sure, but I think it was an ex getting revenge on me. Someone was angry with me, or her.  My first thought was like, 'God, what girlfriend is that mad at me?!'"
Necar Zadegan (Girlfriends' Guide to Divorce). "I fantasize about slashing tires. That's my fantasy. In my fantasy, I'm the girl from that country western song by Carrie Underwood."
Arianna Huffington. "I never hold a grudge. As somebody once said, resentment is the grudge of the poison you drink thinking the other person is going to die."
Reporting by Jamie Sharpe, Valentina Valentini, Adrienne Gaffney, Noah Hurowitz, Sean Fitz-Gerald, Stephanie Eckardt, Sarah Caldwell, Jenna Marotta, Ericka N. Goodman, Nina Stoller-Lindsey, and Alyssa Shelasky.