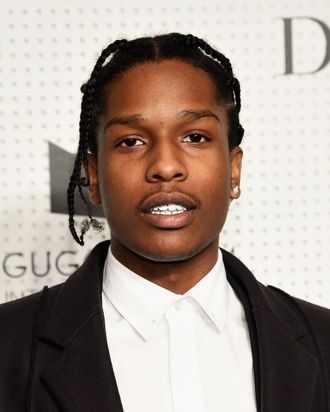 Photo: Dimitrios Kambouris/Getty Images
"HBA shit is weak, you can keep that," rapped A$AP Rocky on "Multiply," which he debuted this year at Coachella. It was a total 180 for the rapper, who's previously praised the streetwear label with lyrics like "I'm a stunna, Hood by Air for the summer / Toast to the God and it cost nine hunna." (Sounds like somebody overpaid for a sweatshirt.) He's also rapped, "Hood by Air, to the do-rag," and the slightly more territorial "Hood by Air, man I started that."
HBA designer Shayne Oliver was diplomatic when speaking to WWD about the dust-up last week, saying, "I know Rocky personally, I saw him and we were fine. I haven't brought it up, even. But for me it's how I deal with a friend. I'll be like, 'what's up,' and if they want breathing room, I'll give them that." Last night at the Dior-sponsored Guggenheim International Gala, we asked the rapper to clarify his lyrics.
This conversation about Hood by Air: Do you think they are weak? Did we misunderstand?
No, there is no misunderstanding.

Why did you say that?
Because I can. I birthed it, so I can kill it.

[Regarding] the Hood by Air line on your album, was there anything in particular that happened? That made you feel like the stuff was weak?
You know, fashion, it changes. Your perception of fashion sometimes changes; one day is red, the next day is blue. My style changes, it varies.
So you weren't as into it anymore.
It is what it is. HBA shit is weak.

Will you work with those guys again?
I don't know.

How about Been Trill? [On "Multiply," Rocky also says, "I ain't really fucking with that Been Trill."]
That shit is wack, too.

Anything in particular?
I'm going to put it to you like this: I can say that I've been scrutinized for my fashion since I was about 15 years old. A lot of people got it easy. I feel like I had to go through the whole Civil Rights Movement just to be comfortable, to make other people comfortable, to be able to wear what they want to wear, and a lot of dudes are just claiming to have it without having to have that sacrifice or suffering through all that kind of shit. We've been through that kind of shit. That's all I can really say about it. It is really miniscule. It's no real beef.

What do you mean, you've been through everything?
No, meaning the way that I look now, this wasn't acceptable about 12 years ago in the hood. [He's wearing a closely tailored black suit.] Because we've always been dressing like this and it wasn't acceptable and we made it acceptable.

And there is an aspect of those guys that doesn't get that?
They changed. They look like me now. Or at least they try to.

I'm just trying to understand what you mean. These guys don't understand what you experienced in fashion?
What guys are you referring to at the moment?

The Hood by Air folks.
I'm not even talking about them at the moment; I'm talking about regular, typical motherfuckers, people in the hood, in middle America, all around the world.