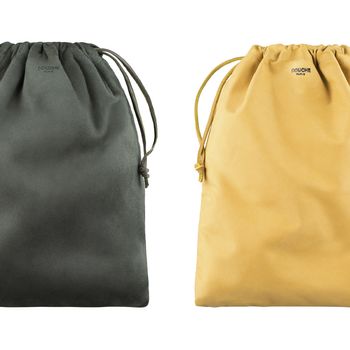 Photo: Courtesy of A.P.C.
A.P.C. designer Jean Touitou is a Proustian kind of dude, so it makes sense that instead of issuing a press release on his latest "It" accessory, he'd just confine himself to a series of meandering statements in Franglais. "I find it difficult to write about this, since it's impossible to translate the French expression 'mise en abyme,'" he begins promisingly, if a bit incorrectly.
"But that's what it is. So I will simply say this about the 'Douche Bag'  bag:

Product description: an excellent all-purpose pouch, for men. (Women can use it too.)

The name meaning: those who know don't say, and those who say don't know."
From our tenuous understanding of the above statement, it sounds like owning one of these bags is kind of like being in a fight club. But at the risk of revealing the big secret, the bags are in fact real and will be in all the brand's U.S. retail stores starting next week, at $135 a pop.
The designer adds that the concept "made me laugh so hard … whenever I am depressed, this does like 3 Xanax to me." Us too, Jean.