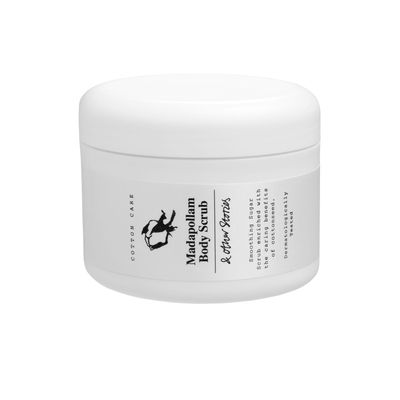 On the whole, as a category, body scrubs tend to leave me cold. More often than not, they are full of essential and carrier oils — so rich and slick that an exfoliating shower quickly turns the tub into an obstacle-course test of balance and slippery coordination. Last week, though, I discovered an exception to the ho-hum lineup of scrubs: & Other Stories' Cotton Care Madapollam body scrub.
On the body, the beady sugar scrub melts into a creamy emulsion, but not before it gently sloughs away dead skin. I can scoop the thick scrub knowing that it won't slip between my fingers before I can apply it to my skin. With ingredients like cottonseed oil and vitamin E, Madapollam body scrub smells like a fresh T-shirt plucked straight from the wash. But the real measure of a body scrub lies in how well it smoothes skin: & Other Stories' scrub left my skin soft, moisturized, and noticeably smoother.
Madapollam Body Scrub, $15 at & Other Stories.