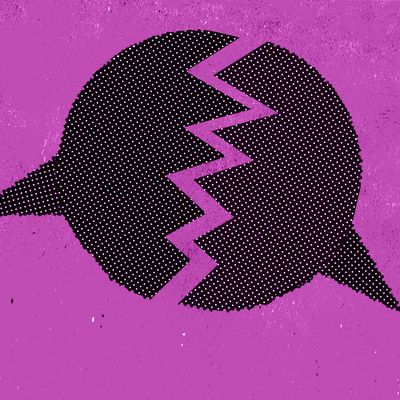 Nancy and Ian were two blisssfully unwed New York lawyers who were well balanced and in-love. Until life — in the form of a preppy asexual with a thing for Trader Joe's — got in the way. This is their story.
NANCY:
I met Ian at a wedding on the Cape. We were young, 25, and both starting our careers in New York City. He was cute, charming, and smart. We danced all night, and I had a feeling it might turn into something more.
IAN:
Nancy swept me away. She wore no makeup, was tan and full of life. It was love at first sight.
NANCY:
We ended up dating for five years. It was an awesome, healthy, happy relationship. We'd work our asses off during the week at different law firms, but take off on the weekends for hikes, picnics, apple-picking; we knew how to enjoy life's simple pleasures together. I loved him for the way he made me laugh, and his unconditional support. He was stable, attractive, and kind, such a decent man. No one ever has a bad word about Ian, nor should they.
IAN:
She always had fire in her eyes. We'd call it joie de vivre, but it was really more like a little devil inside — a devil that could be playful and alluring but also unpredictable. A man loves the chase, and Nancy is perfect for that. Even when we lived together, there was always a part of me that felt nervous she'd never come home. It was a visceral feeling I had and ignored. It kept me on my toes, but also presented a slight uneasiness inside my gut pretty much the whole way though.
NANCY:
Enter Charles. Charles was an old friend from law school who ended up working at my law firm, where we became very close friends. Ian was never worried about Charles for several reasons: First of all, Ian trusted me. Second, because Charles was my polar opposite. I am a liberal free-spirit from pothead hippies, and Charles was a seemingly asexual Wasp from old-money D.C.: a bow-tie-wearing Republican with freckles and a subscription to Guns and Horses, or whatever it's called.
IAN:
I liked Charles! I thought he was a real character.
NANCY:
Around the time Ian proposed, I was working around the clock on a case with Charles. We had spent months talking about everything under the sun, ordering in Thai food, and just connecting in every possible way. One night, we almost kissed. We held back, but we were pressed up against the wall, kind of rubbing up on each other. My body was electrocuted. I realized that I was in love with Charles. I was madly freaking in love with Charles. I hadn't cheated … yet. But I was sure of my feelings, and Charles had confessed to his.
IAN:
I was clueless with a capital C. We were going to get married at the Cape, where we met. Our sex life was consistently good, Nancy was my future wife … it was ignorant bliss.
NANCY:
Everything was a mess. I did not want to hurt Ian — the thought of that made me want to vomit — but I couldn't fight my feelings for Charles. It was bigger than me. I was so confused, and I couldn't tell anyone about anything … except Charles. Naturally, that brought us even closer. And we started to have sex. The sex was — on top of everything, this sounds so cheesy, but — beautiful. Meanwhile, I was planning this wedding, spending money, getting closer to the big day. The confusion and guilt was all-consuming.
IAN:
My best friend's wife called me and said she was in a terrible position but she had to tell me something. She said, "Did you and Nancy break up?" And I said, "No! Why?" And she said, "I saw her with Charles … you need to ask her what's going on." She had seen Nancy and Charles making out at Trader Joe's. Trader fucking Joe's. It was like a scene from a movie. Suddenly, everything came together. It was literally like that last scene in The Usual Suspects.
NANCY:
I got caught. And I'm sure that's subconsciously what I wanted. It was absolutely horrible. So many tears, so much pain, for everyone involved. Me, Ian, our families, Charles … we were all good people stuck in the most awful situation. Ian was full of rage, of course. He told me I had a week to move out. He had a right to say, do, feel anything he wanted.
IAN:
It broke my heart. And it fucked me up for a long time. I was embarrassed, anxious, bitter, lonely … all of it. I missed her, yet I hated her. And I had so many things to untangle: our home, our wedding plans, our bank accounts. Everything was so shitty. And Charles — I just wanted him to go to hell. But I didn't do anything … because … what could I do? My dad kept saying, "You gotta take it like a man." And that's what I tried to do.
NANCY:
Charles and I weathered the storm. It's terrible to say anything romantic after explaining the ugly backstory, but I do have to say, I love him and I've never regretted being with him, even with the hell of it all back then. We spent a few years settling into things. And now we're married with a 2-year-old.
IAN:
I'm still single. I can't blame it on Nancy, but getting over her was harder than I ever imagined. There's a lot of residual trust and anger issues. But I think — I hope — that I'm pretty much on the other side of it.