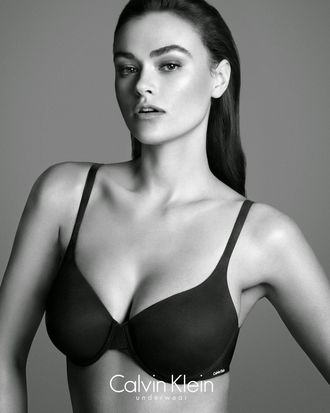 Photo: Courtesy of Calvin Klein
Myla Dalbesio has been on a bit of a whirlwind media tour of late. The stunning 27-year-old, who's featured in the new Calvin Klein lingerie campaign, told Elle.com, "I'm a bigger girl … I'm not the biggest girl on the market but I'm definitely bigger than all the girls [Calvin Klein] has ever worked with, so that is really intimidating." And in an Entertainment Tonight segment headlined "Meet Calvin Klein's New Plus-Size Model," she shared that "to see a brand like that embracing you [in] a greater range of sizes … it's really special." The only problem with this assertion: Dalbesio is a size 10 (or, as some sources have reported, an 8).
While Dalbesio definitely stands out next to straight-size campaign co-stars Lara Stone and Jourdan Dunn, she's not a plus-size model either, despite Calvin Klein's seeming attempt to publicize her as such. Plus-size models traditionally fall in the 12 and up range. And as Yahoo reports, people aren't taking kindly to the labeling of Dalbesio as plus-size, with tweets like "That's not a plus size! You guys need to rethink what a plus-size is" and "I look like that. I'm not plus size." (We've reached out to the company for a comment and will update this when we hear back.)
Dalbesio falls in the so-called "in-betweenie" range, an awkward term meant to bridge the considerable swath between sample and plus sizes. It's tricky territory for models — think of Crystal Renn, who started her career out as a sample size, then had quite a bit of success as a plus-size model before dropping to the in-between range, with an accompanying drop-off in work. So it's nice to see that Dalbesio is succeeding without having to bend to industry pressure to fit into one of two standard body types.
The problem is, consumers are claiming the publicity is disingenuous, given that Calvin Klein didn't, you know, actually hire a plus-size model. And as with last week's Victoria's Secret "Perfect Body" scandal, they are not staying silent about their displeasure. Far better to have sidestepped the size question, and just presented Dalbesio as the new spokesmodel.