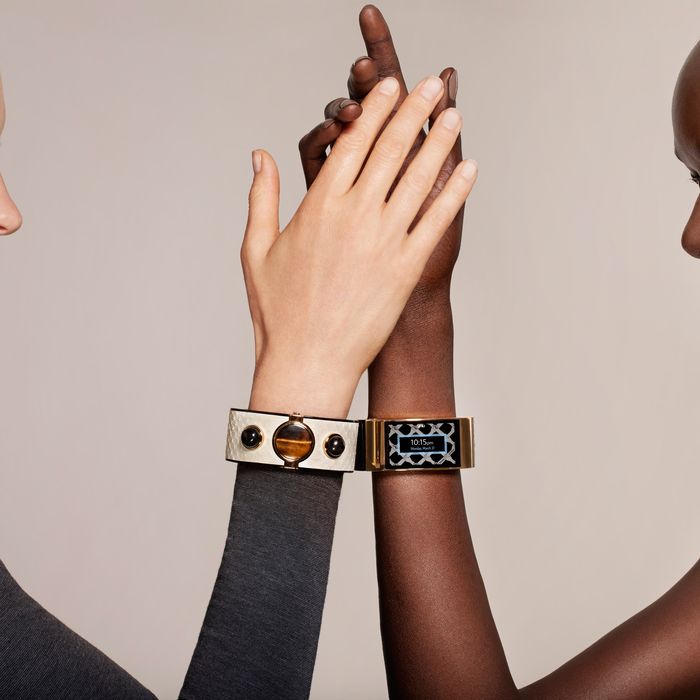 Photo: Collier Schorr for Opening Ceremony and Intel
It's rare to find a written description of Opening Ceremony that doesn't include the word cool. The downtown "It" retailer has parlayed its "cool factor" into everything from live theater to your dad's favorite hiking sandals. Meanwhile, it's hard to find descriptions of wearable tech that don't at least touch on the sector's very uncoolness — think of obsessive Glassholes or dorky Fitbit enthusiasts who want to brag about their pedometer count. Big-time fashion hires on the part of Apple and Google and the avid courting of fashion editors in the run-up to the Apple Watch haven't done much to quell the chatter. So Intel was smart to enlist Humberto Leon and Carol Lim to launch its first wearable tech device, titled MICA (which stands for My Intelligent Communication Accessory). At a press conference today, Intel VP Ayse Ildeniz said that the company enlisted the help of the CFDA and Barneys New York to link up with the duo.
The result, a $495 bracelet with embedded jewels, will be sold at Barneys and Opening Ceremony in time for the holiday season. Attendees at the brand's spring 2015 show may have glimpsed them on some of the models' wrists in "100% Lost Cotton," the meta-play that showcased the collection. At Intel, Ildeniz said, "we're so focused on function and what it does, and we almost never worry about how it looks." Leon and Lim wanted a thin, curved, feminine-looking device. One might even call it girly.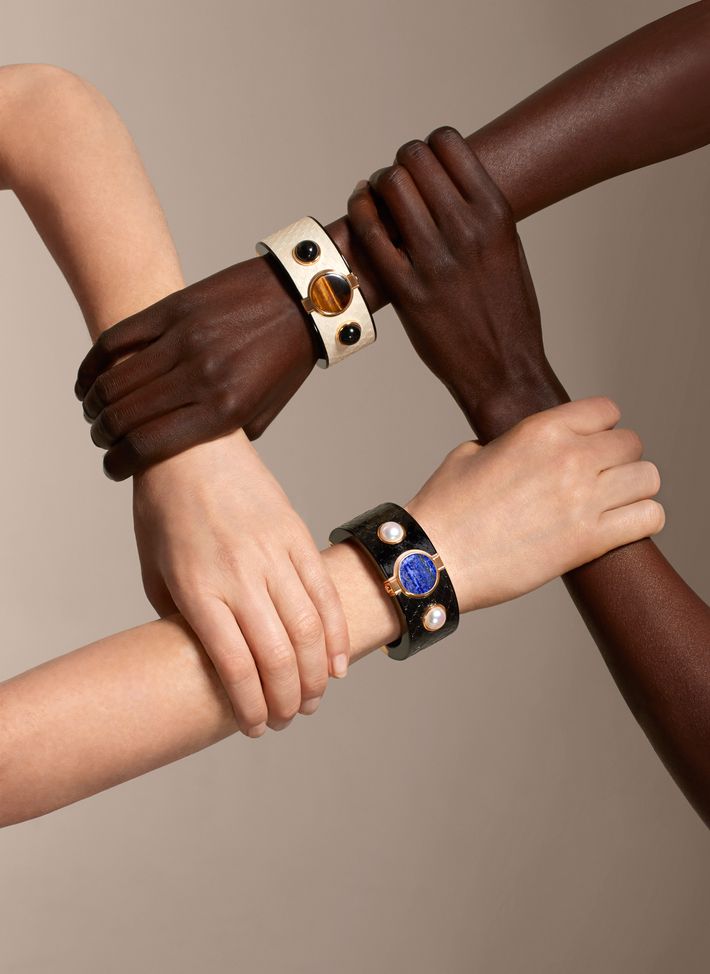 The technology behind the bracelet focuses on personal connections. In one prominently emphasized feature, you designate VIPs and then receive alerts when they try to reach you. (If that sounds familiar, it's because the concept bears similarities to both the smart ring Ringly and a Rebecca Minkoff–designed bracelet that debuted at her New York Fashion Week show.) The bracelet also has a conciergelike "Near You" feature, which can help you find a local coffee shop. And it manages your schedule, with reminders for events like birthday parties and going-away parties popping up. Perhaps because wearables still have an unsexy, dudebro connotation, OC and co. emphasized the stereotypically feminine qualities of the device: It's for women who want to stay in touch with their girlfriends, who want to be able to get an SOS from the nanny, who want to stay close to their family members.
When I spoke to Leon and Lim after the conference, they echoed these sentiments. I wanted to know why they settled on a bracelet, rather than one of the other forms wearable tech takes, like glasses or a "smart" shirt. Said Leon, "We wanted to focus on women, and the bracelet just seemed like a no-brainer." Added Lim, "Women are particular about jewelry , and I think it becomes a part of their outfits every day. We knew that could permeate."
As for the question of why the device is something women need — after all, except for the few and proud flip-phone devotees out there, most of us have smartphones that allow us to stay in touch with loved (and not-so-loved) ones, find restaurants close by, and schedule every minute our lives. Leon emphasized that the device is not meant to replace our omnipresent phones. "We immediately recognized that women will have their phone, they'll have their other devices. They'll have their Fuelband, these others — we're fans of wearables, we're not trying to say that this is the one and only wearable that will meet a woman's needs on a daily [basis]."
Opening Ceremony supplemented its presentation with an array of "It" girls, like DJ Kitty Cash and personal trainer Nicole Winhoffer, who used the devices while they stretched and spun and did other cool-girl things. The question remains: Will their regular-girl equivalents want to add the device to the stable of modern-day devices — smartphone, tablet, fitness trackers — that already clutter our lives?