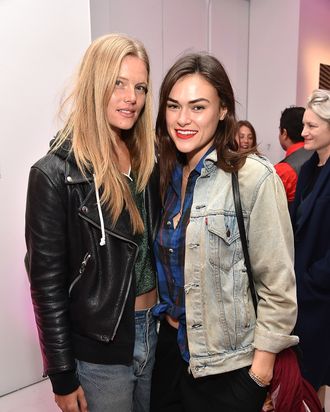 Photo: Theo Wargo/Getty Images
On Monday, Calvin Klein unveiled its newest lingerie campaign, featuring Myla Dalbesio, a size-10 model, alongside straight-size models like Jourdan Dunn and Lara Stone. Though the company never termed Dalbesio "plus-size" or commented on her size at all, she was identified as such in enough media reports to spark a controversy over the use of the term. (A sample tweet: "That's not a plus-size! You need to re-think what a plus size is.")  Yesterday, Dalbesio went on the Today show to discuss the reactions to the campaign, saying, "I think that Calvin Klein has done something that's really groundbreaking, which is they released this campaign with what some would say is a normal-size model, a size 10. And size-10 girls, there's not a lot of spots for us to fit in in the fashion industry."
This particular turn of the news-cycle screw aside, Dalbesio is a pretty fascinating human being. She has been modeling for almost a decade without ever becoming a household name. She's a provocative performance artist — in one recent piece, titled Young Money, she dressed as a stripper covered in dollar bills and gave lap dances to gallerygoers at Ramis Barquet in Chelsea. She's also a published short-story author, with fiction appearing in Twin magazine.
While the 27-year-old Wisconsin native wouldn't talk directly about the Calvin Klein controversy, she spoke candidly with the Cut about having body dysmorphia, her issues with the fashion industry, and why she hates the term plus-size.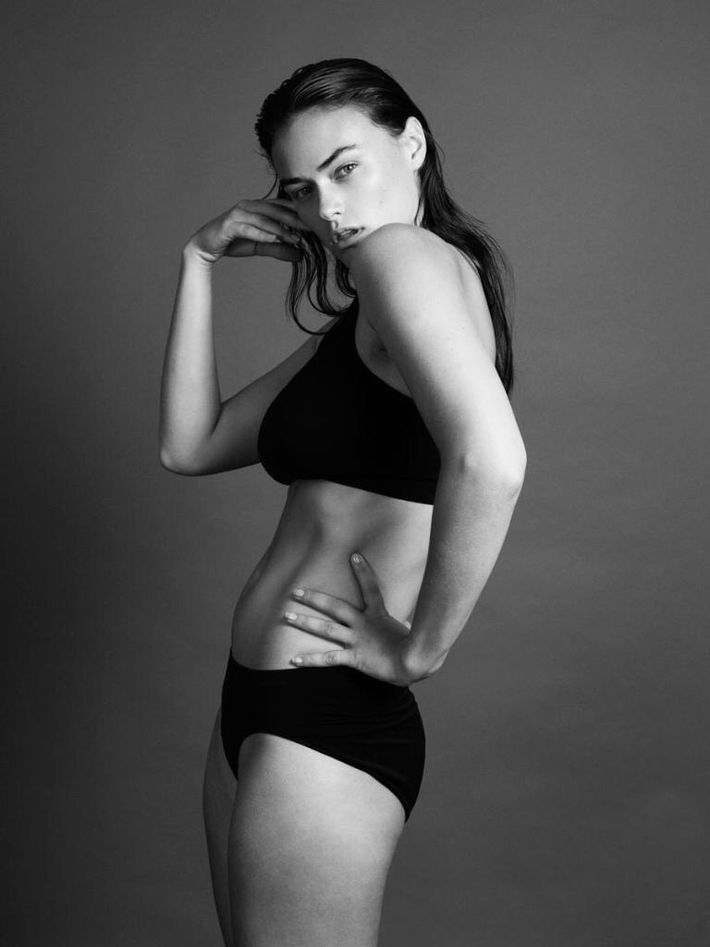 You started out in the pageant scene [she won Miss Teen Wisconsin 2004] and that's how you were discovered by [legendary agents] Jeff and Mary Clarke, who also discovered Karlie Kloss, right?
It's definitely true to say that that's where I started, but I wasn't like a "pageant girl." That was the first pageant I had ever done, and the only, thank God, because that is such a crazy world. But yes, definitely, that's how everything happened. Actually, Mary was hosting the pageant, and they had this relationship with the people that ran the pageant there and in Iowa, where they would come and get to look through the girls and see if anybody would be suitable for modeling.

Were you interested in modeling prior to that, or is it just because you were scouted that you pursued it?
When I was in high school I just thought I was a punk. I had purple hair, just spent all my time going to terrible local-band concerts and, you know, just like being a normal angsty teenager. It was my older sister, actually, who entered me in the pageant, and then after I was scouted by Mary and Jeff, really pushed for me to pursue that.

So you first started when you were 17?
Eighteen is when I first signed with my first agency, which was Ford. [I'm now] with Jag Models, and I'm still with Ford in the outlying cities in the United States, so like Miami, Los Angeles, and then with Next in London.

When you were doing the Young Money performance three years ago, you adopted this sexually aggressive persona. What was the idea behind that?
I've always been really interested in exploring the body as a medium, and as a tool. Obviously, [in] my job, it's all about the body. You're constantly working with it and managing it, so it's just something that I've always been interested in. I had some body-dysmorphia issues in my earlier days, and after I overcame that stress, I started to feel super-powerful in myself, and that really informed a lot of the work that I'm making. Young Money, a lot of that was about using the body as a tool to break down the walls that we normally put around ourselves, keeping ourselves really removed from each other.

Was it at all a reaction to some of your experiences modeling, because it's a job where there's a lot of being looked at?
Definitely. It's just so much a part of my life that everything that I'm doing is somehow about that, you know. It's all reacting to that.

This performance stood out because you were very aggressive, touching the audience members.
When you're modeling, you have very little control over yourself, your situation, your body, or how you're being presented. A lot of it comes down to the decisions that your agents are making for you or that the clients are making. It's a lot of going along with what everyone else tells you to do, so this is kind of a way to take back the control that I don't have in other parts of my life.

When you were signed at Ford, you were signed as a plus-size model, and since then you've signed with Jag Models and settled on being what you call an "in-betweenie," which is for models who fall between the straight-size and plus-size designation. There doesn't really seem to be a space in fashion for women who are in-between.
It's definitely a strange place to be. It's also like, unless you want to go the super-sexy route, there's really not that much out there. I also just want to clarify that when I signed as a plus-size model, I was the same size that I am now. It's just that, at that time, which was nine years ago I think, things were just totally different. There was no agency that would accept a girl over a size 4 onto their straight-size board. It just didn't happen, so girls that were my size had no place to go. Those [plus-size agencies] were the only boards that would accept us, so even though we weren't "plus-size," that's how it ended up. And actually, a lot of boards started changing their names. Wilhelmina changed the name of their plus-size board to "curvy." After Ford closed their plus-size board, my agents left and started their own agency, which I'm with now, Jag, and their whole thing — which I think is amazing — is that there are no boards at Jag. There are no labels. You [have] a size 10, or girls that are like 14, 16, girls that get down to like 4 and 6 — everyone. They were the first agency to do that.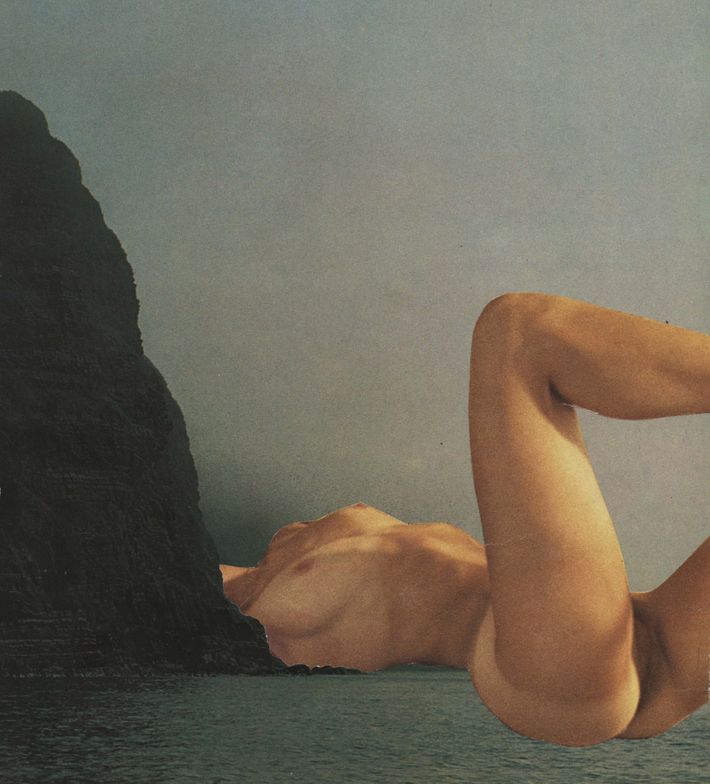 Are there a lot of other models who fit into your same category?
Oh my God, so many girls. I would say half of the plus boards everywhere are my size or even smaller. It's just there's no other place for them. I have so many friends who sat around in airports and in hotel rooms and complained to each other for hours about how there's just not enough opportunity for us out there, and what can we do about it.

I'm also interested in the age question. It's interesting to me that you've been working for almost a decade, and you're 27, which is by no means old …
It's definitely old for the modeling world.

I was wondering how that feels.
I definitely go through moments where I'm like, "God, am I old?" which is such an absurd thing. The fashion industry just makes you think these crazy things. For sure, I've had moments when I'm like, "Is this crazy?" Before anything was really happening for me, of course I was having moments when I was saying, "Is this going to happen for me? Like, what if it doesn't?" And I had to come to this conclusion that who cares if it doesn't. I'm still doing catalogue jobs and they're making me money, which is supporting what I really want to do, which is make art, so if I'm not going to be on the cover of a magazine or be a campaign girl, big deal.

Previously, you had been in some spreads in Glamour and Vogue that were specifically about curvy models, and it seems like now the work you're getting is just as a model, full stop.
That feels really great. I think I had this moment a few years ago where I was like, "Fuck, I don't care about modeling, that wasn't what I ever wanted to do with my life anyway, so why don't I just focus all the time that I have on something that I can control and something that I really care about, which is making art, and use that instead." That ended up totally changing my career in fashion, because then I became someone who wasn't just a model. There was some other selling point to me that I could control.

Do you think that's part of your appeal?
I've gotten a lot of positive feedback from people in regards to that. A lot of booking a job comes down to how you look, and how you fit in the clothes, but re-booking a job comes from how you interacted with the people around you. I'm really fulfilled from being able to work on something that I care about so deeply, which is art, and that translates into me being fun and easier to be around, maybe. And it's nice to be able to have something else to talk about with people outside of whatever is going on in fashion.

You mentioned you get a lot of letters and emails from teenage girls. What kinds of things do the young girls who write to you have to say?
Oh man, I just got an email today from a girl saying she's been struggling with bulimia for six years, and it's feeling like now she can kick it, which is a crazy thing to hear, and of course it makes me feel amazing. I don't think that I'm going to solve every girl's eating disorder, but it's great to hear that I'm at least giving them some kind of support. It makes me cry. At the beginning of my career, I struggled a lot with jealousy because, like I said before, there was very little, as a model, that you could control, so a lot of the time when I wasn't working I was just stewing in this terrible jealousy, which everyone in the world knows is the worst feeling you could ever imagine. It's awful, and then you hate yourself for being so jealous, which makes it worse.

I was feeling so jealous, and I think there are a lot of girls around me I know … the plus-size — I hate [that term], now I feel like I can't ever use that word. It's a lot smaller than the straight-size section of the industry, so you know everybody. There were all these girls I knew who were getting really successful, and they would talk about how great it was that they were feeling like they were impacting these young girls, and me being young,  jealous, and bitchy, I was kind of like, eye roll, Sure, you're changing the world. But now I'm getting those emails, and it's surreal. I just never thought that I could make a difference like that. I was fucking miserable as a teenager. The idea that I could help someone who's going through that same shit feel better — it's just awesome.

What kinds of projects do you have coming up?
I'm in the midst of planning a couple of performances. One could be taking place in the spring, and hopefully the second soon after. The gallery that I was working with in New York closed, maybe a year ago. It was RH Gallery in Tribeca, so I just took the past year — last summer I was doing a lot of going to the art parties, and the openings, and it was really wearing on me. I was like, "Just don't go to this stuff. You don't need to sell yourself — just work on making really good stuff."
This interview has been edited and condensed.