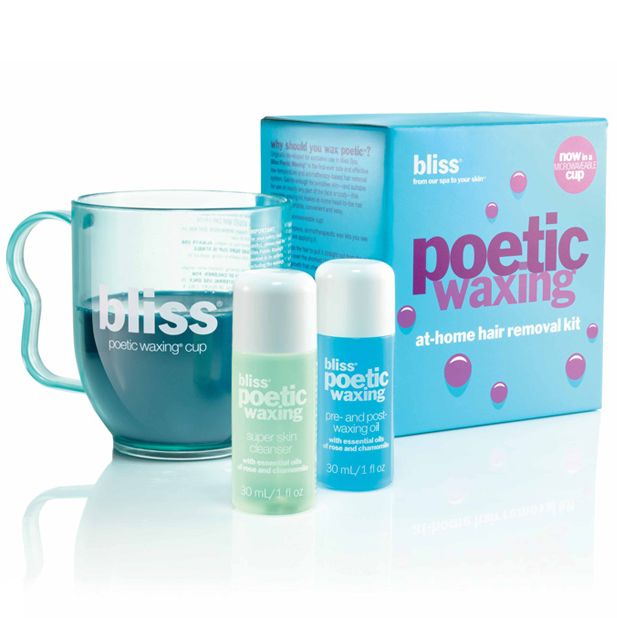 This week, the Cut explores women's complicated relationship to beauty standards and the effort required to meet them.
There's no joy in the wax experience. Zero. I still remember my very first, when my Chewbacca brows were gone in a matter of minutes thanks to a particularly patient esthetician. As I grew older and hopped from city to city, I happened upon Bliss Spa, where I experienced my first virtually pain-free wax. The secret, they told me, was their "royal-blue wax," which wrapped around hairs to facilitate a clean and painless pull. In honor of the Cut's Pretty Hurts week, I put two versions of Bliss's at-home wax sets to the test.
First, I tried the brand's Poetic Waxing Strips. In what way an at-home wax is poetic had yet to be determined, but it was an encouraging start. Following the instructions, I warmed a strip with pre-applied wax between my hands and smoothed it over my hairy (but naturally insulated) legs. Closing my eyes and preparing for the worst, I yanked the strip in the opposite direction of hair growth. Two hairs came off. I tried again with the same results. I gave one strip to a friend, thinking that there was something wrong with my hair, but she experienced the same. On a positive note, the entire process was painless — perhaps that was the "poetic" component.
Reaching for Bliss's much more intricate At-Home Hair Removal Kit, I hoped for better results. In addition to a cup of wax, this kit includes a cleanser, a pre- and post-wax oil, and spatulas (to apply the wax). After heating the wax in the microwave for about three minutes, I layered the blue wax over my leg. The anticipation of pain was the worst part — I prefer the element of surprise. As it hardened, I grabbed an edge, took a few deep breaths, and aggressively winced while pulling the wax away from my skin. The blue wax broke into chunks of hardened pieces, grabbing a few hairs along the way. Trying again, I pulled up a few more hairs. I grabbed additional hairs with each try, and by the fifth attempt, it seemed as though I had mastered the art of at-home waxing. After several minutes, I successfully waxed an entire leg. Despite a pain factor equivalent to a supremely terrible muscle cramp, the blue wax removed my hair with spalike precision.
After a weekend yanking and ripping my many lady-hairs, I learned this much is true: Home waxes will never be able to replicate the tranquility and professionalism that a spa provides, but Bliss's Poetic Waxing At-Home Hair Removal Kit is a step in the right direction.
Bliss Poetic Waxing At-Home Hair Removal Kit, $48 at Sephora and Bliss Poetic Waxing Wax Strips, $36 at Sephora.