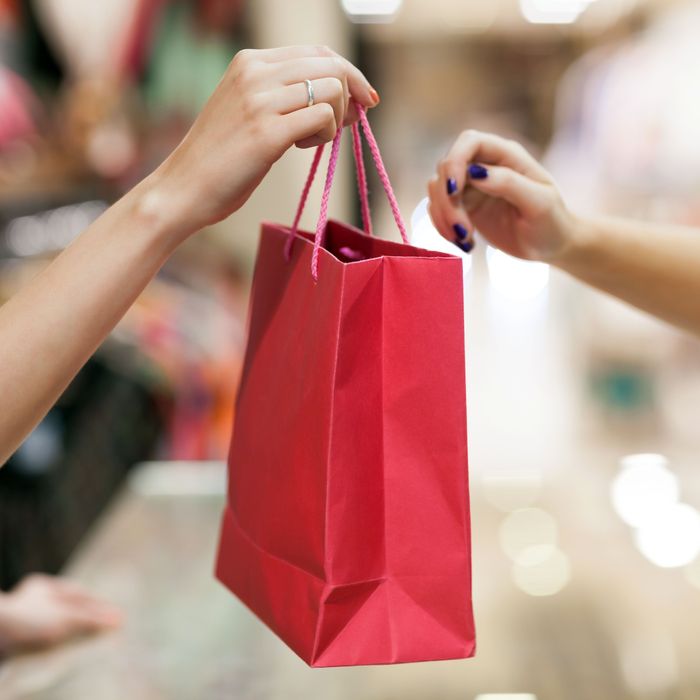 Photo: Wavebreakmedia Ltd/Getty Images
If you're not the type to get up at the crack of dawn to fight through the crowd of shoppers on Black Friday but still need to make sure everyone on your list gets a thoughtful gift, then Small Business Saturday is for you. The feel-good answer to corporate craziness, it was launched by American Express five years ago in support of neighborhood mom-and-pops and small businesses. Not only is it nice to support the local economy, but the little guys often offer extra incentives to shoppers, such as food and drinks. While you can easily hit up your local boutiques, AMEX is heading up its own leg of Small Business Saturday, with flagship events being held in Chicago, San Francisco, and New York tomorrow. Read on for a rundown of boutiques and in-store promotions in each city — but remember to save up for Cyber Monday.
New York: Spring Street Social Society will coordinate the events taking place in Nolita. Small businesses and restaurants such as Carson St. Clothiers, Christian Siriano, Egg Shop, and Unis will welcome shoppers with special surprise performances, DJ sets, and cocktails.
Chicago: The Wicker Park neighborhood will conduct its Small Business Saturday as a "Shop Small Crawl," meaning more goodies for shoppers who visit multiple shops and restaurants throughout the night. The crawl gets its legs at the artisan pop-up shop at Free Range Office, and ends with a swinging after-party at the Jackson Junge Gallery. Along the way, the designer shoe store City Sole is offering a complimentary wine tasting — or ask for a free massage or makeup touchup at the Silver Room boutique.
San Francisco: The Fillmore Merchant Association coordinated the evening and all the restaurants and businesses participating around San Francisco. For starters, the owners of local clothing store ASMBLY HALL will present a Hawaiian-holiday-themed event with special food, beverages, and entertainment. The party continues at furniture store Zinc Details, where shoppers can be front-row at the store's fashion show and enjoy the free wine while they're at it. Other highlights include salsa-making demonstrations and specialty cocktails at Elizabeth Charles, Jarbo, and Spice Ace.