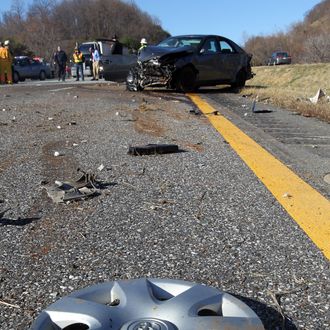 Photo: Andrew Shurtleff/ZUMApress.com/Corbis
Even though there's now a lot of evidence that nobody wins by forcing bleary-eyed teenagers to shuffle into school at 8 a.m. — to the point where the National Sleep Foundation has weighed in — early start times are a lingering practice in many school districts. If the stresses sleeplessness imposes on developing teenage brains and bodies isn't enough to convince people, maybe this new study in the Journal of Clinical Sleep Medicine will: Early start times appear to be linked with higher rates of car crashes among young drivers.
The researchers looked at the number of weekday crashes involving teen drivers over the 2009–10 school years and found that the rate "was about 29 percent higher in Chesterfield County, Va., where high school classes began at 7:20 a.m., than in adjacent Henrico County, Va., where classes started at 8:45 a.m," as the press release puts it. For 2010–11, the earlier-starting district had 27 percent more crashes.
Given that there was no significant difference between the adult crash rates in the two counties and that in Chesterfield County many of the teen crashes were of the driving-off-the-road variety associated with drowsiness, the researchers are pointing a finger at the school start time as a likely factor.
"There are more and more data suggesting that insufficient sleep is common in our teens and that early high school start times are a contributor to teens' reduced sleep," said the study's lead author, Dr. Robert Vorona of Eastern Virginia Medical School, in the press release. "Insufficient sleep appears to have deleterious consequences such as decrements in mood and increased risk taking, impaired academics and increased crash rates."
Society really needs to wake up (sorry) when it comes to early school start times.