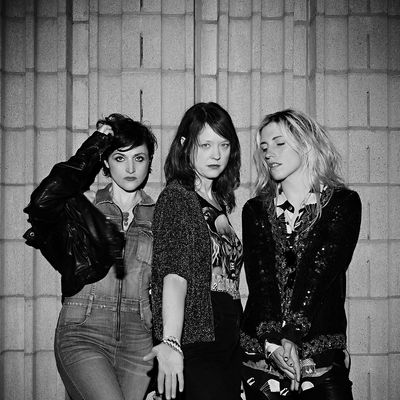 "Yo, what's up, we're Ex Hex, we're from Washington, D.C.," Mary Timony tells a packed house at Brooklyn's Glasslands Gallery in her signature smoky voice. She throws her head back, entranced, as she rips riff after riff, her dark hair falling past her shoulders.
Timony, lead vocalist and guitarist of the band Ex Hex, is something of an indie-rock legend. She's known for her time as the lead singer of influential '90s band Helium — and, after that, made up a part of supergroup Wild Flag, which also featured members of indie greats the Minders and Sleater-Kinney. Last spring, she formed Ex Hex with drummer Laura Harris, formerly of duo the Aquarium, and bassist Betsy Wright, formerly of the Fire Tapes. The result of their work together is Rips, a searing, energetic, rock-and-roll and power-pop album, which they released last month to rave reviews. The Cut spoke to Timony by phone after the show about how Ex Hex formed, pesky guitar-repair-shop guys, and what it takes to make good rock and roll.
How do you feel you've changed as a musician since you first started?
I have a better feeling of what works and what doesn't work. I don't want to make music that's really complicated anymore. Styles change, your motivation changes. You seek out what works for you and what doesn't work. There's a real store of your personality that doesn't really change, the stuff you write songs about or where the songs come from.
Did you ever feel impeded as a musician because you were a woman?
Yeah. I still feel like that when I walk into music stores sometimes, so I tend to just go places where I know people. If I ever go to a repair shop where there's an old guy I don't know, it's possible that they could be condescending. I know as a young woman in my 20s, I definitely noticed that people were like, Oh, she's just a singer, she doesn't know how to play guitar. They're shocked that you know how to play guitar; that's weird. Now, at my age, I don't know; if anyone made a judgment about me, I wouldn't really care. It's not my problem. Also, it's really different in rock music now. I think in the '90s when I was playing in bands, there were less girls; it was much more like you were a female car mechanic or something. It was weird, especially coming from the hardcore scene, which was all men. I grew up in D.C. in the '80s hardcore scene, and it was pretty much all guys' bands.
Was it a conscious decision to form Ex Hex as an all-female band?
Actually no, it wasn't. It just happened. I always loved Laura's drumming and I thought of her immediately when I was writing these songs, not because she's a girl but because I really liked how she plays. And we were jamming and we were looking around for people — we did play with our friend Mark who's a guy, and then he was really busy. And then we heard about Betsy and she's a perfect fit; she's so great.
Do you think having a band of all women is still seen as a novelty today?
I don't think it is as much. If our band was around in the '90s, it would be, like, crazy. It would be totally weird and different. I'm surprised people don't ever really talk about how we're all women. I'm actually really pleased it's not talked about all the time. It means rock music's in a different place. I just hate thinking about it, really, because I don't think about my gender all the time. You're just creative people doing what you love to do, and it's just weird that it's so important.
When and how did the three of you decide what you wanted Ex Hex to sound like?
We were just kind of jamming on songs in this practice space that was our friend's first punk-rock house in this little crappy garage that had no bathroom. [Laughs.] So I think it sounded more garage-y than it does now, at first — a real live, raw garage-y sound. And then we started recording the record, I think the songs kind of evolved more to an '80s power-pop vibe. It was pretty conscious; we just thought about records we liked and just went for it that way.
Were there any specific bands you had in mind when thinking about your sound?
We really worked on arranging the songs so they're all pretty succinct and don't have a lot of extra parts; we tried to weed out a lot of stuff we didn't like and keep the stuff we did like. We love bands like Cheap Trick and Let's Active and the dB's and stuff like Slade. We weren't trying to reference anything really specifically. Every song is a completely different reference, maybe.
How is your experience with Ex Hex different than your past bands?
I feel like this band is the band I've always wanted to be in, so it's really exciting because it just works really well and we have a lot of fun together. It feels like we've grown together. We've thought about how we wanted to make the record, how we wanted the songs to sound. It works really well; it feels really solid. It's probably the most fun band I've been in, so that's good. We have fun hanging out; we have fun playing the songs because the songs are fun. We really love playing live; we have really good energy. I'm always looking for good rock-and-roll music, so we just figured, why don't we try to make music that we love, you know?
Ex Hex is currently on tour along the East Coast, and will go on another tour of the South in January, followed by a European tour in February.