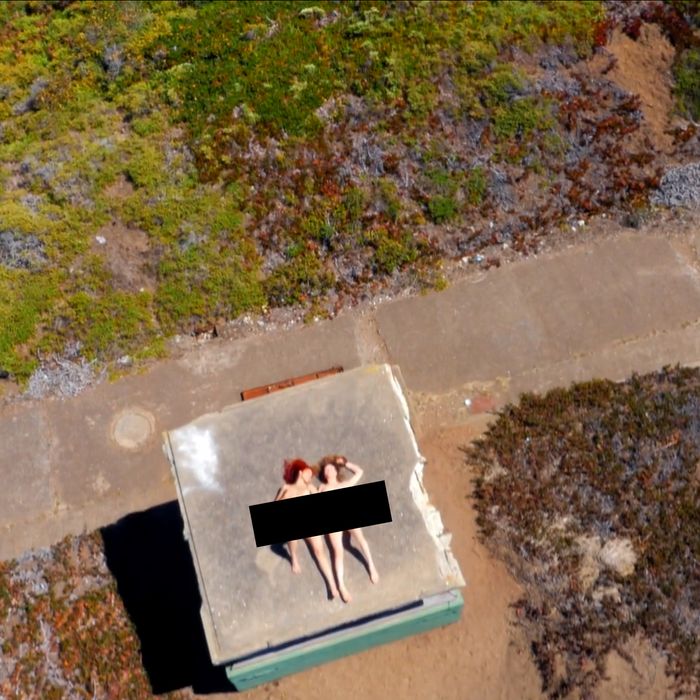 Martha Stewart might be busy with the farm-scape porn shot by her beloved drone, but the Brooklyn film company Ghost+Cow has upped the ante. It's created the very first porn filmed entirely by drone. A commentary on civil-liberties issues and surveillance in modern society? No, says one of the filmmakers, the agenda of Drone Boning (poetry) was simpler: "The plan was to take beautiful landscapes and just put people fucking in them."
Mission accomplished, sir. The groundbreaking video features straight, gay, and lesbian couples having sex alfresco on the beach, in the mountains, nestled in the mossy bed of a regal forest, amid the blossoming crops of an apple farm, and on the side of a highway against a vintage-looking royal-blue car. It's like if a Google Maps camera caught you humping unawares amidst a Kinfolk photo shoot. Or perhaps the uncensored, unrated cut of Planet Earth. Simply stunning.
Watch Drone Boning in its entirety here. One would think it's NSFW because it's a porn, but, actually, the writhing bodies are often hard to find among the sweeping vistas. If you're good at Where's Waldo?, this porn is for you.