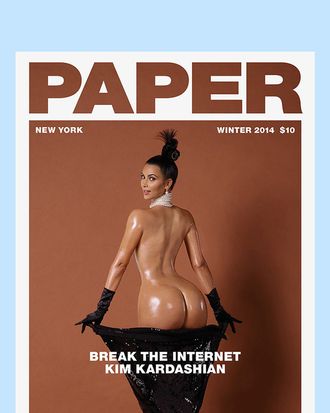 Earlier this year, while planning a Jean-Paul Goude shoot with Kim Kardashian, Paper magazine's chief creative officer Drew Elliott offhandedly remarked, "This is going to break the internet." That prophecy became the coverline of the magazine's November issue, featuring an image of Kardashian's glistening bare ass, along with the words "Break the Internet." The response to the nude cover shot is pretty much what he'd predicted: memes aplenty, predictable outrage, and sheer goggle-eyed gaping.
Mickey Boardman, Paper's editorial director, talked to the Cut about how the story came about, how getting butt-naked was all Kim's idea, and on the images from the spread yet to come.
How did the shoot come together? How did you get Kim involved?
We were thinking, "It would be great to bring in some more high-profile people in addition to changing the look [of the magazine] and updating and bringing in a big digital component." And we worked once before with Kim and Khloé, for our social-media issue. And literally, they were the nicest, easiest people to work with, shockingly enough.
They're very professional?
On time, nice to everybody, tweeted out a link. You know, when they tweeted it last time, it almost broke our website. Again, it came to us, like, Can you imagine if Jean-Paul Goude shot her? We reached out to her people. Kim and her publicist are super smart and get it. And Kim wanted to do cool, amazing things. And very often, with these super-famous people, they're up for things if there's an interesting photographer who's super respected, super famous, someone who they know does amazing work. Kim said that she would do it with Jean-Paul. And he had some scheduling things, but he was into it. And really, it was shockingly easy. And he lives in Paris.
 
And she was there for Paris Fashion Week.
She got to Paris for certain things in Fashion Week. She arrived chased by paparazzi on motorbikes. It's incredible, the insanity that ensues wherever she goes. And she, again, is on time and super nice to everyone. Her attitude was, If we're gonna do this, let's really go there.
 
Did she get creatively involved, as well?
Totally. We ended up trying one thing that didn't run and that we didn't think worked. We hadn't planned for her to take her clothes off. She wanted to and it kind of fit with the thing, and Jean-Paul was super excited about her attitude and Kim was super excited. Everyone was excited about working together and making magic. I mean, wait until you guys see the inside photos. I can't even — I cannot even tell you. They're just so amazing and so shocking and so bananas.

So I know the Champagne photo is a riff on an image Jean-Paul had already done.
Yes. Carolina [Beaumont], who is kind of amazing. It's kind of like his legendary, classic shot. Originally the plan was for the Champagne shot to be the cover, but then the butt shot just was so amazing that we felt like, "Let's do that as kind of a bonus cover." The newsstand and subscribers get the Champagne [shot].
 
I was just going to ask you, because I don't know what the rules are for nudity on the newsstand.
People can order it from our website. We're distributed in hotels, like the Chateau [Marmont] and the Standard. So you can get it there, or we have certain, select special distribution places where it's not an official newsstand. But other than that …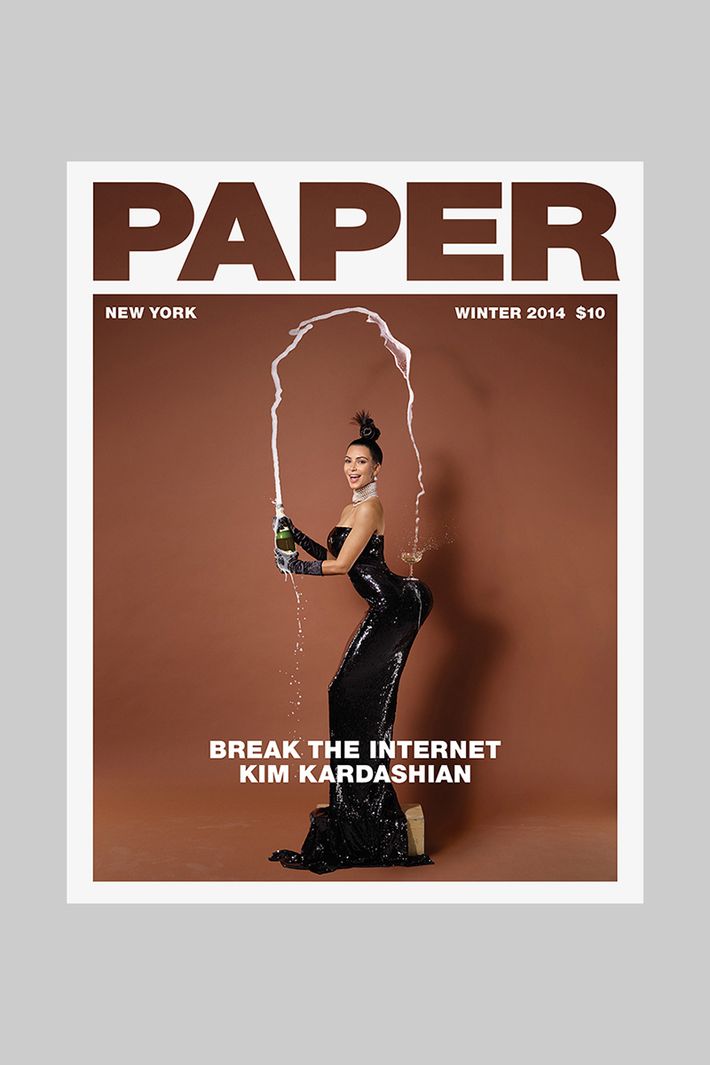 Do you know how many are gonna be in circulation, of that cover?
I'm not sure. I don't know what the breakdown is. But already, the Hudson News called asking for thousands. Or on our website, you can order either the butt issue or the Champagne issue. America can be very puritanical on some things, like nudity. And I don't blame them. I don't think it's wrong to say you can't have a woman's bare ass on the cover of a magazine. I don't think that's unreasonable.
 
Have you seen any of the memes that people are doing?
I loved the one with Taylor Swift reading a book. It was the Paper cover with Kim on it. We've been collecting them. Some that I think are less funny, like Dane Cook posted one saying that she retouched it. I just personally think that anything making fun of someone's appearance, to me, is not funny. Especially if it's a woman. Women get enough shit. Either they're too skinny or too fat. A lot of people whom we respect and think have really great taste have really responded to it well. There are some people who don't like it, because they don't, for whatever reason, like Kim, or they think our culture is heading over a cliff into the abyss.
The thing that drives me crazy is that people are saying, "Oh, but you're a mom." That logic doesn't make sense to me.
Me too. I looked at some of the comments on Paper's Instagram just to get a gauge of how many were positive and how many were negative. It seems always like the people who are the negative commenters — I was shocked and appalled at how often it's women. And people who were negatively commenting things like, "Oh, you're a bad mom," or, "Oh, you're a fat pig whore," or something like that. It's like, How could you say that to her? To comment on anything negatively like that on anyone's appearance is so wrong and rotten to me. I just don't understand. 
 
Can you tease anything more about what we're going to see in the rest of the shoot?
Well, it'll be on our website soon — like, in the next 24 hours. The [butt] was the step one, was like the appetizer of the full meal, so I can't give too many more details, but that is the teaser. More to come from there. It's incredible, I have to say.

This interview has been edited and condensed.