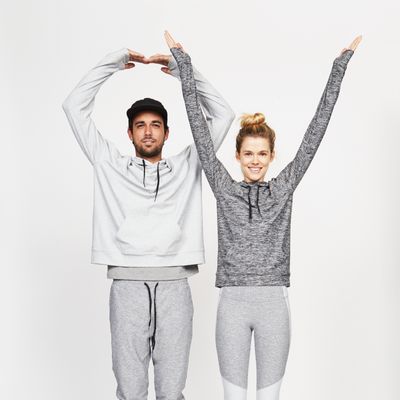 Photo: Courtesy of Outdoor Voices
Workout clothes are suffering from a sameness problem. Yoga pants come in one fit: super-tight. Fabrics seemingly come in two types: Nike Dri-FIT and non-Nike-Dri-FIT. And the amount of neon in a typical Barry's Bootcamp class rivals that of Electric Daisy Carnival.
This monotony is what prompted designer Tyler Haney, a graduate of Parsons, to launch a new line of activewear called Outdoor Voices. She sees it as a "new Lululemon" — and it has just become the first activewear brand to be sold at J.Crew.
Unlike many other workout brands that choose frenetic, aggressively type-A branding, Outdoor Voices has a much more toned-down approach. It doesn't offer clothing for workouts involving EDM, battle cries, or planking until you collapse. It's activewear for people who work out because they genuinely think it's fun (really). These are not the type of people who guilt you because you haven't yet made it on the top five of the leaderboard at Flywheel. Haney, who grew up in Colorado (and who bears a remarkable resemblance to Kate Upton), says that "being active is embedded into the lifestyle naturally; it's not like it is here, where everyone talks about what they do to be active all the time."
The pieces are refreshingly minimalist without being boring. There's a sporty slouch to the clothes that recalls a '70s Vogue editorial featuring lots of stretching (in fact, Vogue's 1977 Body and Beauty book was a huge inspiration to Haney). Leggings in the line (there are no basic-black workout capris) come in heathered gray or weathered black. The Athena crop tops are cool and not in a gratuitous "Let me show off my sculpted, chiseled abs" kind of way. I've been wearing the hoodie about once a week, and each time, I get asked where it's from.
And there's no talk of sweat-wicking or performancewear. As Haney explains, "Our clothes are produced in the same factories as the other brands, we have the same great materials, but we don't talk about that stuff. It's a given that it's going to perform."
Select pieces of the line are available at J.Crew, and the brand has a store currently in Austin (there are plans for a New York pop-up later in the year), along with a full e-commerce site. Click through the slideshow to see more images of the collection.