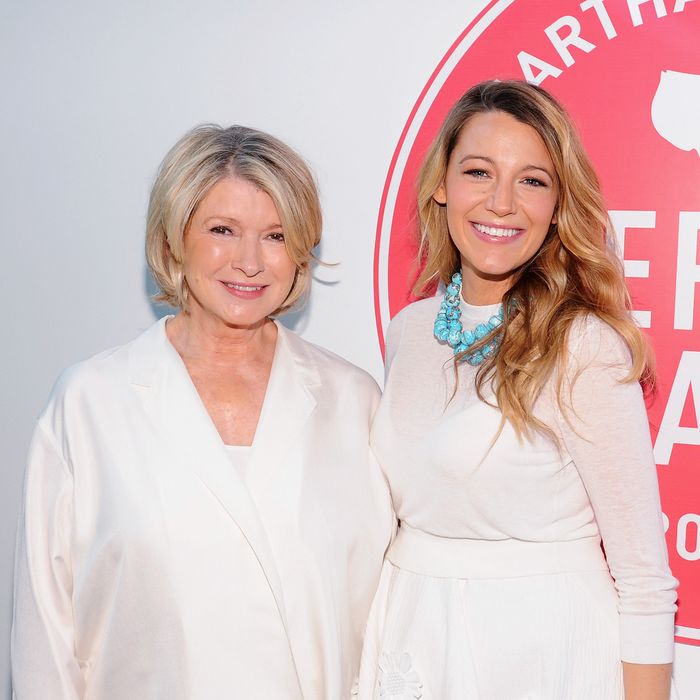 Photo: Andrew Toth/Getty Images
When domestic tenderfoot Blake Lively started the strange lifestyle website Preserve.us in July, Martha Stewart responded with a quick dismissal. But this Saturday, at her American Made summit, Stewart gave Lively a chance to defend her project. (After all, Lively did not include ".us" in that url for nothing.)
The event, held at Martha Stewart's airy headquarters in Manhattan, was a conference that brought together entrepreneurs, artisans, retailers, and activists — all involved in domesticity or agriculture. Stewart characterized Lively as a "small-business owner" while she beckoned her onto the stage. Stewart wore the Martha Stewart of blouses: It was bright white and flowing, and had lapels that evoked a blazer. Lively, meanwhile, wore the Blake Lively of dresses: long, also white, somehow both nightgownish and bridal. Their blonde highlights rivaled one another in shimmer.
While Stewart didn't endorse Preserve's quality, per se, she did recommend that everyone visit the site and congratulated Lively for possessing one out of the ten essentials for success according to Martha Stewart's The Martha Rules (that element is passion). Lively explained that she started the company to document this passion for living and to secure an income flow and creative outlet outside of Hollywood. Acting, she says, "is a career that I don't control, and people are going to decide whether they use my services or not," she says. "That's part of the reason I created Preserve: I need a world that is my own. I am in charge of that success or failure."
During their conversation, Lively seized every chance to fawn over Stewart. It's disorienting to see a shimmery movie star become starstruck and covetous of acknowledgment. Lively described how when Stewart met Lively's husband, Ryan Reynolds, she offered to ride motorcycles with him — with any other woman, Lively said, she would have protested. But not Martha! "Go! We need this!" Lively recalled hissing at Reynolds. During the course of the talk, Lively asked to be invited back to Stewart's house, requested that Stewart choose onesies for Preserve's baby-goods section, and tried to get her to design Preserve plates. 
But the onstage conversation was more than an extended and dubiously successful bid to involve Stewart in Preserve. It was also an excuse to compare their different domestic visions. Stewart confirmed her impeccable knowledge. Lively presented a scraped-together spontaneity, which she hopes is charming. For example, she can only knit in a straight line, so she uses a hot-glue gun to round corners for toddler booties! Stewart said she already has her table set for Thanksgiving, which remains weeks away. Lively described how her family likes gazing at wrapped presents so much that they leave them to languish under the tree until January 3, "because they're so beautiful." Stewart: shockingly, futilely organized. Lively: late to the party, but with pretty, pretty wrapping.