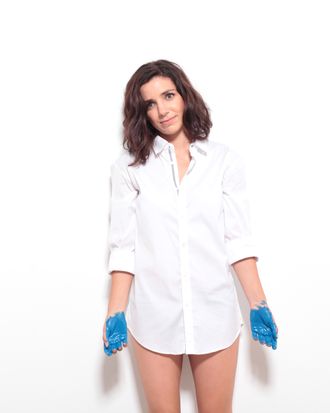 According to Megan Rosati, there are at least 52 ways to break up with someone, and she's devoted the next year of her life to showing us each one in four minutes or less. The actress, writer, and producer launched her new comedic web series, 52 Ways to Break Up, in October — see the first five episodes here — and plans to roll out new episodes every Tuesday through October of 2015. With themes that are at once heartbreaking and quasi-instructive — "Just Leave," "Black Out," — 52 Ways is a true labor of love for Rosati. "I liked the idea of something that would require a long-term commitment," she says. "I was ready to get serious with a web series." We caught up with the Los Angeles–based Rosati while she was on vacation with her new boyfriend in Georgia — "Of course I'd start dating someone great as soon I make a series about breakups!" — for a chat about her favorite breakup movies of yore and the perils of shooting while topless.
How did you come up with the idea for 52 Ways to Break Up? 
I wanted to do a web series that was really small and intimate because it's what I could produce myself. Also, I had had kind of a rough year in terms of dating and was tired of going through the ringer. I figured if I was apparently compelled to keep going through these dramatic scenarios with guys, then I should at least have something tangible to show for it. I also realized breakups are something everyone can relate to — everyone has gone through the experience, on some level, of getting their heart broken. 
How much of the series is taken from your own life?
None of the episodes are things that have actually happened to me. I tried to write a breakup with a fight that happened in real life and it didn't work — it was too flat, and just kind of depressing. However, a lot of them are based on an idea or an experience that happened to me or a friend that I expanded out into a full episode. For example, the episode "Bad Timing" did not happen to me like that in real life, but it was inspired by the time I dated a guy who said we couldn't be together because of bad timing. And that idea stuck with me: What if it were literally bad timing?
What have been some of the challenges of making this series? 
I wrote this show that was about these private moments between two people, because that's what the writer/producer in me wanted to see. But when it came time to shoot these scenes, actor Megan was like, "Hoo boy, now you gotta do it!" There is an episode where I am literally in bed with another actor in my bra. So there was a moment where I had to walk into a room full of an all-male crew, take off my shirt, and act in a bed with this guy. I literally had to give myself a pep talk in the bathroom. Like: "Okay, Megan, you thought this up; now is the time to be brave and make it happen.'"
Any breakup movies you've been inspired by?
One of my favorite movies, of all time, ever, is Eternal Sunshine of the Spotless Mind. I love how creative and magical it is, and how quirky and funny and specific the story is while still touching on just this huge universal truth: In order to feel really sad about something, at one point you had to feel something pretty beautiful. My other favorite breakup movie is Blue Valentine, which does a really similar thing. Because you see them older and out of love with each other, it makes the scenes of them falling in love so much more beautiful and heartbreaking. You're like, Ahhh, no! Stay in love forever! Stay young forever!
What have been some early reactions to 52 Ways?
An awesome, unexpected reward has been that whenever I tell people I'm making a web series about breakups, people volunteer their own breakup stories, and I love it. Like, Yes! Tell me that terrible story about the girl who dumped you in high school! There's this great feeling of like, We're all in this crazy thing together.